Jyoti Life Insurance Limited issuing IPO from 21st Falgun 2077 BS
Jyoti Life Insurance Company Limited (JLICL) is about to issue IPO shares to public from 21st Falgun to 26th Falgun, 2077 BS. With an average Nrs 100 Rupees per shares the company is issuing 59,40,000 shares to public. This is 90% of the total share which is 66,00,000.
The company has already secured 10% shares i.e 5% (3,33,000) shares for it's employees and 5% for the collective investment funds.
The IPO will be issued and managed by NMB Capital Limited. Interested applicants can apply for Jyoti Life Insurance Company Limited shares through C-ASWA member banks and finantial institutions.
If you are an active online DMAT Account holder at Meroshare, you can also apply for this IPO after 21st Falgun 2077 BS.
Public will be allowed to apply for a minimum of 10 shares up to 66,000 shares.
While talking about credit rating for IPO issuance, Care Rating Nepal has rated this Insurance a Care NP Triple B Issuer rating which indicates it's moderately safe to meet finalcial obligations.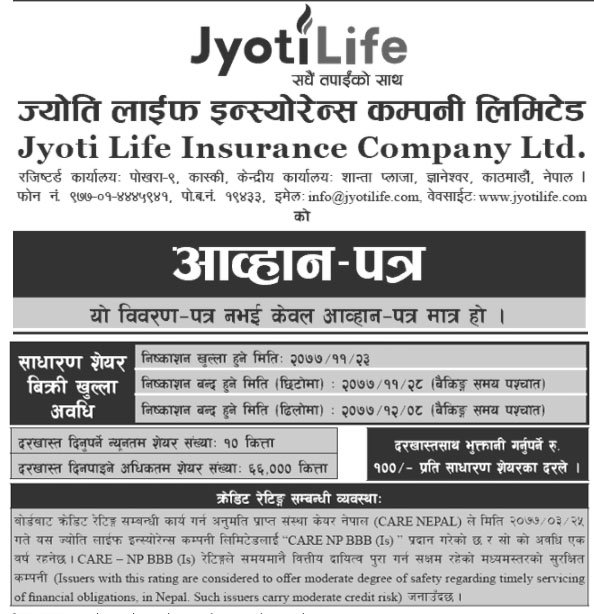 Important Details about Jyoti Life Insurance Company Limited IPO

| | |
| --- | --- |
| IPO Open Date | 21 Falgun 2077 BS. |
| IPO Close Date (Early) | 26 Falgun 2077 BS. |
| IPO Close Date (Lately) | 6th Chaitra 2077 BS. |
| Issuing Company | Jyoti Life Insurance Company Limited |
| Issue Manager | NMB Capital Limited |
| Security Type | Common Stock IPO |
| SEBON Approval Date | 7th Falgun 2077 BS. |
| No. of Total Share | Rs 220 Crores |
| Per Unit Share Price | Nrs 100 |
| Total IPO Share | 66,00,000 |
| Total Capital from IPO | NRs. 66 Crores |