Phoolmaya "Sakambari" by Prakash Saput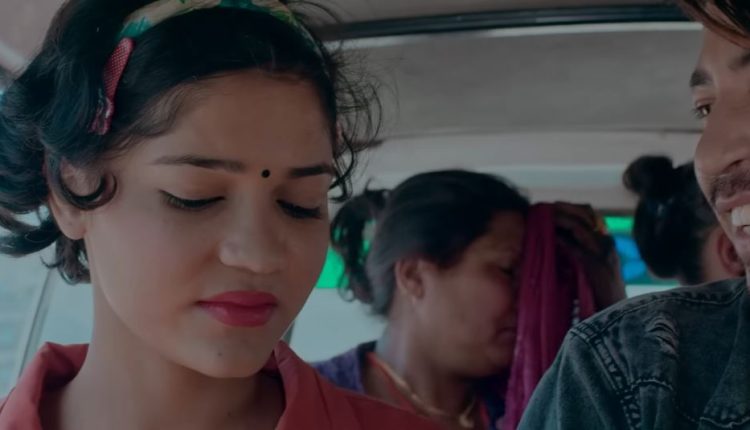 Prakash Saput is once again back with a blockbuster Nepali song "Phoolmaya". The music video features Prakash Saput, Kusum Sharma, Sunil Thapa, Niks Sharma, Saraswati Adhikari, Sarita Rajopadhyaya and Salik Bhandari. This music video had already crossed over 8 Million views on youtube within 5 days and still trending #1 since it released online.
The music video shows how a common girl with a family responsibility can go in wrong direction for the sake of earning money. How she is exploited from the near ones as well as the employers. This song is currently in big controversy in Nepal.
Prakash Saput and Barta Gandarbha vocal in the song is mesmerizing. Sudip Sagar and Kiran BK has done the background score part where as Sudip Sagar is also the music arranger. With flute by Ratna BK, Sarangi by Hemanta Kanchha Rasaili, Dholak & Tabala by Bhuwan Gandharbha the music is heart touching along with the lyrics.
Well the singer Prakash Saput himself wrote the story for the music video which is being appreciated by Nepali audiences.
Here we present you the music video as well as the lyrics of the song Phoolmaya:
Lyrics of Phoolmaya
♩ ♪ ♫ ♬ ♭ ♮ ♯ 🎼 🎵 🎶

Kaanma Jhumkana Timlai Kalle Kindio
Naakko Bulaki Timlai Kalle Kindio
Paauma Laako Paauju… Haatko Sunko Chura
Timlai Kalle Kindio o o o…..
Phoolmaya .. Phoolmaya… He Phoolmaya… Phoolmaya
Hey Phoolmaya.. Phoolmayaa…

♩ ♪ ♫ ♬ ♭ ♮ ♯ 🎼 🎵 🎶

Jaagyo Rahara Paapi Saharko
Chhaina Simana Aafnai Raharko
Jaagyo Rahara Paapi Saharko
Chhaina Simana Aafnai Raharko
Lau Dharmai Maasne Jahar
Lau Rangin Rangin Rahar
Timlai Kalle Kindio o o…..
Phoolmaya .. Phoolmaya… Hai Phoolmaya… Phoolmaya
E Phoolmaya.. Phoolmayaa…

♩ ♪ ♫ ♬ ♭ ♮ ♯ 🎼 🎵 🎶

Joban Saateu Ki Dhanko Aasaile
Bahakaayo Ki Timlaai Kasaile
Joban Saateu Ki Dhanko Aasaile
E Bahakaayo Ki Timlaai Kasaile
Hera Hidchhau Parara
Hera Raato Scootera
Timlai Kalle Kindio o o…..
Phoolmaya .. Phoolmaya… Hai Phoolmaya… Phoolmaya
E Phoolmaya.. Phoolmayaa…

♩ ♪ ♫ ♬ ♭ ♮ ♯ 🎼 🎵 🎶

Dhuwaasari Man Udna Diyau Ra
Phoolai Sari Tan Chudna Diyau Ra
Dhuwaasari Man Udna Diyau Ra
e Phoolai Sari Tan Chudna Diyau Ra
Esto Aakhai Khane Diamond
Esto Imaan Khane Ghamand
Timlai Kalle Kindio o o.o….
Phoolmaya .. Phoolmaya… Hai Phoolmaya… Phoolmaya
E Phoolmaya.. Phoolmayaa…

♩ ♪ ♫ ♬ ♭ ♮ ♯ 🎼 🎵 🎶

Petko Bhokaile Sahar Chhirayo
Manko Bhokaile Baato Birayo
Petko Bhokaile Sahar Chhirayo
Manko Bhokaile Baato Birayo

♩ ♪ ♫ ♬ ♭ ♮ ♯ 🎼 🎵 🎶

Ghaati Nirai Daam K ko Holani
Raati Tirai Kaam K ko Holani
Ghaati Nirai Daam K ko Holani
e Raati Tirai Kaam K ko Holani
Oho Mulya Badi
Oho Mobile TV Ghadi
Timlai Kalle Kindio o o.o….
Phoolmaya .. Phoolmaya… Haai Phoolmaya… Phoolmaya
E Phoolmaya.. Phoolmayaa…

♩ ♪ ♫ ♬ ♭ ♮ ♯ 🎼 🎵 🎶

Rasa Gaalaiko Suki Jaanichha
Aafnai Aatmale Thuki Jaanichha
Rasa Gaalaiko Suki Jaanichha
e Aafnai Aatmale Thuki Jaanichha
Yo Baisa Sabai Falchha
Yo Jeevan Sadhai Chalchha
Timlai Kalle Vandio o o.o….
Phoolmaya .. Phoolmaya… Haai Phoolmaya… Phoolmaya
E Phoolmaya.. Phoolmayaa… E Phoolmaya.. Phoolmaya
E Phoolmaya.. Phoolmaya.. Hai Phoolmaya.. Phoolmaya
E Phoolmaya.. Phoolmaya…

♩ ♪ ♫ ♬ ♭ ♮ ♯ 🎼 🎵 🎶