New Nepali Teej Song Kapalma Kalar Gareko by Bandna Mainali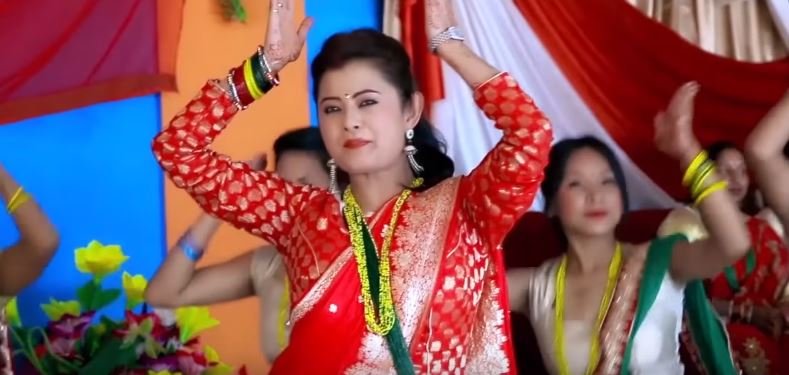 Kapalma Kalar Gareko is a new Nepali teej song by Bandna Mainali. The music video features Shusma Karki. Kapalma Kalar Gareko is song based on Nepali women's great festival 'Haritalika Teej' directed by Smriti Timalsina (Juru Aama). This music video was edited by Dipak Bishta and was cinematographed by Suresh Shrestha.
The lyrics for the song was written by Amrit Khati and music was also composed by Amrit Khati himself. The music video features beautiful and hot actress Shusma Karki. Here in this music video she danced well and appears in red sari which is the special wears of festival Teej. Shusma performed with another model Pawan Paudel. Kapalma Kalar Gareko music video was based on the Nepali festival 'Teej', which is one of the biggest festival of Nepal. Hartalika Teej welcome the monsoon season and celebrated primarily by girls and women, with songs, dancing and prayer rituals. Actual meaning of Teej is it is an insect which comes showed up in monsoon. In this festival Nepali women dance and sing folk songs and share their feelings. They worship the Lord Shiva and Parvati to get the long life of their husbands and peaceful life. Kapalma Kalar Gareko was post production by Juru Aama Films Pvt Ltd. When you once listen this song, I am sure you will keep tuning it.
The music video is released officially online by HightlightsNepal via Youtube. Hope that you will enjoy this romantic and melodious Teej song Kapalma Kalar Gareko.
Here is the lyrics for the song Kapalma Kalar Gareko:
Aayo bari lai
Aayo bari lai
Aayo bari lai
Aayo bari lai
Teejako lahar aayo bari lai
Teejako lahar aayo bari lai
Dhalkiyo baisha bihe vako chhaina
Thitale kura bujheko haina
Hey
Dhalkiyo baisha bihe vako chhaina
Thitale kura bujheko haina
Sangini sanga nachna chhadekooooo
Sabaile suna mai ramri huna
Sabaile suna mai ramri huna
Maile ta kapalma color gareko
Maile ta kapalma color gareko
Maile ta kapalma color gareko
Maile ta kapalma color gareko
……….. …………. …………
Teejako brata basera
Maile ta pani ni khachhaina
Teejako brata basera
Maile ta pani ni khachhaina
Urleko baisha pokinchha
Yespali nakhoji bhachhaina
Haataima chura nakata kura
Haataima chura nakata kura
Maile ta kapalma color gareko
Maile ta kapalma color gareko
Maile ta kapalma color gareko
Maile ta kapalma color gareko
……….. …………. …………
Aayo bari lai
Aayo bari lai
Aayo bari lai
Aayo bari lai
Teejako lahar aayo bari lai
Teejako lahar aayo bari lai
……….. …………. …………
Choli ra saari laaki chhu
Mehendi bhareko haataima
Hey
Choli ra saari laaki chhu
Mehendi bhareko haataima
Umera dhalkina laisakyo
koi pani chhaina saathaima
Chaubandi tuna mai ramri huna
Chaubandi tuna mai ramri huna
Maile ta kapalma color gareko
Maile ta kapalma color gareko
Maile ta kapalma color gareko
Maile ta kapalma color gareko
……….. …………. …………
Jamani chadyo gaalama
Aamako lauchha ni dara
Jamani chadyo gaalama
Aamako lauchha ni dara
Ainale malai jiskylllauchha
Sindura poteko rahar
Sabaile suna mai ramri huna
Sabaile suna mai ramri huna
Maile ta kapalma color gareko
Maile ta kapalma color gareko
Maile ta kapalma color gareko
Maile ta kapalma color gareko
Maile ta kapalma color gareko
Maile ta kapalma color gareko
Maile ta kapalma color gareko
Maile ta kapalma color gareko
……………….. ……………