New Teej Song Dumsi Kade Junga by Jyoti Magar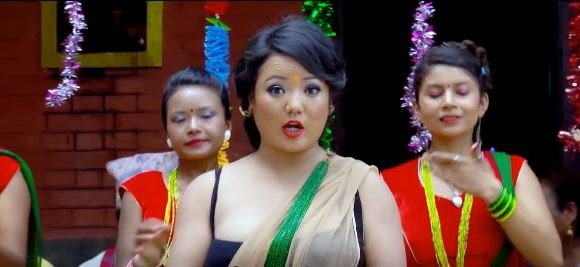 Dumsi Kade Junga is a new Nepali teej song by Jyoti Magar. The music video features Sher Bahadur Gurung and Jyoti Magar. Dumsi Kade Junga is a melodious teej song which is directed by Shankar BC. This music video was edited by Nabin Gharti Magar and was cinematographed by Rajesh Ghimire.
The lyrics for the song was written by Ek Narayan Bhandari and the music for the song was composed by himself. Artists Jyoti Magar and Sher Bahadur Gurung performed with best and energetic performance. This music video is for the Nepali women's biggest festival Teej. The Hindu festival of Teej is marked by fasting of women who pray to Lord Shiva and Goddess Parvati, seeking their blessings for marital bliss. It is a series of festivals that occur during the Hindu month of Shrawan and Bhadra. In this festival, Nepali women worship Lord Shiva without drinking a drop of water to get nice and perfect husband or for the long life of husband. Here in this music video Ghanta Bajauchhu, beautiful, hot and sexy popular model and singer Jyoti Magar appears in Red Sari but like other music videos this one is also erotic. Dumsi Kade Junga music video was presented by Sitara Music Pvt. Ltd. When you once listen this song, I am sure you will keep tuning it.
Dumsi Kade Junga is released officially online by Music Nepal via Youtube. Hope that you will enjoy this romantic and melodious Teej song:
Here is the lyrics for the song Dumsi Kade Junga:
Kapi kalam line hat ma
Kodali ra kuto
Jyan gaye ni khanna baba
Budho poe ko jutho
Kapi kalam line hat ma
Kodali ra kuto
Jyan gaye ni khanna baba
Budho poe ko jutho
Janna baba janna ma ta
Janna baba janna ma ta
Tmro jowe ko ghara
Janna baba janna ma ta
Tmro jowe ko ghara
Dumsi kade junga ko
Lagchha male dara
Dumsi kade junga ko
Lagchha male dara
Aya Dumsi kade junga ko
Lagchha male dara
……….. ………… …………
Rati sutne bela pani
Sadhai khaini khane
Testo poe ko bistara ma
Ma kastari jane
Rati sutne bela pani
Sadhai khaini khane
Testo poe ko bistara ma
Ma kastari jane
Janna ama janna ma ta
Janna ama janna ma ta
Tmro jowe ko ghara
Janna ama janna ma ta
Tmro jowe ko ghara
Dumsi kade junga ko
Lagchha male dara
Dumsi kade junga ko
Lagchha male dara
Aya Dumsi kade junga ko
Lagchha male dara
……….. ………… …………
Due mana ko chamal ko vat
Hasurera pirchhana
Rati sutna paedaina
Bagha jastai ghurchhan
Due mana ko chamal ko vat
Hasurera pirchhana
Rati sutna paedaina
Bagha jastai ghurchhan
Janna vauju janna ma ta
Janna vauju janna ma ta
Tmro jowe ko ghara
Janna vauju janna ma ta
Tmro jowe ko ghara
Dumsi kade junga ko
Lagchha male dara
Dumsi kade junga ko
Lagchha male dara
Aya Dumsi kade junga ko
Lagchha male dara
……….. ………… …………
Manchhe ho ki ban manchhe ho
Chhaina ranga dhanga
Kyari juni katnu dada
Maile testo sanga
Manchhe ho ki ban manchhe ho
Chhaina ranga dhanga
Kyari juni katnu dada
Maile testo sanga
Janna dada janna ma ta
Janna dada janna ma ta
Tmro jowe ko ghara
Janna dada janna ma ta
Tmro jowe ko ghara
Dumsi kade junga ko
Lagchha male dara
Dumsi kade junga ko
Lagchha male dara
Aya Dumsi kade junga ko
Lagchha male dara
……….. ………… …………