Aaja Bholi Harek Saajh By Narayan Gopal (Audio)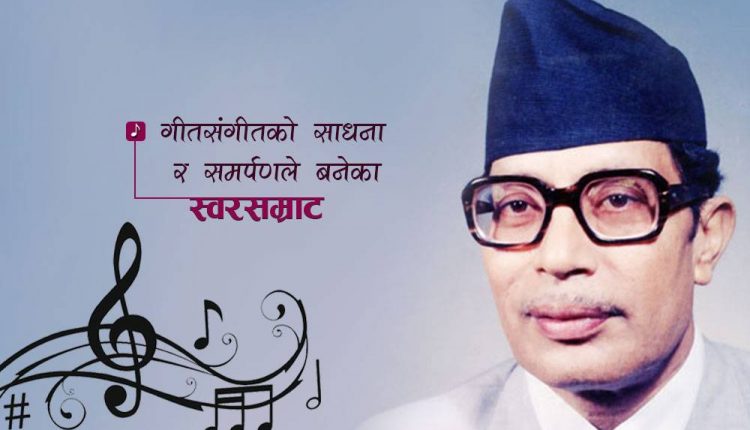 Aaja Bholi Harek Saajh is a evergreen song by Narayan Gopal, the king of vocal. The song is taken from album "Prem ko mala Bhag-2". This song is about the internal feelings of the singer who is sharing it through the help of the lyrics and the music to his fans.
The music and the lyrics for this song was written by Narayan Gopal. He is the one of the well known and famous pop singer of Nepal. He has lots of fan in the music industry. He was also an accomplished music composer in his own right. Not only was he gifted with a great voice, he was very versatile. His voice range allowed him to sing songs of every genre. His songs are often richly orchestrated with the sitar, harmonium and the flute. Narayan Gopal has been accorded with title "Swor Samrat" (literally, King of Voice) which affirms his position as the supreme virtuoso of Nepali music. When you once listen this song, I am sure you will keep repeating it.
The music video is released officially online by Nepali Sangeet via Youtube. Hope that you will enjoy this melodious pop song Aaja Bholi Harek Saajh.
Here is the lyrics for the song:
Aaja Bholi Herek Sanjh Matina Thalay Cha
Jindaki Dekhi Jindagi Aatina Thalay Cha

Aaja Bholi Herek Sanjh

Raharai Raharai Ma Piyaa
Bibas Bhayera Piaya

Sukha Ma Piya
Dukha Ma Piya

Piyondi Na Piyondina Bhandai Piya
Aaja Bholi Jindagani Pokhina Thalay Cha
Jindagi Dekhi Jindakhi Aatina Thalay Cha
Aaja Bholi Herek Sanjh

Mandir Ma Basay Ra Piya
Masanma Laday Ra Piay
Nachay Ra Piya
Hansay Ra Piya

Ekkanta Ma Kahilay Kahin Rundai Piya

Aaja Bholi Herek Rat Rakhsina Thalay Cha
Jindaki Dekhi Jindagi Aatina Thalay Cha
Aaja Bholi Herek Sanjh