Dui Rupiyako Bidi by Sita Thapa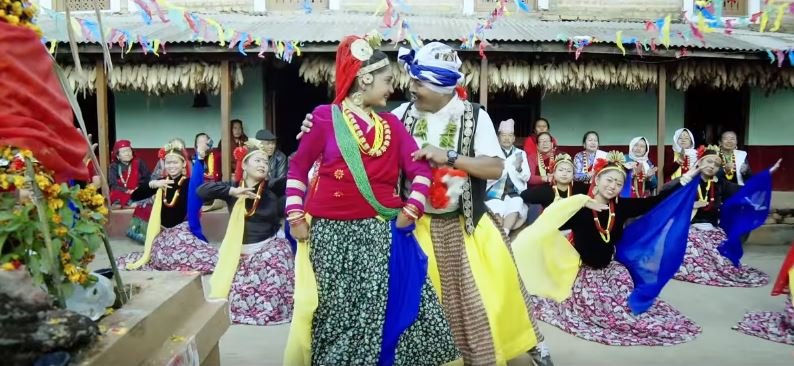 Dui Rupiyako Bidi is a new romantic Nepali folk song by Sita Thapa. This is folk song which is related to specific cast community of Nepal like Gurung, Tamang, etc. This is directed by Yam Gurung. This music video was edited by Bishnu Sharma and cinematographed by Karan Chaisir.
The music for this song is composed RK Nepal and lyrics of the song is written by RK Nepal himself. Gurungs have an ancient tradition of Rodhi where young people meet, sing and dance to folk songs, and share their views. Young men and women at Rodhi often sing call-and-response songs called dohori, which are largely improvised. Some musical dances like Ghantu and Chudka are still in existence, and are still performed in many Gurung villages. These dances are hundreds of years old, and are performed either solo or in a group. Dui Rupiyako Bidi is a full package of entertaining music video. This music video is presented by Aashish Music Pvt. Ltd. When you once listen this song, I am sure you will keep mouthing it.
The music video is released officially online by Music Nepal via Youtube. Hope that you will enjoy this melodious romantic song Dui Rupiyako Bidi.
Here is the lyrics for the song Dui Rupiyako Bidi:
Ha ha ha hahahha
Ha ha ha ha ha ha
Due rupya ko bidi hajur
Ek mohor ko salae
Ek mohor ko salae…………..
Due rupya ko bidi hajur
Ek mohor ko salae
Ek mohor ko salae
Manchhe ramro
Boli mitho chaeko chha malae
Chaeko chha malae
Manchhe ramro
Boli mitho chaeko chha malae
Chaeko chha malae
Hunchha hunna ki nai vana ho
Tmro afnai mana
Hunchha hunna ki nai vana ho
Tmro afnai mana
……………… …………… ………………
Ha ha ha hahahha
Ha ha ha ha ha ha
Mathi pareo vaise kada
Tala rana dovana
Tala rana dovana…………….
Mathi pareo vaise kada
Tala rana dovana
Tala rana dovana
Dina mana lageko chha
Koe koe lae jobana
Koe koe lae jobana
Dina mana lageko chha
Koe koe lae jobana
Koe koe lae jobana
Hunchha hunna ki nai vana ho
Tmro afnai mana
Hunchha hunna ki nai vana ho
Tmro afnai mana
……………… …………… ………………