Ajambari Maya by Padamraj BK and Kalpana Budha Magar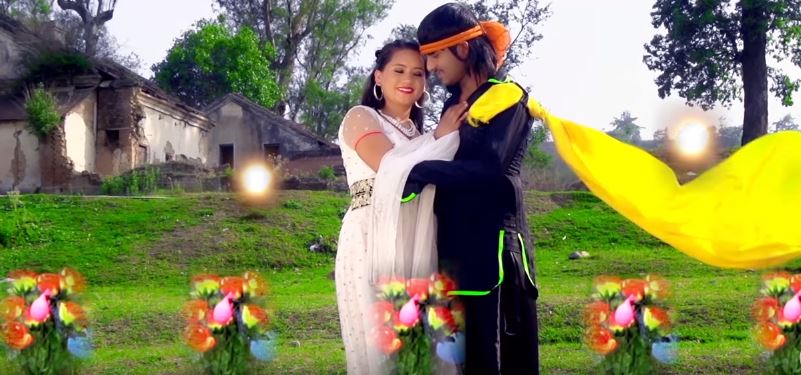 Ajambari Maya is a new Nepali lok dohori song by Padamraj BK and Kalpana Budha Magar. The music video features Ranjita Gurung. Ajambari Maya is directed by Bikram Chauhan. The music video was edited by Milan BK and cinematographed by Mukesh Humagain.
The lyrics for the song was written by Padamraj BK and Gangaram Acharya and music for this song was composed by Padamraj BK himself. Ranjita Gurung is a beautiful and versatile model of music industry. She has given her best performance to hundreds of music videos and movies. Most of music video she has done are lok dohori. Ajambari Maya is a lok dohori song with a full package of entertainment. This music tries to represent the love between adult boy and girl. In this music video Ranjita and Padamraj BK are in love and planning for their future. The song say that they will make their own world of love and enjoy there in future with their immortal love. This music video was presented by Ashish Music Pvt. Ltd. When you once listen this song, I am sure you will keep repeating it.
Ajambari Maya is released officially online by Music Nepal via Youtube. Hope that you will enjoy this melodious lok dohori song.
Here is the lyrics for the song:
Oeliyeko ful sari jhardaina
Hamro atut yeo maya mardaina
Ajambari yeo chokho
Maya sachhaula
Dukha sukha ratdina
Yeo snasarko rita ho
Hami afnai sansar ma
Ramae bachhaula
Ful sari jhardaina
Hamro atut yeo maya mardaina
Ajambari yeo chokho
Maya sachhaula
Dukha sukha ratdina
Yeo snasarko rita ho
Hami afnai sansar ma
Ramae bachhaula
Hami afnai sansar ma
Ramae bachhaula
Nischal maya
Hune chha khas hamro
Sadak peti vaeni bas hamro
Ajambari yeo chokho
Maya sachhaula
Dukha sukha ratdina
Yeo snasarko rita ho
Hami afnai sansar ma
Ramae bachhaula
Hune chha khas hamro
Sadak peti vaeni bas hamro
Ajambari yeo chokho
Maya sachhaula
Dukha sukha ratdina
Yeo snasarko rita ho
Hami afnai sansar ma
Ramae bachhaula
Hami afnai sansar ma
Ramae bachhaula
…… …… …… …..
Yeo maya ko sansar chha
Gharbar chha
Kaile pani nadhalne darbar chha
Ajambari yeo chokho
Maya sachhaula
Dukha sukha ratdina
Yeo snasarko rita ho
Hami afnai sansar ma
Ramae bachhaula
Sansar chha
Gharbar chha
Kaile pani nadhalne darbar chha
Ajambari yeo chokho
Maya sachhaula
Dukha sukha ratdina
Yeo snasarko rita ho
Hami afnai sansar ma
Ramae bachhaula
Hami afnai sansar ma
Ramae bachhaula
…… …… …… ……