Nalau Jhuto Pirati by Bishnu Majhi and Rajesh Sen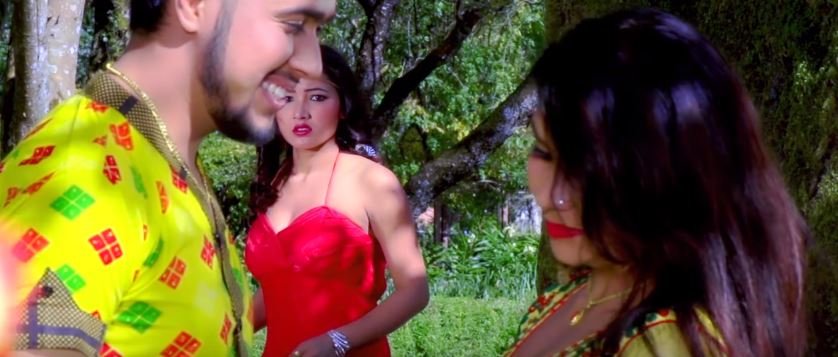 Nalau Jhuto Pirati is a new Nepali lok dohori song by Bishnu Majhi and Rajesh Sen. The music video features Asha Khadka and Bipesh. This music video was edited by Milan BK and was cinematographed by Mukesh Humagain. Nalau Jhuto Pirati is a Nepali song that tells that if we love some one then love him/her from deep inside. This music video is directed by Babita Shrestha.
The lyrics for the song was written by Sunil KC and music for this song was done by Ganesh Adhikari. This music video express how the relationship between boy and girl who love each other must be. Aasha is a beautiful well known model and actress in Nepali music industry. She has appeared in numerous music videos mostly in emotional lok dohori songs and some advertisements too. In Nalau Jhuto Pirati, Aasha Khadak and Bipesh love each other and praying to god to make their relationship more stronger. This music video was presented by Priyasi Music Pvt.Ltd. When you once listen to this music video, I am sure you will keep repeating it
Nalau Jhuto Pirati is officially released online by Music Nepal via YouTube. Hope that you guys will enjoy this melodious lok dohori song.
Here is the lyrics for the song Nalau Jhuto Pirati:
Ma sanga ta dhan chhain rup chhaina
Maya bahek kei milne hope chhaina
Nalaeu jhuto pirati
Baru assai thik chha
Rup dekhera lako maya
Bholi antai bikchha sanau
Manai dekhi lako maya po
Juni juni tikkcahha
Ma sanga ta dhan chhain rup chhaina
Maya bahek kei milne hope chhaina
Nalaeu jhuto pirati
Baru assai thik chha
Rup dekhera lako maya
Bholi antai bikchha sanau
Manai dekhi lako maya po
Juni juni tikkcahha
Rup dekhera lako maya
Bholi antai bikchha sanau
Manai dekhi lako maya po
Juni juni tikkcahha
Ful samjhera tekauli karaima
Nalau maya dhani ko adaima
Nalaeu jhuto pirati
Baru assai thik chha
Dhan dekhera lako maya
Bholi antai bikchha sanau
Manai dekhi lako maya po
Juni juni tikkcahha
Ful samjhera tekauli karaima
Nalau maya dhani ko adaima
Nalaeu jhuto pirati
Baru assai thik chha
Dhan dekhera lako maya
Bholi antai bikchha sanau
Manai dekhi lako maya po
Juni juni tikkcahha
Dhan dekhera lako maya
Bholi antai bikchha sanau
Manai dekhi lako maya po
Juni juni tikkcahha
……………………. ……………… ……………