Antai Nata by Khumman Adhikari and Purnakal BC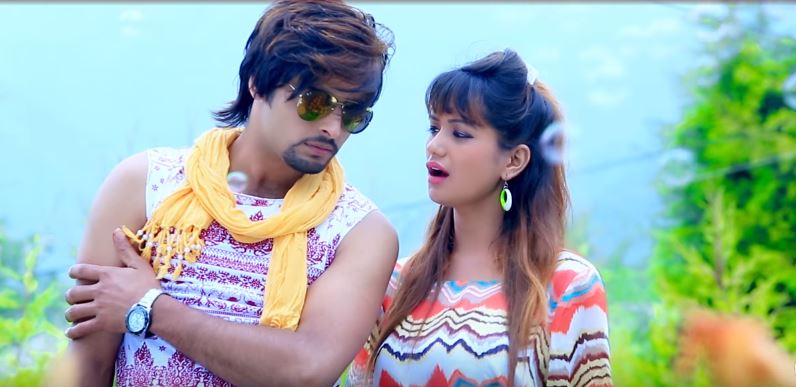 Antai Nata is a new sentimental lok dohori song by Khumman Adhikari and Purnakal BC. The music video features Sarika KC. Antai Nata is a lok dohori song that represents the ego and revenge problem between lovers. This music video is directed by Kapil Lama. Antai Nata was cinematographed by Rajesh Ghimire and edited by Sujan Shahi.
The lyrics for the song was written by Turist Jung BK and Sabir Gorkhali and music for the song was composed by Roshan Pariyar. In this music video, beautiful and known model Sarika KC and handsome actors Sandesh Sharma and Suraj Rana performed together. Sarika has appeared in many music videos and performed with lots of artists. In Antai Nata music video, Sarika and Sandesh love each other but due to ego problem they separated with each other and starts loving other. They both wants to show each other that they are happy without him/her and blaming each other for the problem. Ego is the only requirement to destroy any relationship, so be the bigger person skip the 'E' and let it 'GO'. Antai Nata was presented by Meshana Digital Pvt. Ltd. When you once listen this song, I am sure you will keep tuning it.
Antai Nata is released officially online by Music Nepal via Youtube. Hope that you will enjoy this melodious sentimental lok dohori.
Here is the lyrics for the song Antai Nata:
Pirati ko ful fulna napaudai
Chhodchhau vanne malae dhapaudai
Antai nata sanu le
Gaschhu vanepachhi
Maile k nai vanu
Varkhar varkhar lagako
Pirati ko bali maschhu vanepachhi
Ful fulna napaudai
Chhodchhau vanne malae dhapaudai
Antai nata sanu le
Gaschhu vanepachhi
Maile k nai vanu
Varkhar varkhar lagako
Pirati ko bali maschhu vanepachhi
Maile k nai vanu
Varkhar varkhar lagako
Pirati ko bali maschhu vanepachhi
Nauni man pathar jhai vayesi
Afnai chhaya tarkidai gaysi
Antai nata sanu le
Gaschhu vanepachhi
Maile k nai vanu
Varkhar varkhar lagako
Pirati ko bali maschhu vanepachhi
Pathar jhai vayesi
Afnai chhaya tarkidai gaysi
Antai nata sanu le
Gaschhu vanepachhi
Maile k nai vanu
Varkhar varkhar lagako
Pirati ko bali maschhu vanepachhi
Maile k nai vanu
Varkhar varkhar lagako
Pirati ko bali maschhu vanepachhi
…….. ……….. ………….
Aru sangai sambandha jodera
Jachhau vane malae nai chhodera
Antai nata sanu le
Gaschhu vanepachhi
Maile k nai vanu
Varkhar varkhar lagako
Pirati ko bali maschhu vanepachhi
Sambandha jodera
Jachhau vane malae nai chhodera
Antai nata sanu le
Gaschhu vanepachhi
Maile k nai vanu
Varkhar varkhar lagako
Pirati ko bali maschhu vanepachhi
Maile k nai vanu
Varkhar varkhar lagako
Pirati ko bali maschhu vanepachhi
…….. …….. ………