Antim Ghadi by Puskal Sharma and Anuska Ghimire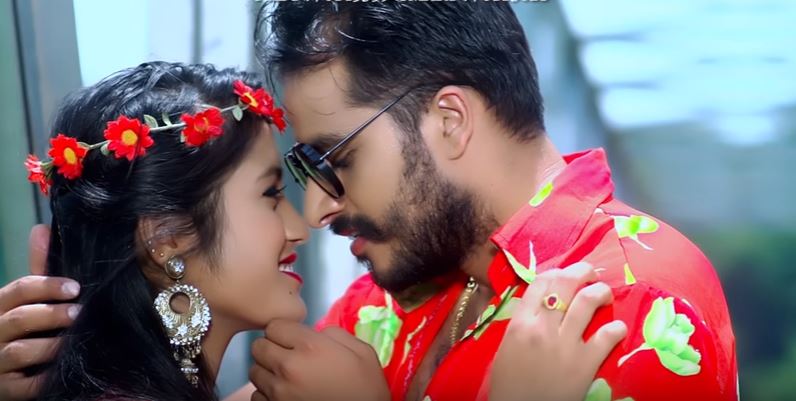 Antim Ghadi is a new sentimental lok dohori song by Puskal Sharma and Anuska Ghimire. The music video features Bimal Adhikari and LKRPB. Antim Ghadi is a lok dohori song that represents the unsuccessful love story between two lovers. This music video is directed by Kapil Lama. Antim Ghadi was cinematographed by Suresh Shrestha and edited by Amar Shakya.
The lyrics for the song was written by Ramu Khadka and music for the song was also composed by Ramu Khadka. Artists Bimal Adhikari and LKRPB have performed together to make this music video wonderful. In this music video singer Puskal Sharma and Anuska Ghimire have given their melodic voice. Puskal Sharma is the well known singer with great voice and sings mostly emotional lok dohori songs. In Antim Ghadi, Bimal and LKRPB love each other but unfortunately LKRPB has to marry marry another guy because of family pressure. Now both of them are living the life without happiness and joy. The music video is presented by Malati Digital Pvt. Ltd. When you once listen this song, I am sure you will keep tuning it.
Antim Ghadi is released officially online by Music Nepal via Youtube. Hope that you will enjoy this melodious sentimental lok dohori.
Here is the lyrics for the song Antim Ghadi:
Aja antim din vaeo mero
Ati bela samjhiea jhan dherai
Antim ghadi tmro nam ma
Jalchhaa mero chita
Tmi hasirau khusi rahau
Khusi rahanu uhisita
Ma mare ni mardaina a sani
Hamro chokho prita
Aja antim din vaeo mero
Ati bela samjhiea jhan dherai
Antim ghadi tmro nam ma
Jalchhaa mero chita
Tmi hasirau khusi rahau
Khusi rahanu uhisita
Ma mare ni mardaina a sani
Hamro chokho prita
Tmi hasirau khusi rahau
Khusi rahanu uhisita
Ma mare ni mardaina a sani
Hamro chokho prita
Aba afno vanne kei rahena
Jaslae chahe wu mero vaena
Antim ghadi tmro nam ma
Jalchhaa mero chita
Ma hasi thea khusi thea
Khusi rahanthe timi sita
Ma mare ni mardaina a sanu
Hamro chokho prita
Aba afno vanne kei rahena
Jaslae chahe wu mero vaena
Antim ghadi tmro nam ma
Jalchhaa mero chita
Ma hasi thea khusi thea
Khusi rahanthe timi sita
Ma mare ni mardaina a sanu
Hamro chokho prita
Ma hasi thea khusi thea
Khusi rahanthe timi sita
Ma mare ni mardaina a sanu
Hamro chokho prita
……….. …….. ………
Tha chha tmro ankha ma
Jhari huncahha
Mero kami jindagi vari hunchha
Antim ghadi tmro nam ma
Jalchhaa mero chita
Tmi hasirau khusi rahau
Khusi rahanu uhisita
Ma mare ni mardaina a sani
Hamro chokho prita
Tha chha tmro ankha ma
Jhari huncahha
Mero kami jindagi vari hunchha
Antim ghadi tmro nam ma
Jalchhaa mero chita
Tmi hasirau khusi rahau
Khusi rahanu uhisita
Ma mare ni mardaina a sani
Hamro chokho prita
Tmi hasirau khusi rahau
Khusi rahanu uhisita
Ma mare ni mardaina a sani
Hamro chokho prita
…….. ……… ………