50+ April Fool Messages and Jokes for Friends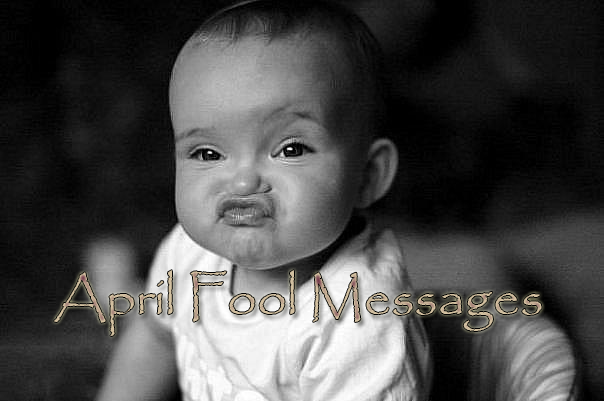 Looking for some April Fool SMS Messages, you are at right place with lot of best April Fool Messages and April Fool memes too. April 1st is a most funny day of the year, on this day people make fool to family member, relatives, friends and loved ones, so, everybody is aware of upcoming April 1st, if not get ready to be fooled :D. If you need some of the best April Fool sms messages then here you will find best out of best April Fool Day messages. Here you will get some April Fool quotes and messages which you can send to your friends and relatives on this April Fool Day. Find out the best or the funny among these April Fools messages and send them to your friends. You know it's the day to have fun with all your fellows. On this day people give shocking news and make them surprised and no one gonna punish for lying instead they will laugh later that you fooled them on this April Fool Day. This day also gives people memories for a lifetime. Well here we have a total of 50+ funny, shocking, kidding April Fool messages and quotes, so, keep in touch with us and get best collection. Looking for some Hindi April Fool Messages they are too included at the bottom. Enjoy !
Big collection of April Fool Messages
Some 1..
Misses U..
Needs U..
Worries About U..
Lonely Without U..
Guess Who?
THE MONKEY IN
… THE ZOO …
Hey U Know
Which is the best day to propose a girl.. April 1st
U Know Why??
If she accept its your luck
otherwise just tell April Foooooll. 😛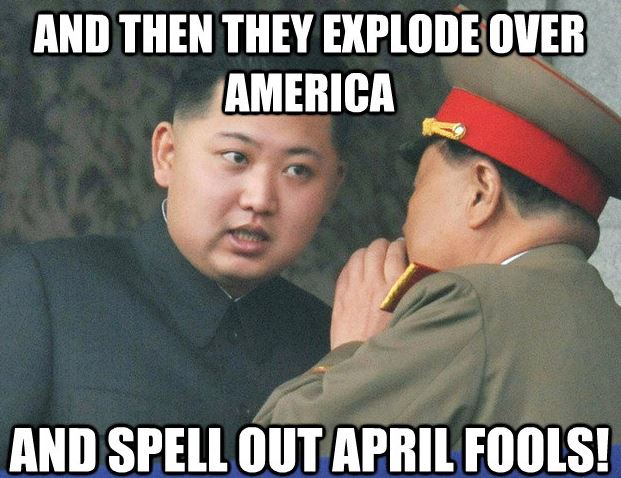 Fact1: You can not touch
your lower lip with your tongue…
Fact2: After reading this,
99/100 idiots would try it. Fooled 😀
If people talk about your beauty, your power, your wisdom or your smartness, then just give them a tight slap…
How dare they FOOL you in advance! Happy April Fool!
Please Read this message on 1st April
I know u can't wait,
So,
CONGRATS…….
you aRe the FIRST FOOL OF this Year
Hi,
Doing nothing?
Then Make a Place,
4 Me in ur Heart!!
I May come there any time!
Ur's Faithfully,
"HeArT aTtAcK"
A study has proved that
all fools use their THUMB
while reading a SMS. Now its 2 late dont try
2 change ur finger!
Catch another fool!
So Sweet is ur SMILE???
so Sweet is ur STYLE???
so Sweet is ur VOICE???
so Sweet is ur EYE?????
see …….how Sweetly I LIE.
U R the one who is CHARMING
U R the one who is INTELLIGENT
U R the one who is CUTE
and I am the One who is spreading these RUMOURS.
Last night I Got a severe Headache…
I went to the Doctor …
He said that It would be cured If I send a SMS TO some lunatic person…"Tell me, Whom do I know other than you.?"
He took me from a bar,
He took me in his car,
He took my top off,
He puts his lips on mine,
but don"t worry,
"I"m a bottle of wine!"
God made day light and called it Sun;
God made entertainment and called it Fun;
God made night light and called it Moon;
God made a You and called it Cartoon.
Happy April Fool!
Read each word reversely:
A SUOMAF ROTCOD DLOT EM
TAHT YLNO LATNEM STNEITAP
EVAH EHT TNELAT OT DAER SMS
NEVENEHW STI NETTIRW YLESREVER. Whats the date today ? =D
You Are "UltiMate"
You Are "Loveable"
You Are "Lovely"
You Are "Unique"..
In Short You Are Ullu…
Let me kiss ur lips,
Let me feel ur teeth,
Let me feel ur tongue
SMILE!
This is ur friend "PEPSODENT" reminding you to brush ur teeth, twice a day Everyday.
5 Reasons Why I Like You-
1.Ur Never Boring,
2.U Know How To Bring On My Face
3.Ur Always On My Side,
4.We Are A Perfect Match,
5.Ur Always Fooled By Me.
Hahahaha…
Feeling bored?
Wondering, what to do?
Open the zip!
Enter your hands in between your zip..
take out your…
book from your bag and study.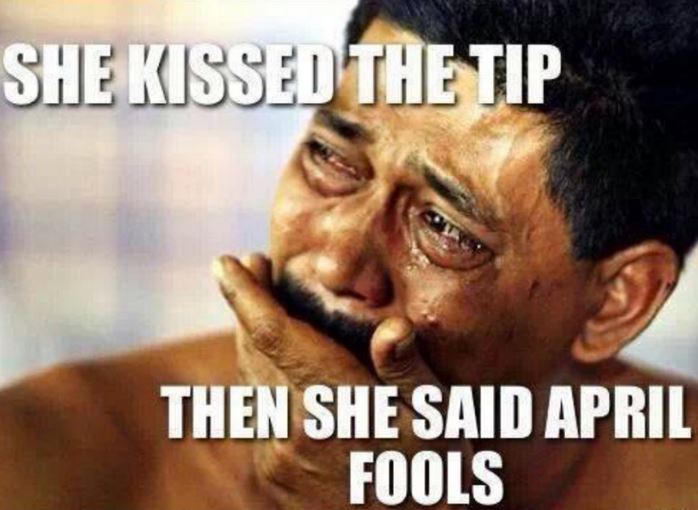 Just a friendly reminder –
Relationships are precious.
So don't hurt them by fooling and lying on first April / April Fool.
You are one of the most CUTE persons in the world!!
Just a second, don't misunderstand.
CUTE means:
C: Creating
U: Useless
T: Troubles
E: Everywhere..
Happy April Fool Day!!!!
A day will come when the world will
celebrate
your name,
your fame,
your personality and
your views.
But April Fool comes once in a year and
that your day.
Place a bottle of liquid dish soap into the toilet tank.
The next person 2 flush the toilet will be greeted
with an overwhelming amount of bubbles
Amazing six facts:
1.90% of people in Myanmar do not drink milk
2.Snakes vision is up to 5 kilometer.
3.A man can touch sun if his body is completely surrounded by mercury.
4.No twins have been born til now in Greenland.
5.zebra does not have liver.
The time since I have met you
i have realized that a friend like you is worth million dollars.
So if you dont mind..
Can I sell you?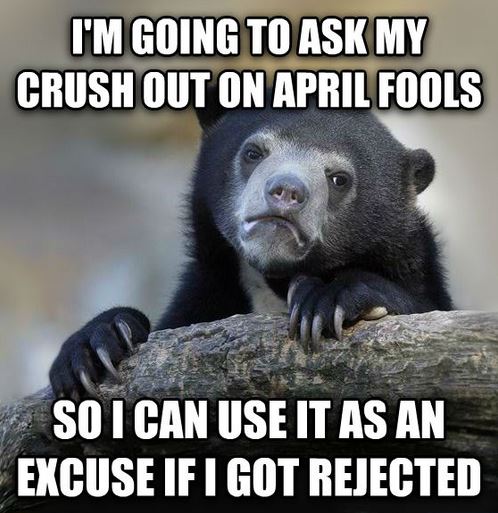 I want you to know that you
are very important to me,
It is not possible for me to
live without you even for a second!
You are my life & I can feel you everywhere.
Do not mind, I was talking about Oxygen
When things go wrong
When sadness fills your heart
When tears flow in your eyes
Always remember 3 things
1) I am with you.
2) You have money.
3) Bar is open, Lets go..
We've known each other for quite a while now,
Do u think we can b more than friends?
Cos I like u very much.
Will u b my partner
.
.
.
2 rob a bank?
I like Boiled Egg,
Because
It is BoneLESS..
&
I like you,
Because
You are BrainLESS
Ha..ha..ha….ha
31st March Or 1st april
Fool is Fool doesnt matter.
Wishing very happy, prosperous and joyful
Fool Day to the King of Fools..
New financial year, new fools.
But how can we ignore the old fools like you.
It's a crowning moment for you. Have a rocking special day!
I Love "U"! ,
I Love "U"! ,
I Love "U"! ,
I Love "U"!
Hey! Don't get excited I also Love V, W, X, Y, Z 😀
Earth may stop rotating;
Birds may stop flying;
Candles may stop melting;
And hearts may stop beating.
But your brain will never start working. 'April Fool Day' was meant just for people like U!
What Is The Difference
Between A Wise & A Fool?
.
..
…
A Wise Sends Sms & A Fool
Keeps Reading Them. How
Many Times Have U Read
My Messages?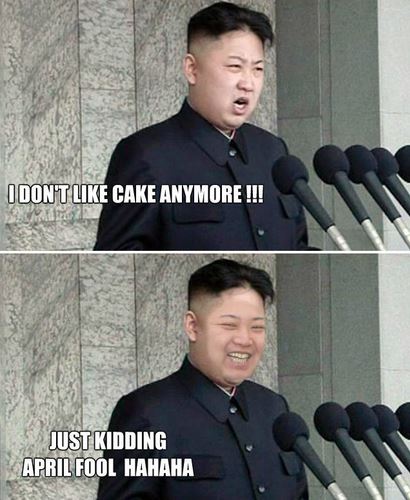 Dear Friend,
I am surprised at your wit, your intellect, your wisdom and your knowledge.
But more importantly, I am surprised at my false praise of you!
Happy All Fools'
Storms die;
Songs fade;
Flowers wither;
Misfortune ends;
Great parties finish.
But people like you remain forever… because ghosts never die!
Happy April Fool
I am really jealous of you.
The day is not far off when people shall:
Talk about you;
Discuss your work;
Dissect your actions;
And your name would be on almost evryone's mind.
And that day is
.
.
.
.
.
April Fool!
Dear Friend,
I am surprised at your wit, your intellect, your wisdom and your knowledge.
But more importantly, I am surprised at my false praise of you!
Happy All Fools' day!
Some things are made for each other. For example:
Shoe & Socks;
Soap & Water;
Paper & Pen;
I & your girlfriend.
Happy April Fool!……………
I may forget to wish you on Holi, Diwali, Durga Puja or even New Year's day.
But I am very thankful to God that I remember and wish you on a very special day meant for people like you.
Happy April Fool!
Everything has a day.
Every pet has a day.
Every fool too has a day.
Hope you might have enjoyed your day.
Happy April Fool Day!
Best relationships needs
no promises
no demands N
no expectations
it just needs 2 people
1 Fool Like u n
1 cool like me.
A fool may be known by six things: anger without cause; speech without profit;
Change without progress; inquiry without object; putting trust in a stranger; and
Mistaking foes for friends.
All ways keep your LOVER'S photo in your purse. Whenever you are in big trouble see the photo. You will feel that No other problem bigger than this…
April Fool Quote: A common mistake that people make when trying to design something completely foolproof is to underestimate the ingenuity of complete fools. – Douglas Adams
Some Hindi April Fool Messages:
Mujhe ap ki ak baat pata laghi hai,
Zara free ho ker call kerna
Okay
.
.
.
Sub ko forward kerO, dakhna kitna loog 'FOOL' bante hain, April Fool
Assi v kisi de Naal payar keeta C,
Odi yaad vich Dil bekarar keeta C,
darr darr k Aik Din izhaar keeta C,
O Marjani kehndi VEERA
MÄin tey Mazaak keeta C.
Oye April Fool
Abe khajur,
Zoo se bhage hue langur,
Abe sare hue kele ke chilke,
Chuse hue aam,
Circus ke retired bandar,
Aisa kisi ko na kehna,
Feel hota hai!
Legs utha ke karo.
Tange feala ke karo.
Ghuma ghuma ke karo.
Aage peechey dono taraf karo.
Jitna karoge utna halka mehsoos hoga.
Ramdev ji ka yoga.
Sardar got into a bus on 1st April
when conductor asked for ticket.
He gave Rs.10/-
and took the ticket and said april fool.
I have pass.
Attendence..
Pappu
Yes Sir
Bablu
Yes Sir
Tinku
Yes Sir
Ullu
??
Ullu
??
Ullu
Button dabana band kar, teri baari hai, attendence lagwa.
Aaj Ka Taaza Message:
Hai, Smart, Bahut, Woh, Hai, Bheja, Ne, Jis, Aur, Hu, Raha, Padh, Se, Niche, Ko, Msg, Jo, Hu, Pagal, Woh, Main.
CONFUSED?
Ab Msg Niche Se Upar Padho!
.
.
.
.
.
.
.
Ban Gaye Na April Fool?
In larkion se dil lagana ek bhool hai
In k peeche itna bhagna fazool hai
Jis din kisi larki ne keh diya "I LOVE U" Tou samajh jana us din APRIL FOOL hai.
Save