Friendship SMS Messages for Friends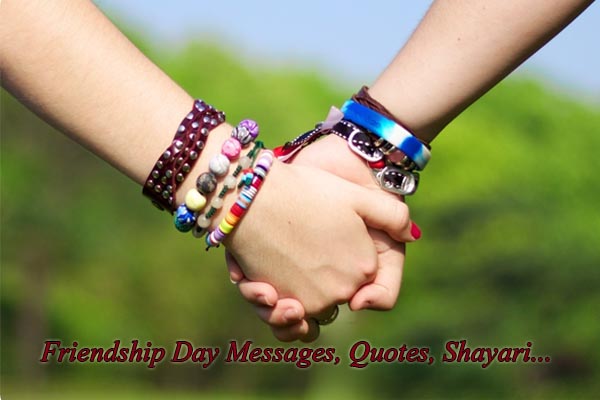 Looking for best Friendship messages, quotes and Shayari in Hindi and English, then you are right place as we have a great collection of Friendship sms messages that you can sent to your friends. Friendship is a relationship between two people who hold your hand in happiness and sorrows.  Well in many countries people celebrate the first Sunday of August as Friendship day every year. In this day people ties their friends Friendship band, sends them awesome greeting cards, gifts etc. and celebrate Friendship Day. So you may want to send some crazy and love filled Friendship messages to your friends or you may want these quotes for your Whatsapp, Facebook or Snapchat status update. Friends are the precious gift of god who always stay there for you on every steps of your life. In friendship you can find support, understanding and trust. You can find beautiful Friendship messages in this page which you can send to all your friends. Stay close with your friends and never break relation with your friends.  And don't forget to check out these awesome Friendship messages that you can send to your Friends and keep your Friendship sweet.
Grand Collection of Friendship Messages for Friends
The Test Of Friendship
Doesn't Comes When U R 2gether.
It Comes When U Part Ways &
U Realize That Despite The Distance,
The Friendship Is Still There…
F-Fun
R-Rational
I-Impartial
E-Emotional
N-Never Ending
D-Dependable
S-Special
H-Heart
I-Interesting
P-Priceless
True meaning of friendship:
Where there is no compromise
in telling the secret.
And there is no secret
for which u need to compromise.
When clouds break rain falls.
When coconut break water falls.
when love break tears falls
but
when friendship break life falls
so never break friendship.
The importance of good n sincere friendship
in our lives is like
the importance of heartbeats
they are not visible
but
they silently support our life
Wife is 5 star
Mother is top star
Father is king star
Teacher is Ultimate star
Lover is action star
But A friend is the
REAL STAR
If ur sms is not coming,
I think u r sending but its undelivered,
if U r not calling i think u r trying
but d network is bz,
bcz believing is most important in friendship.
"Friends" are like balloons
once u let them go
u cant ever get them back
thats y I ll tie u
tight to my heart
As u r precious to lose.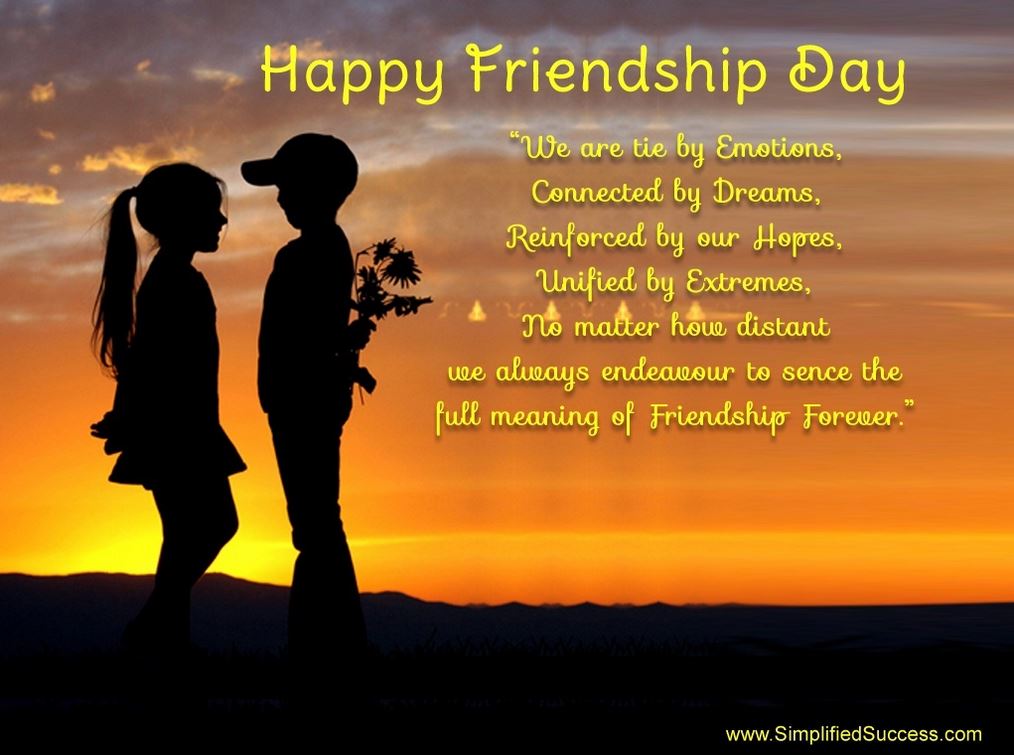 In this WORLD,
where everything seems UNCERTAIN,
only one thing is DEFINITE.
You'll always be my FRIEND,
beyond WORDS,
beyond TIME &
beyond DISTANCE!
When heart beats it says "lub-dub"
Do U know whats it means?
LUB says "Live Ur life Best"
DUB says "Do Ur Best in life"
Enjoy every heart beat.
"Happy Friendship Day"
Friendship means a little heart dat never hates
A cute smile never fades
A smooth touch that never hurts &
A strong relation dat never breaks.
Fish said to water:
You wont see my tears,
because I am in the water.
Water replied:
But, I can feel your
tears because you are in my heart.
That's FRIENDSHIP
If we are alone for the punishment,
we feel very shy and uncomfortable
but …..
If we are in a group for punishment,
we feel very proud..
that's the true friendship.
"FEELiNG"is a painting never spoil it
"FACE"is a book try to read it
"LOVE" is precious be ready to sacrifice for it
"FRiENDSHiP" is a mirror never"break" it.
Never abandon OLD FRIENDS
They are hard 2 replace.
Friendships is like wine:
it gets BETTER as it grows OLDER.
Just like us… i get BETTER, u get OLDER.
Distance never separates any relation
Time never build any relation.
If Feelings are True From Heart,
Then 'Friends are always "Friends" forever.
Do not love a friend who hurts you;
And do not hurt a friend who loves you.
Sacrifice everything for a true friend;
But do not ever sacrifice a friend for anything!
Every life in this world is
written by god's own hands,
That's why I am thankful to god,
Because he wrote my life,
included YOU as
A beautiful Friend like a Angle part of my life..!!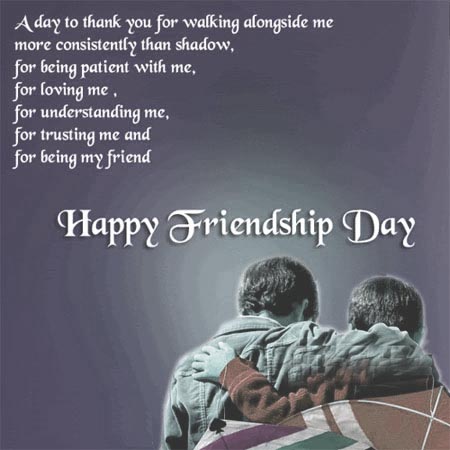 I admit I'll never be the perfect friend.
I'll never be there always.
I may not make u smile at times
but
there is one thing I admit I could do.
To be the person I could be for u.
Sometimes, I forget to say hi,
Sometimes, I even miss to reply,
Sometimes, my msg doesn't reach u,
But, it doesn't mean that I forget u,
I'm just giving u time to miss me!
I can't give SOLUTIONS 2 all of life's problem,
but I can listen 2 u,
2gether we'll search 4 an ANSWER…
I can't keep ur FEET from stumbling,
I can only offer my hand that u may grasp it not FALL…
I can't keep ur heart from breaking or hurting,
but I can cry wid u and help u SMILE again.
I can't PROMISE u HAPPINESS ALWAYS
but I can only share wid u
what life offers & be ur…
FRIENDSHIP is like a tree…
It is not MEASURED on how TALL it could be,
but is on how DEEP the ROOTS
HAVE GROWN….
Crazy days and screwed up nights,
Tons of Crushes and stupid fights,
Secrets we will take to the grave,
Pictures we will forever save.
Through thick and thin,
Always true.
Friends forever,
Me n U!
Making a million friends is not an achievement,
The achievement is to make
"A" friend who will stand by you
when a million are against you….!
People like U are found only once in a lifetime.
So U better take care of yourself because
I don t want to waste another lifetime
to find a such a SWEET Friend.
"FRIENDSHIP" is a sim,
which has no activation charges.
Free incoming and outgoing
with roaming all over the world
and it's validity "NEVER ENDs"…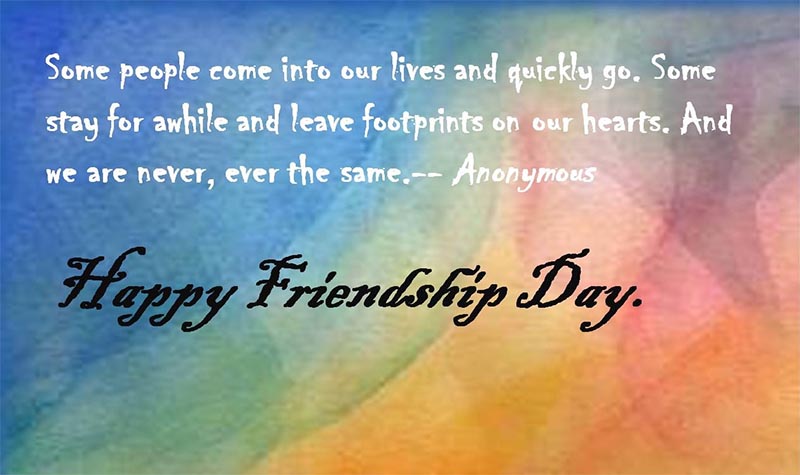 Definition of my Friend
My medicine when i was in pain
My letter when i m far
My smile when i m sad
My hanky when i cry
and one more breadth
when i die…
I tried to call you but couldn't reach you!!!
the helpline people told me that i can call on earth only!
And You r the Moon…
Distance never separates any relation,
Time never build any relation,
If feelings r true from heart,
then frndz r always forever…
Good friends are like tom & jerry
sometimes crap keeps them apart,
but they always come back together!
send this to all your favorite buddies..
Sweetness can be defined without honey.
Fragnance can be defined without Rose.
But, friendship can't be defined without YOU…
If u open my heart,
guess what you are gonna see?
It's you.
True friends are hard to find so I kept you.
The hardest part of
missing friends
is not their absence,
it's when you think
of all those good times
and ask yourself,
'will those moments ever
happen again?'
I never prove to be
good enough for every one..!
But
I'M the Best for them,
who understand me !!
A Frnd Of Mine Asked Me One Day:
What If I Break Ur Trust Smeday?
I Replied:
Trusting On U Is My Decision
&
Proving Me Right Is Ur Choice.
Life is 5 star
Mother is top star
Father is king star
Teacher is Ultimate star
Lover is action star
But A friend is the
REAL STAR
Friendship is about…
bringing out the positive when everything seems negative,
being accepted for who you are,
being able to pick up right where you left off,
sharing, talking, and laughing.
Friendship is about us, and for that I'm grateful.
And I hope you have the best birthday ever, friend!
My heart's like an open book;
It depends on how you read me.
Don't judge me by my cover;
Look in and discover.
I will be your true friend for ever!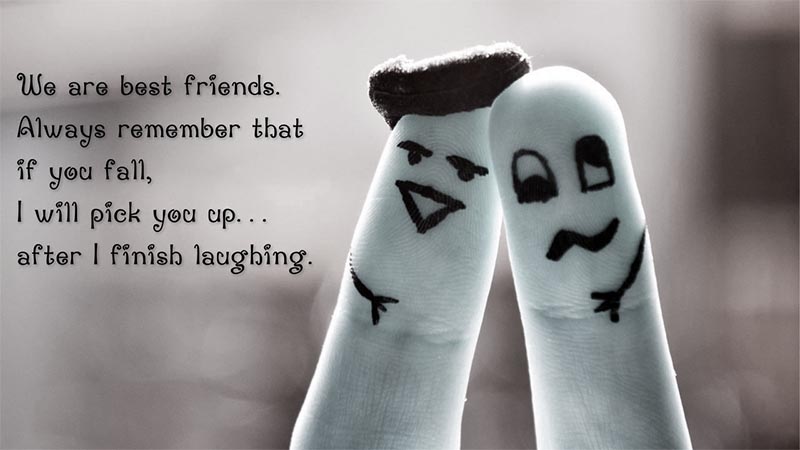 Some collection of Hindi Friendship SMS Messages and Shayari Quotes
Duniya se mile gum to bahut hain
En mile gamo se ankhe num to bahut hai
Kab ke marr jaate en gamo ko sehkar
Par dosto ki duaaon me dum bhi bhut hai…
Hamari dosti ki umar hum se bhi zyada hogi,
Tumhari har aawaz hamare liye wada hogi
Tum bhi sun lo kaan khol key,
Jisne dosti pehle tori uski pitai b sbse zyada hogi…
Teri dosti mein khud ko mehfooz maante hain,
Hum doston me tumhe sabse azeez maante hai.
Teri dosti ke saaye mein zinda hain,
Hm to tujhe khuda ka diya hua tabeez mante hai…
Asman ko neend aye to sulao kaha,
dharti ko moot aye to dafnao kaha,
sagar main leher uthe to chupao kaha,
ap jese dost ki yaad aye to jao kaha…
Kuch Meethe Pal Yaad Aate Hain
Palko Par Aansu Chor Jate Hain
Kal Koi Aur Mil Jaye Toh Hume Na Bhool Jana
Friendship Ke Relation Zindagi Bhar Kaam Aate Hain…
Ache dost "haath" aur "ankh" ki tarha hote hain,
Jab "hath" ko takleef hoti hai to "Ankh" roti hai,
Aur jub "ANKH" roti hai to "Hath" ansu pochtay hain…
Rab se yehi dua h ki dost sabhi muskuraate rahe,
Dosti, Dosti se nibhti hain Dosti se nibhate rahein…
Milna bichdna sab kismat ka khel hai,
Kabhi nafrat to kabhi dilo ka mail hai,
Beek jata hai har rishta duniya me,
Sirf dosti hi yaha "NOT FOR SALE" hai…
Gunaah kar ke saja se darte hain,
Zahar pee ke dawa se darte hain,
Dusmano k sitam ka khof nahi hume
Hum to dosto k khafa hone se darte hai…
Aey mere SMS mere dost ke pass jana,
Agar wo so raha ho to shor mat machana,
Jab wo jage to dhire se 'Muskarana',
Phir kehna "KANJUS" SMS karo!
Kisi roj yaad na kar pau to khudgarj na samjh lena,
Darasl choti si iss umar mai presaniya bhut hai,
Main bhoola nhi hu kisi ko mere bahot achhe dost hai zmane me,
Bs thodi zindagi uljhi pdi hai do waqt ki roti kmane me.
Faansle hote huye bhi manzil vahi rahegi
Faansle hote huye bhi dostana vahi rahega
Bahot mushkil he ye safar zindagi ka,
Agar apka sath hoga to ehsaas vahi rahega…
Mil Jaye Koi Naya To Hume Na Bhula Dena..
Koi Rulaye Tumhe To Hume Yaad Kar Lena..
Dost Rahenge Umar Bhar Tumhare..
Tumhari Khushi Na Sahi Gam Hi Baat Lena…
Kamyabi badi nahi paane wale bade hote hai.
Zakhm bade nahi bharne wale bade hote hai.
Itihas k har panne p likha hai.
Dosti badi nahi nibhane wale bade hote hai…
Andhere Me Raasta Dekkhna Mushkil Hota Hai
Tufaan Me Diya Jalana Mushkil Hota Hai
Kisi Se Bhi Dosti Itna Karna Mushkil Nahi
Magar Dosti Nibha Pana Mushkil Hota Hai…
Save