Authima Pathara by Ramji khand and Asmita Rana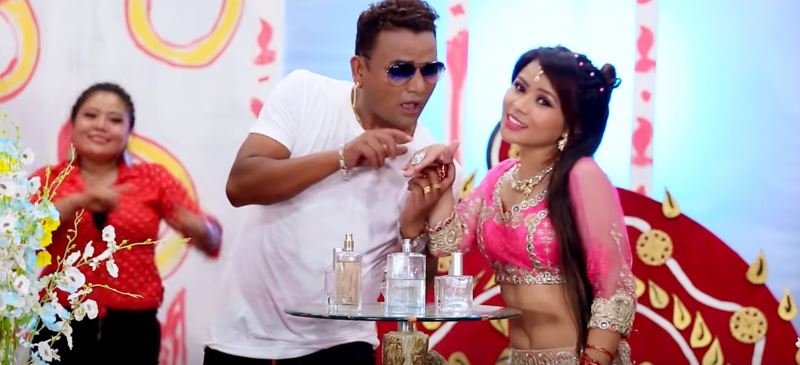 Authima Pathara is a new Nepali lok dohori song by Ramji khand and Asmita Rana. The music video features Shankar B.C. Authima Pathara is directed by Shankar B.C. This music video was edited by Nabin Gharti Magar and was cinematographed by Rajesh Ghimire.
The lyrics as well as music for the song was composed by Ek Narayan Bhandari. Shankar BC is the handsome and multi-talented man. He is director an very good dancer. In this music video he performed with gorgeous model Asmita Rana. Mostly Shankar BC directs and performed lok dohori songs. In this music video both actors describes the beauty of their pair. In one word this music shows the love between love birds. Authima Pathara music video was presented by Sitara Music. When you once listen this song, I am sure you will keep tuning it.
Authima Pathara is released officially online by Music Nepal via Youtube. Hope that you will enjoy this melodious lok dohori song.
Here is the lyrics for the song Authima Pathara:
Heee tmi nai chhau
Basana maga maga
Ho basana maga maga
Chameli jhai dekhinchhau
Lak vagaa
Authima pathara
Tmle ra fulale pardaina
Ghasna lae
Bajar ko attara
Basana maga maga
Ho basana maga maga
Chameli jhai dekhinchhau
Lak vagaa
Authima pathara
Tmle ra fulale pardaina
Ghasna lae
Bajar ko attara
Tmle ra fulale pardaina
Ghasna lae
Bajar ko attara
Heee tmlae pani sakeko
Gun lamla ho
Sakeko gun lamla
Maile pani chhapakkai
Suna lamla
Authi ma pathara
K ho k pirati
Tha chhaina patakkai
Sikdaichhu varkharai
Sakeko
Gun lamla ho
Sakeko gun lamla
Maile pani chhapakkai
Suna lamla
Authi ma pathara
K ho k pirati
Tha chhaina patakkai
Sikdaichhu varkharai
K ho k pirati
Tha chhaina patakkai
Sikdaichhu varkharai
….. ….. …… ….
Hee khil dinelae
Dinna tahh dahi pani
Ho dinna tahh dahi pani
Maee khaye navane
Kae pani
Authima pathara
Tmle ra fulale pardaina
Ghasna lae
Bajar ko attara
Dinna tahh dahi pani
Ho dinna tahh dahi pani
Maee khaye navane
Kae pani
Authima pathara
Tmle ra fulale pardaina
Ghasna lae
Bajar ko attara
Tmle ra fulale pardaina
Ghasna lae
Bajar ko attara
Hee gopya kura
Kholdina kai pani
Ho kholdina kai pani
Teti lati chhaina vo
Mai pani
Authi ma pathara
K ho k pirati
Tha chhaina patakkai
Sikdaichhu varkharai
K ho k pirati
Kholdina kai pani
Ho kholdina kai pani
Teti lati chhaina vo
Mai pani
Authi ma pathara
K ho k pirati
Tha chhaina patakkai
Sikdaichhu varkharai
K ho k pirati
Tha chhaina patakkai
Sikdaichhu varkharai
K ho k pirati
…. ….. ……