Baisa Jovan by Kulendra BK and Dhartima Thapa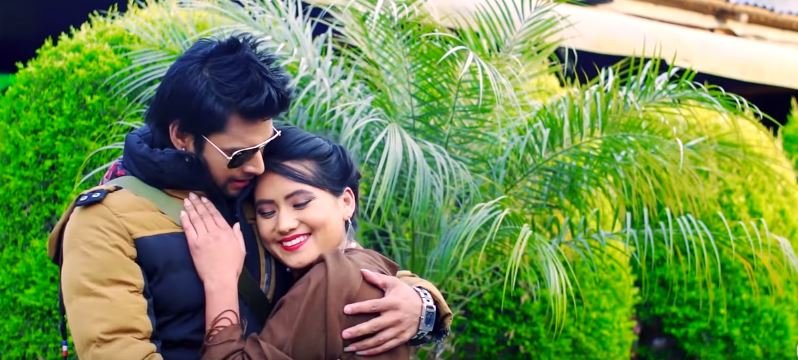 Baisa Jovan is a new Nepali lok dohori song by Kulendra BK and Dhartima Thapa. The music video features Ranjita Gurung and Buddhabir. Baisa Jovan is directed by Bikram Chauhan. The music video was edited by Milan BK and cinematographed by Basu Baral.
The lyrics as well as music for this song was composed by Mohan Shrish Magar. Ranjita Gurung is a gorgeous model of music industry. She has given her best performance to hundreds of music videos and movies. Baisa Jovan is a lok dohori song with a full package of entertainment. This music tries to represent the love between adult boy and girl. In this music video Ranjita and Buddhabir are not together but they loves each other more and more day by day and excited to meet. Steve Maraboli said that "I believe in the immeasurable power of love; that true love can endure any circumstance and reach across any distance." This music video was presented by One Way Films Pvt. Ltd. When you once listen this song, I am sure you will keep repeating it.
Baisa Jovan is released officially online by Music Nepal via Youtube. Hope that you will enjoy this melodious lok dohori song.
Here is the lyrics for the song Baisa Jovan:
Hamro maya juna ra tara vo
Tadha maya jhan gadhaa vo
Ful fulera jharne bela vo
Ful fulera jharne bela vo
Aba tahh bihe garam vo sanu
Baisa jovan dhalne bela vo
Hamro maya juna ra tara vo
Tadha maya jhan gadhaa vo
Ful fulera jharne bela vo
Ful fulera jharne bela vo
Aba tahh bihe garam vo sanu
Baisa jovan dhalne bela vo
Aba tahh bihe garam vo sanu
Baisa jovan dhalne bela vo
Sapani ma ayetheu ankhaima
Chhitai au vo basnalae gharaima
Ful fulera jharne bela vo
Ful fulera jharne bela vo
Aba tahh bihe garam vo sanu
Baisa jovan dhalne bela vo
Ayetheu ankhaima
Chhitai au vo basnalae gharaima
Ful fulera jharne bela vo
Ful fulera jharne bela vo
Aba tahh bihe garam vo sanu
Baisa jovan dhalne bela vo
Aba tahh bihe garam vo sanu
Baisa jovan dhalne bela vo
…. ….. ….. …..
Tmi bina ma vaye duukhi
Tmi nai hau mutu ko dhukdhuki
Ful fulera jharne bela vo
Ful fulera jharne bela vo
Aba tahh bihe garam vo sanu
Baisa jovan dhalne bela vo
Ma vaye duukhi
Tmi nai hau mutu ko dhukdhuki
Ful fulera jharne bela vo
Ful fulera jharne bela vo
Aba tahh bihe garam vo sanu
Baisa jovan dhalne bela vo
Aba tahh bihe garam vo sanu
Baisa jovan dhalne bela vo
Ma ta vaye banaiko chaaari
Nidra pani lagdaina ratvaaari
Ful fulera jharne bela vo
Ful fulera jharne bela vo
Aba tahh bihe garam vo sanu
Baisa jovan dhalne bela vo
Banaiko chaaari
Nidra pani lagdaina ratvaaari
Ful fulera jharne bela vo
Ful fulera jharne bela vo
Aba tahh bihe garam vo sanu
Baisa jovan dhalne bela vo
Aba tahh bihe garam vo sanu
Baisa jovan dhalne bela vo
…. ….. …… ……