Chinese Luga by Damodar Bhandari and Uma Devi Khanal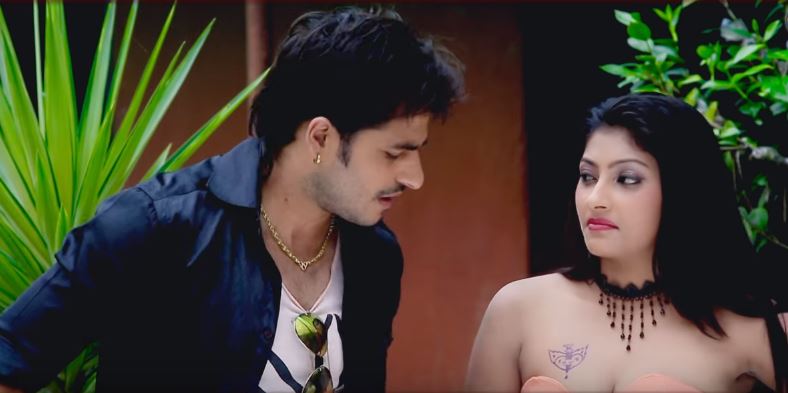 Chinese Luga is a new Nepali lok dohori song by Damodar Bhandari and Uma Devi Khanal. The music video is a lok dohori song is about Chinese wears which is full of entertainment. This music video is directed by Kapil Lama. Kurchi Khali music video was edited by Sujan Sahi and cinematographed by Suresh Shrestha.
The lyrics for the song was written by Uma Devi Khanal and music for the song was composed by Ganesh BK. Artists Bimal Adhikari and Rita Bhattarai acted in this music video in natural way. Bimal Adhikari is a talented handsome model and performed in many lok dohori songs. In this funny music video, singer wants to show the growing use of fashionable clothes that are imported from China. They said that this western culture in Nepal is not Digestible. Chinese Luga was presented by Bhavana Music Solution. When you once listen this song, I am sure you will keep tuning it.
Chinese Luga is released officially online by Music Nepal via Youtube. Hope that you will enjoy this melodious lok dohori.
Here is the lyrics for the song Chinese Luga:
Chhota chhota luga laune
Sabai anga dekhaune
Chhota chhota luga laune
Sabai anga dekhaune
Tessai mathi vayena vane
Tatoo dekhaune
Bauko ijat chha vane
Aba chaina le
Lama lama luga pathaedeu
Daiko ijat chha vane
Aba chaina le
Lama lama luga pathaedeu
Hamro Nepal ma
Lama lama luga pathaedeu
Ajakal ka kta hinnchhan
Adha kapal chhatera
Ajakal ka kta hinnchhan
Adha kapal chhatera
Naya kinchhan ani
Lauchhna katera
Bauko ijat chha vane
Aba chaina le
Ramra ramra luga pathaedeu
Daiko ijat chha vane
Aba chaina le
Ramra ramra luga pathaedeu
Hamro Nepal ma
Nafateka luga pathaedeu
…. …. …. ……
Aba inle birsi sake
Sari cholo guniyeo
Aba inle birsi sake
Sari cholo guniyeo
Laja saram navayesi
K k hune ho
Bauko ijat chha vane
Aba chaina le
Lama lama luga pathaedeu
Daiko ijat chha vane
Aba chaina le
Lama lama luga pathaedeu
Hamro Nepal ma
Lama lama luga pathaedeu
Paila paila thotra lauda
Vanthe ijjat gaeo re
Paila paila thotra lauda
Vanthe ijjat gaeo re
Aja voli luga chyatne
Fashaion vayeo re
Bauko ijat chha vane
Aba chaina le
Ramra ramra luga pathaedeu
Daiko ijat chha vane
Aba chaina le
Ramra ramra luga pathaedeu
Hamro Nepal ma
Nafateka luga pathaedeu
…. ….. …… …..
Ajakal ka fashaion pani
Aye thari thari ka
Ajakal ka fashaion pani
Aye thari thari ka
Kasto hola hera launa
Laune tarika
Bauko ijat chha vane
Aba chaina le
Lama lama luga pathaedeu
Daiko ijat chha vane
Aba chaina le
Lama lama luga pathaedeu
Hamro Nepal ma
Lama lama luga pathaedeu
Ramri kt dekhnai hunna
Hinchhana ankha marera
Ramri kt dekhnai hunna
Hinchhana ankha marera
Sanglo jhundai hinchhan
Gathe Nakkal parera
Bauko ijat chha vane
Aba chaina le
Ramra ramra luga pathaedeu
Daiko ijat chha vane
Aba chaina le
Ramra ramra luga pathaedeu
Hamro Nepal ma
Nafateka luga pathaedeu
…. ….. …… ……
Jasle thorai luga layeo
Uslae sab le chhine re
Jasle thorai luga layeo
Uslae sab le chhine re
Due inchi ko talo paye
Chhito kinne re
Bauko ijat chha vane
Aba chaina le
Lama lama luga pathaedeu
Daiko ijat chha vane
Aba chaina le
Lama lama luga pathaedeu
Hamro Nepal ma
Lama lama luga pathaedeu
Ankhi vau ma mundra laune
Oth chhera top laune
Ankhi vau ma mundra laune
Oth chhera top laune
Makho marna sakne haina
Faltu guff laune
Bauko ijat chha vane
Aba chaina le
Ramra ramra luga pathaedeu
Daiko ijat chha vane
Aba chaina le
Ramra ramra luga pathaedeu
Hamro Nepal ma
Nafateka luga pathaedeu
…… ….. ….. ……