Daami Dekhinchha by Ramji Khand and Krishna Gurung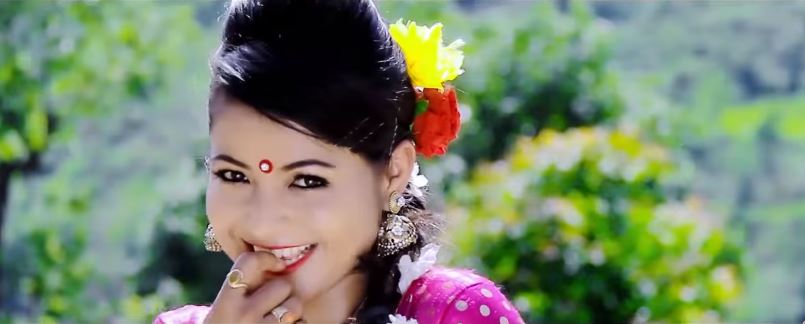 Daami Dekhinchha is a new Nepali lok dohori song by Ramji Khand and Krishna Gurung. The music video features Purnima Shrestha. Daami Dekhinchha is directed by Prakash Bhatta. This music video was edited by Bishnu Sharma and was cinematographed by Karan Chaisir.
The lyrics for the song was written by C.P Magar and Ramjhi Khand is the musician. The music video features gorgeous model Purnima Shrestha. Purnima Shrestha is Nepali dancer and actress who has played in numerous Nepali music videos and modeling assignments. Ramji Khand who is talented singer, musician and dancer also shown in this music video and has performed very well. In this song Singers describes their lovers beauty in musical way. Daami Dekhinchha music video was presented by Aashish Music. When you once listen this song, I am sure you will keep tuning it.
Daami Dekhinchha is released officially online by Music Nepal via Youtube. Hope that you will enjoy this melodious lok dohori song.
Here is the lyrics for the song Daami Dekhinchha:
Ankhai laune kalo gajal
Nidharaima tika
Nidharaima tika
Tmi navaye jindagi nai
Lagchha fikka fikka
Lagchha fikka fikka
Ankhai laune kalo gajal
Nidharaima tika
Nidharaima tika
Tmi navaye jindagi nai
Lagchha fikka fikka
Lagchha fikka fikka
Man pareko manchheko nam
Dil ma lekhinchha
Jhim jhim garne parelima
Dherai gajal nalagau
Halka halka laeko
Dami dekhinchha
Jhim jhim garne parelima
Dherai gajal nalagau
Halka halka laeko
Dami dekhinchha
Mero maya lae
Dami dekhinchha
Pipal bota ma jodi dhukur
Baseo ramae ramae
Baseo ramae ramae
Najik huda bolna majja
Hatma samae samae
Hatma samae samae
Pipal bota ma jodi dhukur
Baseo ramae ramae
Baseo ramae ramae
Najik huda bolna majja
Hatma samae samae
Hatma samae samae
Man pareko manchheko nam
Dil ma lekhinchha
Himal sari dante lahar
Nalukauna mayalu le
Halka halka haseko
Dami dekhinchha
Himal sari dante lahar
Nalukauna mayalu le
Halka halka haseko
Dami dekhinchha
Mero maya lae
Dami dekhinchha
….. ….. ……
Bole jasto gardine
Lajae halne bani
Lajae halne bani
Tadhai bata heri rahanchhau
Ankha tani tani
Ankha tani tani
Bole jasto gardine
Lajae halne bani
Lajae halne bani
Tadhai bata heri rahanchhau
Ankha tani tani
Ankha tani tani
Man pareko manchheko nam
Dil ma lekhinchha
Jhim jhim garne parelima
Dherai gajal nalagau
Halka halka laeko
Dami dekhinchha
Jhim jhim garne parelima
Dherai gajal nalagau
Halka halka laeko
Dami dekhinchha
Mero maya lae
Dami dekhinchha
Jun chha auta
Tara dherai
Kaso gari ganau
Kaso gari ganau
Man ma kura thupri raheo
Vanum ki navanum
Vanum ki navanum
Jun chha auta
Tara dherai
Kaso gari ganau
Kaso gari ganau
Man ma kura thupri raheo
Vanum ki navanum
Vanum ki navanum
Man pareko manchheko nam
Dil ma lekhinchha
Himal sari dante lahar
Nalukauna mayalu le
Halka halka haseko
Dami dekhinchha
Himal sari dante lahar
Nalukauna mayalu le
Halka halka haseko
Dami dekhinchha
Mero maya lae
Dami dekhinchha
….. ….. ….. ……