Dandai Bisaunee by Basanta Thapa and Purnakala BC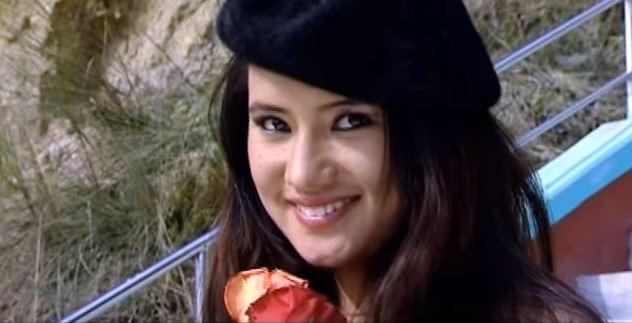 Dandai Bisaunee is a new Nepali lok dohori song by Basanta Thapa and Purnakala BC. The music video features Ranjita Gurung. Dandai Bisaunee is directed by Prakash Bhatta. The music video was edited by Prabin Bhatta and cinematographed by Durga paudel.
The lyrics for the song was written by Basanta Thapa and music for this song was composed by Ghanshyam Tiwari. Ranjita Gurung is a gorgeous and well known model of music industry. She has performed hundreds of music videos. Most of music video she has done are emotional lok dohori about love. Dandai Bisaunee tries to represent the love between adult boy and girl. In this music video Ranjita plays the role of girlfriend of Durgesh who is girl with high temper. She lost her temper in minor thing. This music video was presented by Shrota Sangeet Music Pvt Ltd. When you once listen this song, I am sure you will keep repeating it.
Dandai Bisaunee is released officially online by Music Nepal via Youtube. Hope that you will enjoy this melodious lok dohori song.
Here is the lyrics for the song Dandai Bisaunee:
Meri sanu chhin chhin mai risauchhin
Risma pani pirati misauchhin
Dadai bisaune aru bani ramro chha
Meri sanu ko
Auta bani sudhara Chadai risaune
Chhin chhin mai risauchhin
Risma pani pirati misauchhin
Dadai bisaune aru bani ramro chha
Meri sanu ko
Auta bani sudhara Chadai risaune
Aru bani ramro chha Meri sanu ko
Auta bani sudhara Chadai risaune
Maya garna malae ni kar lauchha
Galat bato hiddchhau ki dar lauchha
Dadai bisaune sabai kura ramro chha
Meri raja ko
Autai dhatne bani le
Parchhau risaune
Malae ni kar lauchha
Galat bato hiddchhau ki dar lauchha
Dadai bisaune sabai kura ramro chha
Meri raja ko
Autai dhatne bani le
Parchhau risaune
Sabai kura ramro chha
Meri raja ko
Autai dhatne bani le
Parchhau risaune
……….. ………. ………
Udchha sanu tmro ris jhattai
Aja voli jhan dherai chaupattai
Dadai bisaune aru bani ramro chha
Meri sanu ko
Auta bani sudhara Chadai risaune
Tmro ris jhattai
Aja voli jhan dherai chaupattai
Dadai bisaune aru bani ramro chha
Meri sanu ko
Auta bani sudhara Chadai risaune
Aru bani ramro chha Meri sanu ko
Auta bani sudhara Chadai risaune
……….. …….. ………