Dhannai Baghle Khayena by Roshan Gaire and Ritu Thapa Magar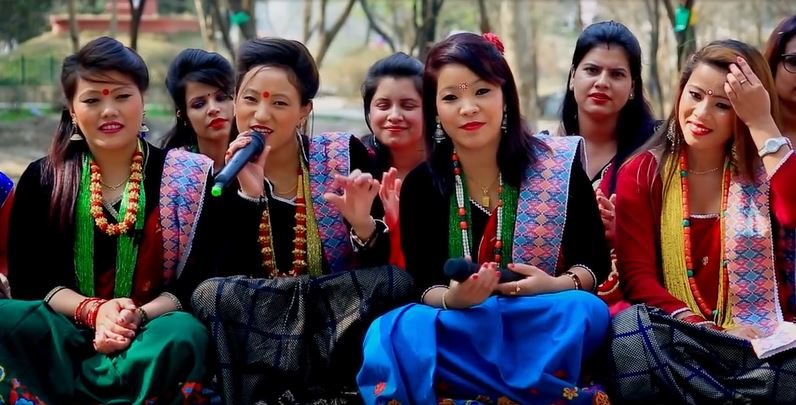 Dhannai Baghle Khayena is a New Nepali lok dohori song by Roshan Gaire and Ritu Thapa Magar. This music video is all about melodic and romantic conversation between two singer Roshan Gaire and Ritu Thapa Magar which is directed by Bimal Adhikari. Dhannai Baghle Khayena music video is cinematographed by Rajesh Ghimire and is edited by Bimal Adhikari.
The lyrics as well as music for this song was composed by Roshan Gaire. This lok dohori is called Nepali Roila Song which is very popular in rural areas then and now. In this kind of song singer try to insult opponent with comedy lyrics. They matches the rhymes and debated. In this type of song the music is so tuneful and enjoyable. The music video Dhannai Baghle Khayena is presented by Rashika Digital Pvt. Ltd. When you once listen this song, I am sure you will really enjoy it.
The music video is released officially online by Music Nepal via Youtube. Hope that you will enjoy this lok dohori song Dhannai Baghle Khayena.
Here is the lyrics for the song Dhannai Baghle Khayena :
He banko bato ako
Atti thakai layena
Dhannai baghle khayena
Banko bato ako
Atti thakai layena
Dhannai baghle khayena
Banko bato ako
Atti thakai layena
Dhannai baghle khayena
Banko bato ako
Atti thakai layena
Dhannai baghle khayena
Banko bato ako
Atti thakai layena
Dhannai baghle khayena
Dhannai baghle khayena
He Jhyapai risayera
Afnai bato lag vanchhau
Biralo lai bagh vanchhau
Jhyapai risayera
Afnai bato lag vanchhau
Biralo lai bagh vanchhau
Jhyapai risayera
Afnai bato lag vanchhau
Biralo lai bagh vanchhau
Jhyapai risayera
Afnai bato lag vanchhau
Biralo lai bagh vanchhau
Jhyapai risayera
Afnai bato lag vanchhau
Biralo lai bagh vanchhau
Biralo lai bagh vanchhau
Hee Chaubis barsa vaye
Sara sansar hinya chhu
Bagh biralo chinya chhu
Chaubis barsa vaye
Sara sansar hinya chhu
Bagh biralo chinya chhu
Chaubis barsa vaye
Sara sansar hinya chhu
Bagh biralo chinya chhu
Chaubis barsa vaye
Sara sansar hinya chhu
Bagh biralo chinya chhu
Chaubis barsa vaye
Sara sansar hinya chhu
Bagh biralo chinya chhu
Baghh biralo chinya chhu
Hee Sachhai ho ki kya ho
Darayeo man tahh kasto
Theo vana tahh
Sachhai ho ki kya ho
Darayeo man tahh kasto
Theo vana tahh
Sachhai ho ki kya ho
Darayeo man tahh kasto
Theo vana tahh
Sachhai ho ki kya ho
Darayeo man tahh kasto
Theo vana tahh
Sachhai ho ki kya ho
Darayeo man tahh kasto
Theo vana tahh
Kasto theo vana tahh
Heee Tmlae dekhna man theo
Afnai bato lageo ma
Khasryak gareo vagema
Tmlae dekhna man theo
Afnai bato lageo ma
Khasryak gareo vagema
Tmlae dekhna man theo
Afnai bato lageo ma
Khasryak gareo vagema
Tmlae dekhna man theo
Afnai bato lageo ma
Khasryak gareo vagema
Tmlae dekhna man theo
Afnai bato lageo ma
Khasryak gareo vagema
Khasryak gareo vagema
Hee bahunai tahh pareu
Khasryak garda darauchhau
Mai hu vandi karauchhau
Bahunai tahh pareu
Khasryak garda darauchhau
Mai hu vandi karauchhau
Bahunai tahh pareu
Khasryak garda darauchhau
Mai hu vandi karauchhau
Bahunai tahh pareu
Khasryak garda darauchhau
Mai hu vandi karauchhau
Bahunai tahh pareu
Khasryak garda darauchhau
Mai hu vandi karauchhau
Mai hu vandai karauchhau
Heee K vanchhe ma garne
Tmro bagh po ako ho
Katti budhu vako ho
K vanchhe ma garne
Tmro bagh po ako ho
Katti budhu vako ho
K vanchhe ma garne
Tmro bagh po ako ho
Katti budhu vako ho
K vanchhe ma garne
Tmro bagh po ako ho
Katti budhu vako ho
K vanchhe ma garne
Tmro bagh po ako ho
Katti budhu vako ho
Katti budhu vako ho
….. ….. …. ……