Dhatyo Mayale by Bhim Prasad Dahal and Sita Majhi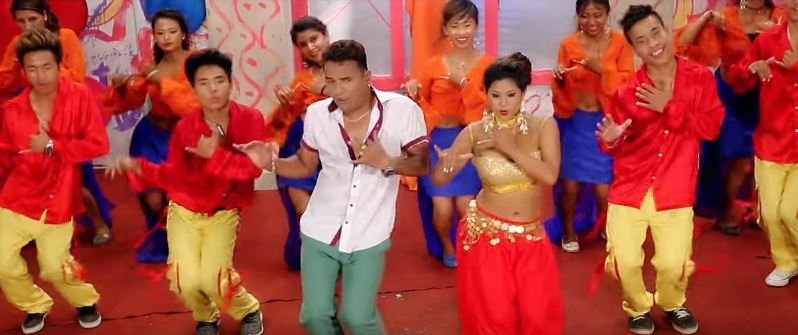 Dhatyo Mayale is a romantic Nepali lok dohori song by Bhim Prasad Dahal and Sita Majhi. The music video features Shankar BC and Rina Thapa. Dhatyo Mayale is directed by Shankar BC. This music video was edited by Prabin Reshmi Magar and was cinematographed by Rajesh Ghimire.
The lyrics for the song was written by Ishwore Sapkota and music was composed by Sita Majhi. Rina Thapa is a beautiful and hot model who has given her breathtaking performance in this music video with another artist Shankar BC. Shankar is one of the talent director too. He has done many lok dohori songs. Dhatyo Mayale music video was based on love and romance. In this music video, we can see the romance between Rina Thapa and Shankar BC. Dhatyo Mayale music video was presented by Shiva Darsan Films Pvt. Ltd. When you once listen this song, I am sure your body will start moving.
Dhatyo Mayale is released officially online by Music Nepal via Youtube. Hope that you will enjoy this romantic and melodious lok dohori song.
Here is the lyrics for the song Dhatyo Mayale:
Man mutuma afaile basaeo
Diyeo dhoka duniya hasayeo
Malae jyan dinchhu vanera
Dhatyo mayale
Due ta mutu ek dhakan vanera
Antai pirati satyo mayale
Afaile basaeo
Diyeo dhoka duniya hasayeo
Malae jyan dinchhu vanera
Dhatyo mayale
Due ta mutu ek dhakan vanera
Antai pirati satyo mayale
Due ta mutu ek dhakan vanera
Antai pirati satyo mayale
Malae chhodi gaeuni kata
Audaina ki samjhana aba ta
Malae jyan dinchhu vanera
Dhatyo mayale
Due ta mutu ek dhakan vanera
Antai pirati satyo mayale
Gaeuni kata
Audaina ki samjhana aba ta
Malae jyan dinchhu vanera
Dhatyo mayale
Due ta mutu ek dhakan vanera
Antai pirati satyo mayale
Due ta mutu ek dhakan vanera
Antai pirati satyo mayale
……. ……. ………
Tmrai yad le
Chhin chhin ma tolauchhu
Sapani ma tmrai nam bolauchhu
Malae jyan dinchhu vanera
Dhatyo mayale
Due ta mutu ek dhakan vanera
Antai pirati satyo mayale
Chhin chhin ma tolauchhu
Sapani ma tmrai nam bolauchhu
Malae jyan dinchhu vanera
Dhatyo mayale
Due ta mutu ek dhakan vanera
Antai pirati satyo mayale
Due ta mutu ek dhakan vanera
Antai pirati satyo mayale
Dherai vayeo mukha
Dekhnai pachhaina
Kun sansar ma chheu tmi tha chhaina
Malae jyan dinchhu vanera
Dhatyo mayale
Due ta mutu ek dhakan vanera
Antai pirati satyo mayale
Mukha Dekhnai pachhaina
Kun sansar ma chheu tmi tha chhaina
Malae jyan dinchhu vanera
Dhatyo mayale
Due ta mutu ek dhakan vanera
Antai pirati satyo mayale
Due ta mutu ek dhakan vanera
Antai pirati satyo mayale
……. ……. ………
Dherai thorai ma tmro hunalae
Vaego aba pardaina runalae
Malae jyan dinchhu vanera
Dhatyo mayale
Due ta mutu ek dhakan vanera
Antai pirati satyo mayale
Ma tmro hunalae
Vaego aba pardaina runalae
Malae jyan dinchhu vanera
Dhatyo mayale
Due ta mutu ek dhakan vanera
Antai pirati satyo mayale
Due ta mutu ek dhakan vanera
Antai pirati satyo mayale
Dukha kasta garerai palnechhu
Tmrai kakha ma yeo paran falne chhu
Malae jyan dinchhu vanera
Dhatyo mayale
Due ta mutu ek dhakan vanera
Antai pirati satyo mayale
Garerai palnechhu
Tmrai kakha ma yeo paran falne chhu
Malae jyan dinchhu vanera
Dhatyo mayale
Due ta mutu ek dhakan vanera
Antai pirati satyo mayale
Due ta mutu ek dhakan vanera
Antai pirati satyo mayale
…….. ……. ………