Happy Eid Mubarak Wishes Messages for Friends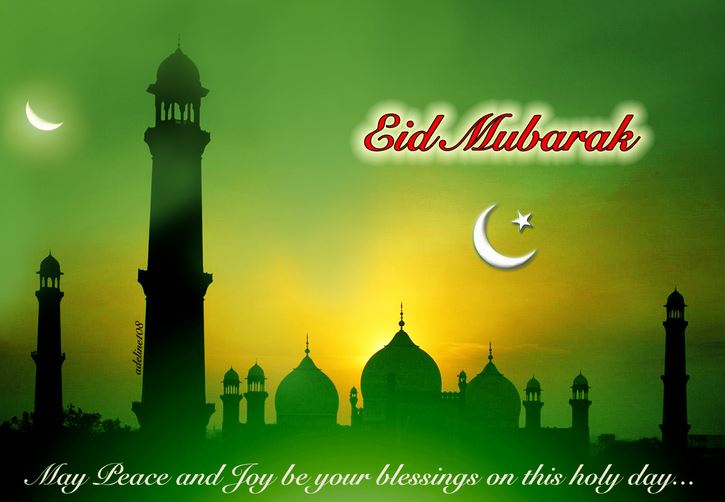 Looking for Happy Eid Mubarak Wishes messages for your friends, family or to update on your Facebook, to send it to someone on whatsapp, snapchat etc. Well here we have a greatest collection of Eid Mubarak messages that you can select and send to anyone you like. As we know Eid is the biggest festival for Muslim. It is the most promising and religious occasion in Islam. All Muslim people celebrate this festivals with their family. Before the event people  loves to send sms, greeting cards to their friends, family, teachers and loved ones. This event people search beautiful Eid messages for their loved ones, that's why we present you people some of the beautiful messages for you with perfect words, this message can creates smile on your family and friends face. This festive time is full of fun, that's why people try to forget their problems, troubles and just celebrate with joys.
We hope our list of Eid messages will touch your heart and you will find one of the best message from our list of latest Eid message collection which includes Eid messages in both language which is English and Hindi language.
May on this EID
The Plate of your life is filled
With juicy Kababs & Tikkas topped
With Chatni of Happiness and
Covered with Salad of Love.
May this year's Eid give you,
All the happiness and,
Joy of this world and,
Hope that the blessing,
Of the AL-Mighty be with you,
****Eid Mubarak****
May this…
Eid bring Fun, Eid bring Happiness,
Eid bring God Endless Blessings,
Eid bring fresh love…
EID MUBARAK to You with all best wishes.
May Allah flood your life with happiness on this occasion,
u r heart with love,
ur soul with spirtual,
ur mind with wisdom,
wishing u a very Happy Eid MUBARAK…
Lonesome without u,
Each n every moments.
When i am alone
I close my eyes n think of u
N thoughts of ur love warms
Me inside n makes me smile.
miss you a lot. Eid Mubarak.
Wishing you all a very Happy Eid,
And hoping that all the things you wish
For will be yours throughout the year…
Eid Mubarak!!
Here comes the day, once in a blue moon.
With Chanda mama shining up bright
And blessing everyone… Its love so tender, merciful.
Shining down on the earth wishing us
"Happy Eid"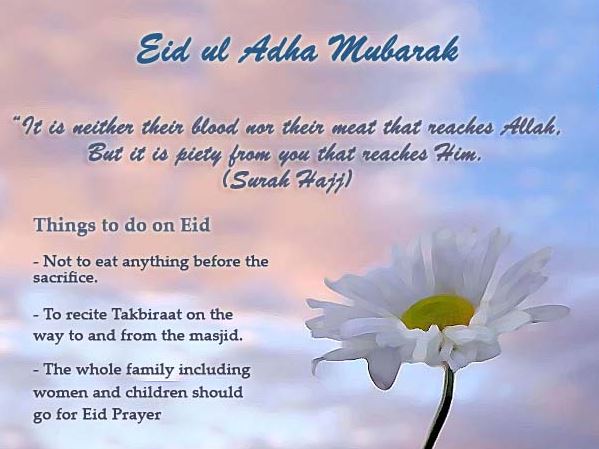 I wish you ALL a very happy and peaceful Eid.
May Allah accept your good deeds,
forgive your transgressions and ease
the suffering of all peoples around the globe.
Eid Mubarak
Something in your smile speak to me.
Something in your voice sings to me.
Some thing in your eyes says to me
That you are the dearest friend to me..
Eid mubarak
May God send his Love like Sunshine in his warm and gentle ways to fill every corner of your Heart
and filled your Life with a lot of Happiness like this EID DAY.
Wishing you EID MUBARAK.
Before the Golden Sun Rise,
let me decorate each of the Rays
with Wishes of Success,
prosperous and Happiness
4 u and 4 ur Family. Eid Mubarak.
I wish a wish for u.
The wish i wish for few.
The wish i wish for u is that
your all wishes come true
so keep on wishing
as my all wishes are with you.
Eid Mubarak
May the day delight
and the moments measure all the special joys
for all of you to treasure.
May the year ahead
be fruitful too,
for your home and family
and specially for you. Eid Mubarak
Eid is the best time to forgive and forget all the past misdeeds and concentrate on a better and happier future. May allah bless all of us with wisdom and unconditional love.
0 May god bless you and your dear ones with peace, prosperity and happiness on the auspicious occasion of Eid-ul-Adha.
Eid Mubarak! 
As you offer your prayers on Eid-ul-Adha, I hope that the true spirit of this auspicious occasion fills your heart with happiness and good cheer. Have a blessed Eid-ul-Adha.
Hope that Allah bestows his choicest blessings on you and your loved ones, and all your dreams are fulfilled on the auspicious occasion of Eid-ul-Adha. Eid Mubarak to you and your family!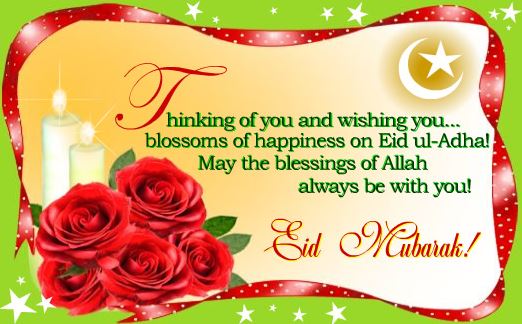 The moon has been sighted
The samoosas are ready
Here comes EID so just go steady
Lots of dua's is all i request
and just wanted to wish you all the BEST!!!
"Eid Mubarak"
On the canvas of life we often go off color,
but as long as people like you are there
to add the right shades,
life goes on to be a rainbow!
Eid Mubarak
Eid…
A time for joy,
a time for togetherness,
a time to remember my blessings..
For me… it's you!
May Allah Bless you &
Give u all the joy u bring to my life!
I wanted to be the first one to say Eid Mubark to everyone around the world. I hope you enjoy each and every moment of it. May God accept our fasts and prayers. Enjoy your Day!!
Sada haste raho jaise haste hai phul,
Duniya ki sare gam tmeh jaye bhul,
Charo taraf failao khushiyo ka geet,
Eisi umid ka sath Yaar tumhe…
Eid Mubarak…
Aj se Amiri Garibi ka fasle na rahe,
Hr Insan ek duje ko apna bhai kahe,
Aj sb kuch bhul ka aa gale lg ja,
Mubarak ho tuje yeh EID-UL-AZHA.
Eid-ul-Adha is Eid of sacrifice
And commitment of allah's orders,
May allah bless us with the same in all circles of life,
And help all amongst us,
who are helpless, worried and waiting For his rehmat.
Eid Mubarak
Ur Relation Like Paktel
"Dil to 1 hia"
Ur LOVE Like Telenor
"Chaho kuch badh k"
Ur Cincrty Like Haleeb
"Garah Jo hai"
Ur smile Like Twist
"Hila k rakh de"
Ur Style Like Ufone
"Tum he to ho"
Ur personality Like Bonanza
"Absolutely world class"
My Rispons Like Lipton
"yehi to hai wo apnapan"
yahi apnapan or EID MUBARAK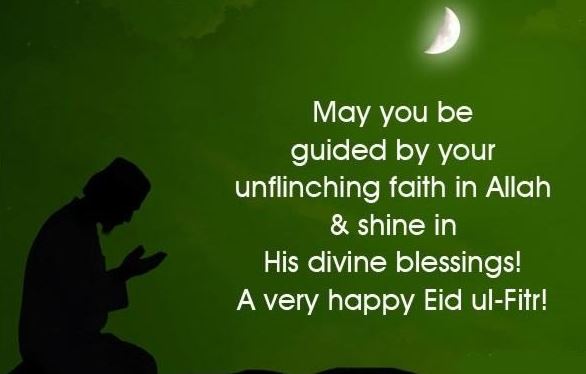 Is Eid Per Bohot Socha
Kon Sa Tohfa Tumhare Nazar Karun
Kuch Soch Kay Haath Buland Kiye
Bohot Sii Duaon Kay Phool
Tumhaari Nazar Kiye…
Everyone Sent You
Tradition Words About
Eid But I'm The First One
To Send You
"MEAT MUBARAK"
And
Keep On Eating
Different Dishes
On This Season..
Gulshan Ko Kar Rahi Mo'attar Hawa-e-Eid,
Aata Nahi Nazar Kuch Bhi Siwaye Eid,
Meri Taraf Se Eid-ul-Azha Mubarak Ho Aap Ko,
Bus Mere Pass Hai Yehi Tohfaa Bakra-e-Eid.
Mere kareeb aai na ab tak Baharay Eid
Muddat se Jahan Main Mujhe Intizaray Eid
Ek Dil ko di khushi to diya dosre ko Gam
Is bazmay kainat main kia aitbaaray Eid
Hasil na ho Khushi to mujrim hai Eid Bhi
Nakshay Ghum o alam bhi hai naksho nigaray Eid
Bichray Huwon ki yaad bhi lati hai sath sath
Kis Darja talkh tar hain ye nil o nehar Eid…
Woh Janwaron Ki Khushbu,
Woh Gobar Ki Badbu,
Woh Sardi Main Mandi Jana,
Aur Janwaron K Sath Latak Kar Wapas Aana,
Woh Pinduon K Nakhray,
Aur Hamara Satana,
DIL Pasand K Bachhray,
Lasani Ki Bachhriyan,
Mubarak Ho Aapko EID Ki Khushiyan,
In Advance. 🙂
Wishing all of you on this
beautiful occasion of EID,
Happy times,
and hoping the day iz
truly special in the most
Delightful day.. Eid Mubarak to all of U!
All The Feelings In Your Heart And Mind This Year, Not Just The Animals.
Learn To Sacrifice With Purpose.
Learn To Obey In All Matters.
Be First A Muslim,
Then A Pakistani And Then Put A Full Stop.
Eid-Ul-Azha Mubarik To You And Your Family.
Aye Chand
Jab Wo Teri Tarf Dekhain
To Unhain Kuch Yaad Delana
Madh-hur Se Kuch Geet Sunana
Phir Chupkey Se Un K Pass Jana
Aur Kehna!!!
Tumhain Koi Yad Karta Hai.
Teri Arzo, Teri Umeed Karta Hai
Koi Ajj Be
Tumhain Dekh Kr
EID karta Hai.
Y r u so opposite to me?
When i say tea,u say coffee!
I say white,u say black!
I went to dental hospital,u went to mental hospital!
I came back and u still there! R U Waiting 4
My Msg?
.-*-.
( '.' )
=(,,)=(,,)=
Shoo Shweeeeet
Dont Worry.
How Can I
4get U?
HERE Comex
My Wixh
Happy Eid Mubarik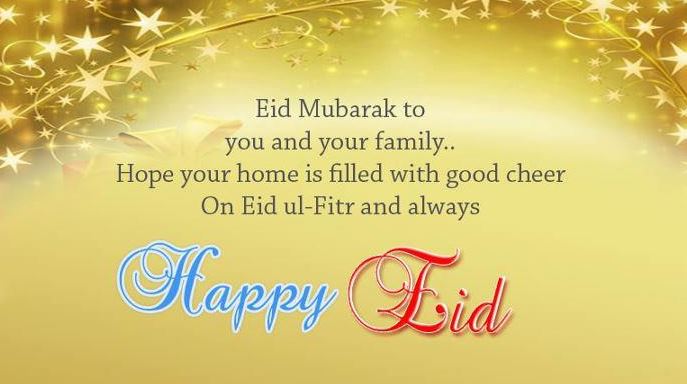 Main Market Main Houn Tmhary Liya EID
Pe Keya Loun?
Kapray Yaa Perfume Yah AOr Koi Cheez
Yeah Msg Mujhay Kab Karo Gay Zalimoo
Happy Eid Mubarik
Hum app ki yaad main udas hain,
Bas app say milnay ki ass hay,
Chahay dost kitnay hi kion na hoon,
Mere liye tp app hi sab se khas hain
Eid Mubarak To My Cute, Sweet and Special Friend.
Eid ka din hai, har tarf hai gehma gehmi,
Aana chahoon jo tere pass to aaon kese,
Meri har saans amanat hai teri yaadon ki,
Toot ke is se zeyada tujhe chahoon kese.
Wishing A Very Happy Eid Mubarak
To You And All The Muslim Brothers
Around The World
Both Here And In Far Flung Places.
The Peace And Grace Of Allah Rest
Upon Your Shoulders And
Bring You A Contended And Very Happy Eid.
Deep jaltay jagmagatay rahay,
Hum apko aap hamain yaad aatay rahay,
Jub tuk zindagi hai, yeh dua hai hamari,
Aap eid k chand ki tarah jagmagata.
Zara Sa Muskara Daina Tum Ab K EID Sy Pehly
Her Ek Ghum Ko Bhula Daina Tum Ab K EID Sy Pehly
Kitabon Mai Saja Lena Zra Do Chaar Phoolon Ko
Hawaon Ko Saza Daina Tum Ab K EID Sy Pehly
Mery Sab Shair Sab Nazmen Kisi Ko Ab Sunana Mat
Mery Sab Khat Jala Dena Tum Ab K EID Sy Pehly
Hazaron Meel Ki Doori Sahi Per Lot Aaonga
Mujhy Dil Sy Sada Dena Tum Ab K EID Sy Pehly
Ager Milna Hamara Or Tumhara Kuch Mumkin Ho Tou
Kuch Aanso Baha Dena Tum Ab K EID Sy Pehly
(Zara sa muskara dena tum ab k eid se pehly)
Jub kabi bin mange app per khushion ki bersaat ho, jub kabi app ka dil anjaani khushi se betaab ho, to samaj lena koi aap ko duaon main yaad ker raha hai. Happy Eid Day
Ho Har Din Tera Eid Jesa,
Tu Ho Dukhi Koe Din Na Aye Aisha,
Jo Bhi Ho Teri Umeed Ho Jaye Wo Puri,
Koe Bhi Aarju Na Reh Jaye Teri Adhuri. Eid Mubarak !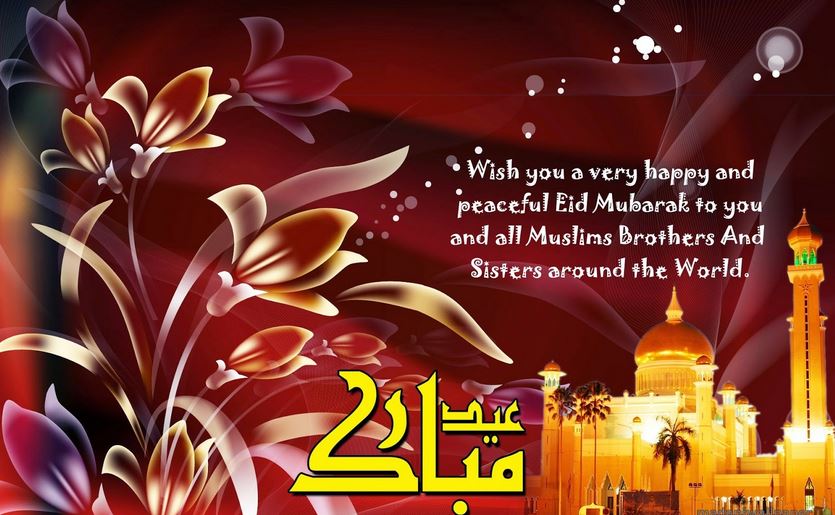 Aaj Ke Din Kya Ghata Chhayi Hai,
Charo Aur Khusiyo Ki Fija Chhayi Hai,
Keh Raha Hai Har Koe Ye Baat,
Ho Khusiyo Bhara Ye Tera Din Raat. Eid Mubarak !
Mubarak Mubarak..
Suhani dhoop barsat k baad,
Thori si hasi her baat k baad,
Usi tarah ho mubarak aap ko,
Yeh EID Ramadan k baad.
Eid Mubarak !
Happy Eid day from the depth of right & left ventricles,
wrapped with the ribbons of purkinje fibers and sealed in pericardium.
Decorated with SA and AV nodes with a glitter topping of pericardial fluid
and cusps of mitral and tricuspid valves.
Save