Facebook By RajKumar Baniya and Radhika Hamal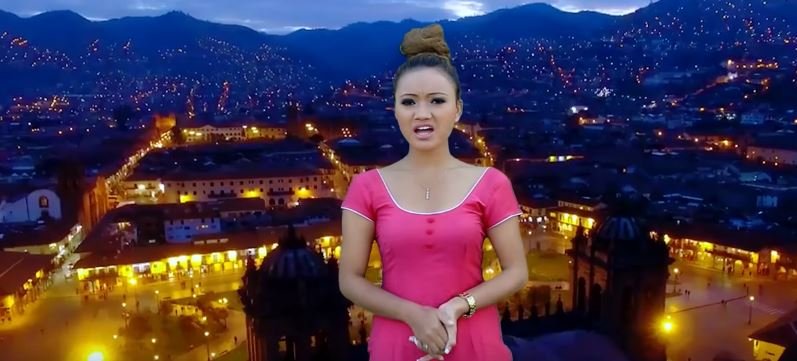 Facebook is a new Nepali lok dohori song by RajKumar Baniya and Radhika Hamal. The music video features Rasmi Tamang. Facebook is about the misuse of facebook which is directed by Shankar BC. This music video was edited by Nabin Gharti Magar and was cinematographed by Durga Poudel.
The lyrics as well as music for the song  was composed by Raj Kumar Baniya. The music video features hot and dazzling model Rasmi Tamang.She has given her best performance in this music video with another stunning and comedian well known artist Sher Bahadur Gurung . Facebook music video was based on the misuse of technology. This music video talks about one of the largest social network Facebook, this network helps to connects peoples all over the world. But now days facebook is used for wrong works. So this music video wants to deliver the message that don't misuse technology provided. Facebook music video was presented by Jaleshowri Music. When you once listen this song, I am sure you will keep chanting it.
Facebook is released officially online by Music Nepal via Youtube. Hope that you will enjoy this romantic and melodious lok dohori song.
Here is the lyrics for the song Facebook:
Hee yeo facebook le
Ogateo sansara
Chalna khojda jamana ansara
Facebook bata pareo mero
Pokherli sanga love
Vettna bolae mayale
Chhodi aye job
Adhi bato ayesi
Phone handa vanchha
Mobile off
Ogateo sansara
Chalna khojda jamana ansara
Facebook bata pareo mero
Pokherli sanga love
Vettna bolae mayale
Chhodi aye job
Adhi bato ayesi
Phone handa vanchha
Mobile off
Vettna bolae mayale
Chhodi aye job
Adhi bato ayesi
Phone handa vanchha
Mobile off
Heee jamanale
Kasto patha pailaeo
Bikas vanda bikriti
Failaeo
Facebook bata pareo mero
Dhadinge sanga love
Vettna dakeo mayale
Chhodi aye job
Adhi bato ayesi
Phone handa vanchha
Mobile off
Kasto patha pailaeo
Bikas vanda bikriti
Failaeo
Facebook bata pareo mero
Dhadinge sanga love
Vettna dakeo mayale
Chhodi aye job
Adhi bato ayesi
Phone handa vanchha
Mobile off
Vettna dakeo mayale
Chhodi aye job
Adhi bato ayesi
Phone handa vanchha
Mobile off
…. ….. ….. ……
Facebook kholnu hajur
Dhyan diyera chalaunu Jhuto maya
Nalaunu
Facebook kholnu hajur
Dhyan diyera chalaunu Jhuto maya
Nalaunu
….. …… …….
Hee sathi vai le vanya thea
Sunna yeo facebooke mayako
Var hunna
Facebook bata pareo mero
Chitawani sanga love
Vettna bolae mayale
Chhodi aye job
Adhi bato ayesi
Phone handa vanchha
Mobile off
vanya thea
Sunna yeo facebooke mayako
Var hunna
Facebook bata pareo mero
Chitawani sanga love
Vettna bolae mayale
Chhodi aye job
Adhi bato ayesi
Phone handa vanchha
Mobile off
Vettna bolae mayale
Chhodi aye job
Adhi bato ayesi
Phone handa vanchha
Mobile off
Hee kasaik bat nasunne aba
Hunu raichha ata na utako
Facebook bata pareo mero
Gorkhali sanga love
Vettna bolae mayale
Chhodi aye job
Adhi bato ayesi
Phone handa vanchha
Mobile off
Nasunne aba
Hunu raichha ata na utako
Facebook bata pareo mero
Gorkhali sanga love
Vettna dakeo mayale
Chhodi aye job
Adhi bato ayesi
Phone handa vanchha
Mobile off
Vettna dakeo mayale
Chhodi aye job
Adhi bato ayesi
Phone handa vanchha
Mobile off….
Facebook kholnu hajur
Dhyan diyera chalaunu Jhuto maya
Nalaunu
Facebook kholnu hajur
Dhyan diyera chalaunu Jhuto maya
Nalaunu
….. ….. ….. ……