Gunaso by Bishnu Majhi and Amit Babu Rokaya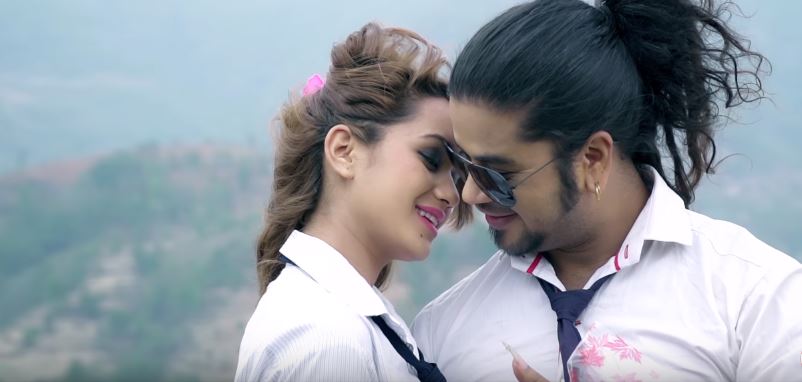 Gunaso is a new Nepali lok dohori sentimental song by Bishnu Majhi and Amit Babu Rokaya. The music video features Puskal Sharma and Sarika KC. Gunaso was directed by Puskal Sharma. This music video was Cinematographed by Suresh Shrestha and music video was edited by Dipak Bista.
The music for this song was composed by Amit Babu Rokaya and lyrics for this song is written by Prakash Bista Sargam. Gunaso is a sentimental Nepali song which shows the situation that might happen in a relationship. In this music video, Sarika KC is in  love with Puskal Sharma but time goes against her and she has to marry another guy. This songs provides the knowledge that we must be ready to scarifies our love for the happiness of other. Gunaso music video is post production by Mesana Digital. When you once listen this song, I am sure you will keep chanting it.
The music video is released officially online by Music Nepal via Youtube. Hope that you will enjoy this melodious and sentimental lok dohori song Gunaso.
Here is the lyrics for the song:
Assai tadpi
Bitaechhu yeo chola
Tmlae dekhe
Jhan papi man rola
Kunai din tahh
Sangai sangai
Theu vannu hai
Tmi mero vainau sanu
Gaunaso gardina ma
Tara autai binti
Jachhau khusi bannu hai
Bitaechhu yeo chola
Tmlae dekhe
Jhan papi man rola
Kunai din tahh
Sangai sangai
Theu vannu hai
Tmi mero vainau sanu
Gaunaso gardina ma
Tara autai binti
Jachhau khusi bannu hai
Tmi mero vainau sanu
Gaunaso gardina ma
Tara autai binti
Jachhau khusi bannu hai
Vako vaye
Dhunga ko man
Tmale samjhi
Parkhinna tadpanna
Kunai din tahh
Sangai sangai
Theu vannu hai
Tmi meri vainau sanu
Gaunaso gardina ma
Tara autai binti
Jachhau khusi bannu hai
Dhunga ko man
Tmale samjhi
Parkhinna tadpanna
Kunai din tahh
Sangai sangai
Theu vannu hai
Tmi meri vainau sanu
Gaunaso gardina ma
Tara autai binti
Jachhau khusi bannu hai
Tmi meri vainau sanu
Gaunaso gardina ma
Tara autai binti
Jachhau khusi bannu hai
… … …
Janam Janam
Tei thau ma lukae
Mabaseko mutu na fukaye
Kunai din tahh
Sangai sangai
Theu vannu hai
Tmi mero vainau sanu
Gaunaso gardina ma
Tara autai binti
Jachhau khusi bannu hai
Tei thau ma lukae
Mabaseko mutu na fukaye
Kunai din tahh
Sangai sangai
Theu vannu hai
Tmi mero vainau sanu
Gaunaso gardina ma
Tara autai binti
Jachhau khusi bannu hai
Tmi mero vainau sanu
Gaunaso gardina ma
Tara autai binti
Jachhau khusi bannu hai
… … …