Gurash Phulyo Banma by Prakash Katuwal and Uma Shrestha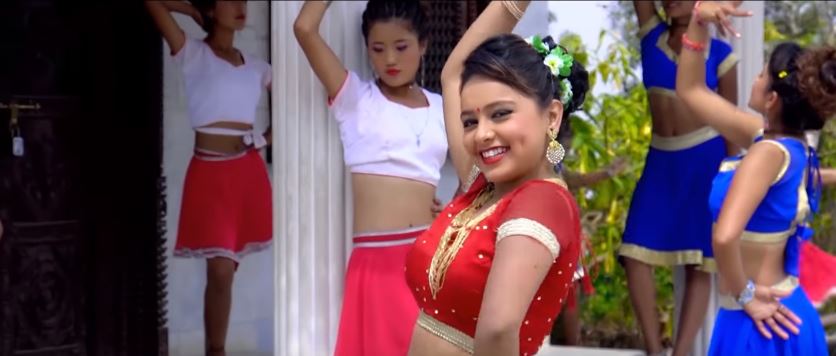 Gurash Phulyo Banma is a New Nepali Melodious lok dohori song by Prakash Katuwal and Uma Shrestha. The music video features Karishma Dhakal. This music video is a Nepali song titled over the National flower Rhododendron 'Gurash' which is directed by Shankar BC. Gurash Phulyo Banma music video was edited by Nabin Gharti Magar.
The lyrics as well as music for this song was composed by Prakash Katuwal. The music video features by hot model Karishma Dhakal. She is gorgeous and well known model of music industry. She has done numerous music videos. Karishma has performed best in this music video with another handsome artist Durgesh thapa. He is singer, dancer and writer. Gurash Phulyo Banma was cinematographed by Rajesh Ghimire. This music video was post production by Krishna Films & Advertising and presented by SS Films. If you listen to this song, I am sure you will enjoy the music and words that writer has chosen.
The music video is released officially online by Music Nepal via Youtube. Hope that you will enjoy this Melodious lok dohori Song Gurash Phulyo Banma.
Here is the lyrics for the song Gurash Phulyo Banma:
Hee kasto jyan ho
Tetai lov lagne
Sauee patak
Herda ni nathakne
Guras fuleo banma…
Tetai lov lagne
Sauee patak
Herda ni nathakne
Guras fuleo banma….
Jasso tasso maya baseo
Tmi fuleu banma
He ankha judheo
Maya baseo
Tmi fuleu banma
Heee ankha laune chhan kati kati
Ghaila bhari nagheko pirati
Guras fuleo banma…..
Chhan kati kati
Ghaila bhari nagheko pirati
Guras fuleo banma
Kasso kasso maya baseo
Tmi fuleu manma
He ankha judheo maya baseo
Tmi fuleu banma
…… …… ……
Heee aja pani din biteo marera
Tmrai rup ko bayana garera
Guras fuleo banma….
Din biteo marera
Tmrai rup ko bayana garera
Guras fuleo banma
Jasso tasso maya baseo
Tmi fuleu banma
He ankha judheo
Maya baseo
Tmi fuleu banma
Heee hunna are
Maya ko vansara
Fulko ankha fulai ko sansar
Guras fuleo banma….
Maya ko vansara
Fulko ankha fulai ko sansar
Guras fuleo banma
Kasso kasso maya baseo
Tmi fuleu manma
He ankha judheo maya baseo
Tmi fuleu banma
…… …… …… ….
Heee jhuto kura
Ekkae chhin tikchha
Satya bolne hajarau din bikchha
Guras fuleo banma……
Ekkae chhin tikchha
Satya bolne hajarau din bikchha
Guras fuleo banma
Jasso tasso maya baseo
Tmi fuleu banma
He ankha judheo
Maya baseo
Tmi fuleu banma
Heee Tmi aye dilaima sajauchhu
Aru aye haserai kajauchhu
Guras fuleo banma…..
Dilaima sajauchhu
Aru aye haserai kajauchhu
Guras fuleo banma
Kasso kasso maya baseo
Tmi fuleu manma
He ankha judheo maya baseo
Tmi fuleu banma
…… ……. ….. ……
Heee ekasur ma udeko chari
Man bigareo mayale besari
Guras fuleo banma…..
udeko chari
Man bigareo mayale besari
Guras fuleo banma
Jasso tasso maya baseo
Tmi fuleu banma
He ankha judheo
Maya baseo
Tmi fuleu banma
Heee tha vo tmro
Ankhaiko essara
Au guff garau
Hudaina risayera
Guras fuleo banma….
Ankhaiko essara
Au guff garau
Hudaina risayera
Guras fuleo banma
Kasso kasso maya baseo
Tmi fuleu manma
He ankha judheo maya baseo
Tmi fuleu banma
…… …… …… ……