Hami Hidne Bato by Mohan Khadka and Sandhya Budha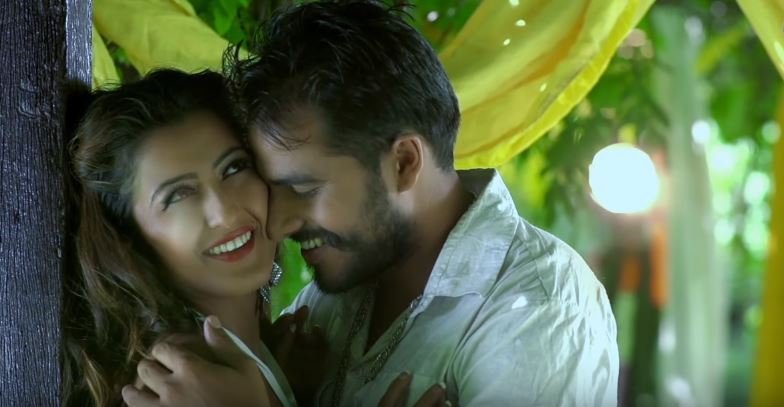 Hami Hidne Bato is a Nepali lok dohori song by Binod Bhandari and Devi Gharti. This music video is against the couple who marry without telling their parents. The music video features Anjali Adhikari and Bimal Adhikari. Hami Hidne Bato is directed by Kapil Lama. This music video was edited by Amar Shakya and was cinematographed by Suresh Shrestha.
The lyrics for the song was written by Deepak Pandey and Bhesh Raj Rana and music for the song was composed by Bimal Adhikari. The music video features hot and gorgeous well known model  of music industry, Anjali Adhikari. She has given her best performance in this music video and numerous other music videos like Salala mai bagi aula, A thule, etc. Bimal is also a talented and handsome model who mostly appears as actor in music video but he is also a good writer, music composer. Hami Hidne Bato music video wants to deliver a message that it is far better to marry by convincing your parents rather than go against them. This music video was presented by Bhawana Music Solution. When you once listen this song, I am sure you will keep tuning it.
Hami Hidne Bato is released officially online by Music Nepal via Youtube. Hope that you will enjoy this romantic and melodious lok dohori song.
Here is the lyrics for the song Hami Hidne Bato:
Man dukhauna ma jani jani
Ma jani jani
Due char due char kurana a sani
Banayera hami hiddne bato
Garau bihe ghar ka lae manae sanu
Vagna vagna ko sato
Ma jani jani
Ma jani jani
Due char due char kurana a sani
Banayera hami hiddne bato
Garau bihe ghar ka lae manae sanu
Vagna vagna ko sato
Garau bihe ghar ka lae manae sanu
Vagna vagna ko satoGarau bihe ghar ka lae manae sanu
Vagna vagna ko sato
Gau ko ijjat afnako boli
Afnako boli
Manai mannai parchha
Naboli nabolli
Banayera hami hiddne bato
Garau bihe ghar ka lae manae sanu
Vagna vagna ko sato
Afnako boli
Manai mannai parchha
Naboli nabolli
Banayera hami hiddne bato
Garau bihe ghar ka lae manae sanu
Vagna vagna ko sato
Garau bihe ghar ka lae manae sanu
Vagna vagna ko sato
…. ….. ….. ….. …..
Bhamara jhai ka sakchhu dulna tahh
Ka sakchhu dulna tahh
Jyanai jaynai jala
Sakdina bhulna tahh
Banayera hami hiddne bato
Garau bihe ghar ka lae manae sanu
Vagna vagna ko sato
Ka sakchhu dulna tahh
Ka sakchhu dulna tahh
Jyanai jaynai jala
Sakdina bhulna tahh
Banayera hami hiddne bato
Garau bihe ghar ka lae manae sanu
Vagna vagna ko sato
Garau bihe ghar ka lae manae sanu
Vagna vagna ko sato
Kanchhi chhori sabai ki piyari
Sabaiki piyari
Tmrai Tmrai maya rakhya chhu siyari
Banayera hami hiddne bato
Garau bihe ghar ka lae manae sanu
Vagna vagna ko sato
Sabai ki piyari
Sabaiki piyari
Tmrai Tmrai maya rakhya chhu siyari
Banayera hami hiddne bato
Garau bihe ghar ka lae manae sanu
Vagna vagna ko sato
Garau bihe ghar ka lae manae sanu
Vagna vagna ko sato
…… …… ….. …