Hasiya Kutako by Aayush Pariyar and Ganga Harmel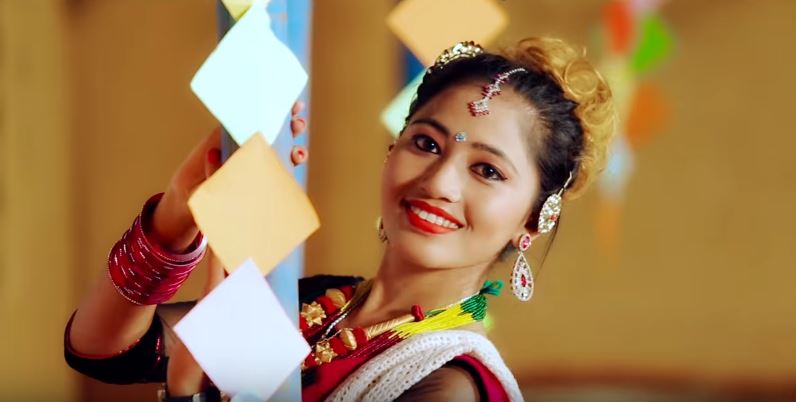 Hasiya Kutako is a new Nepali lok dohori song by Aayush Pariyar and Ganga Harmel. The music video features Neshal GM and Sunita Thapa. Sunita Thapa looks very gorgeous in cultural dress in this music video. Hasiya Kutako is a heartening Nepali lok dohori which is directed by Shiva BK. This music video was edited by Rabin BK and cinematographed by Shambhu Chalesi.
The lyrics as well as music for this song was composed by Aayush Pariyar. This is a  melody song which represents how people hide their agony and sadness behind the smiley face. This song represents the traditional musical program in ruler areas namely Rodhi Ghar. Here, people gathered and enjoy the music specially lok dohori to forget or minimize their suffering. I assure you people will love the music and tune repeatedly once after you hear it.
The music video is officially released online by Music Nepal via Youtube. Hope that you will enjoy this melodious lok dohori song Hasiya Kutako.
Here is the lyrics for the song Hasiya Kutako:
Hasiya Kutako
Ha aaaa
Karima dukhi
Sadhaiko satha
Hasiya Kutako
Hasiya Kutako
Hasiya Kutako
Hasiya Kuta
Ha aaaaa
Hasiya Kutako
Hasiya Kutako

Haa aaaa
Dherai din pachhi
Rodhi ma basna
Bhagya le jutako
Bhagya le jutako
Bhagya le jutako
Bhagya le juta
Ha aaa
Bhagya le jutako
Bhagya le juta
Haa aaaa
Bhagya le jutako
Bhagya le jutako

Ha aaaa
Mitho tah chhoina
Vokako haula
Pet vara le ato le
Pet vara le ato le
Pet vara le ato le
Pet vara le ato le
Ha aaaa
Pet vara le ato le
Pet vara le ato le
Ha aaaa
Ayechhau kyare
Dukha vo hola
Apthyaro bato le
Apthyaro bato le
Apthyaro bato le
Apthyaro bato
Ho ooo
Apthyaro bato le
Apthyaro bato
Ho oooo
Apthyaro bato le
Apthyaro bato le
… … …

Ha aaaa
Dukha ko kura
Nagara sani
Polchha man
Charauchha
Polchha man
Charauchha
Polchha man
Charauchha
Polchha man
Charau
Ha aaa
Polchha man
Charauchha
Polchha man
Charauchha
Ha aaaa
Sathi ra sangi
Man ko pir harauchha
Man ko pir harauchha
Man ko pir harauchha
Man ko pir harau
Ha aaa
Man ko pir harauchha
Man ko pir harau
Ha aaa
Man ko pir harauchha
Man ko pir harauchha

Ho ooo
Mutu ma dhunga
Rakhera hasdai
Nachya chhu
Mai pani
Nachya chhu
Mai pani
Nachya chhu
Mai pani
Nachya chhu
Mai pa
Ha aaa
Nachya chhu
Mai pani
Nachya chhu
Mai pani
Ho ooo
Sabai ko man ma
Ustai chha pida
Hasya chhan tai pani
Hasya chhan tai pani
Hasya chhan tai pani
Hasya chhan tai pa
Ho ooo
Hasya chhan tai pani
Hasya chhan tai pa
Ho ooo
Hasya chhan tai pani
Hasya chhan tai pani
… … …