He Bhagawan by Bishnu Majhi and Ramji Khand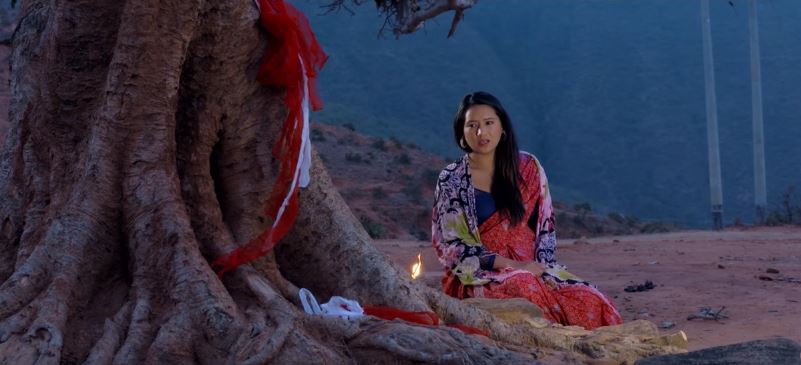 He Bhagawan is a new sentimental lok dohori song by Bishnu Majhi and Ramji Khand. The music video features Mahendra Gautam, Ranjita Gurung and Janak. He Bhagawan is a Nepali lok dohori song that relates women with earth. This music video is directed by Baburaja KC (Ujjwal). He Bhagawan music video was edited by Nabin Gharti Magar and was cinematographed by Madhur Basnet.
The lyrics as well as music for this song is composed by Ek Narayan Bhandari. Bishnu Majhi and Ramji Khand both are stunning singers with tuneful voice. Both of them have given their sweet voice to the hundreds of other songs. He Bhagawan is a emotional song which touch the heart of all listeners. Artists Mahendra Gautam and  Ranjita Gurung have given their best performances for this music video. This song has also shown that man with good heart mostly suffer from wealth problem. When you once listen this song, I am sure that tears will not hold in your eyes.
The music video is released officially online by Music Nepal via Youtube. Hope that you will enjoy this melodious sentimental lok dohori He Bhagawan.
Here is the lyrics for the song:
Uta unko prema ko
Divas vo
Ata yeo man
Tadpina bibas vo
Hey bhagawan
Pareo jawaf dina
Unlae matrai maya garne
Mutu diyera malae
Unailae maile napaune
Vagya lekheu kina
Prema ko
Divas vo
Ata yeo man
Tadpina bibas vo
Hey bhagawan
Pareo jawaf dina
Unlae matrai maya garne
Mutu diyera malae
Unailae maile napaune
Vagya lekheu kina
Unlae matrai maya garne
Mutu diyera malae
Unailae maile napaune
Vagya lekheu kina
Kapuri ka birsana jati nai
Unlae bhulna garo chha atii nai
Hey bhagawan
Pareo jawaf dina
Unlae matrai maya garne
Mutu diyera malae
Unailae maile napaune
Vagya lekheu kina
Birsana jati nai
Unlae bhulna garo chha atii nai
Hey bhagawan
Pareo jawaf dina
Unlae matrai maya garne
Mutu diyera malae
Unailae maile napaune
Vagya lekheu kina
Unlae matrai maya garne
Mutu diyera malae
Unailae maile napaune
Vagya lekheu kina
… …. ….
Autai maya layeko homi
Wu pabitra ma kina badnami
Hey bhagawan
Pareo jawaf dina
Unlae matrai maya garne
Mutu diyera malae
Unailae maile napaune
Vagya lekheu kina
Layeko homi
Wu pabitra ma kina badnami
Hey bhagawan
Pareo jawaf dina
Unlae matrai maya garne
Mutu diyera malae
Unailae maile napaune
Vagya lekheu kina
Unlae matrai maya garne
Mutu diyera malae
Unailae maile napaune
Vagya lekheu kina
… … …