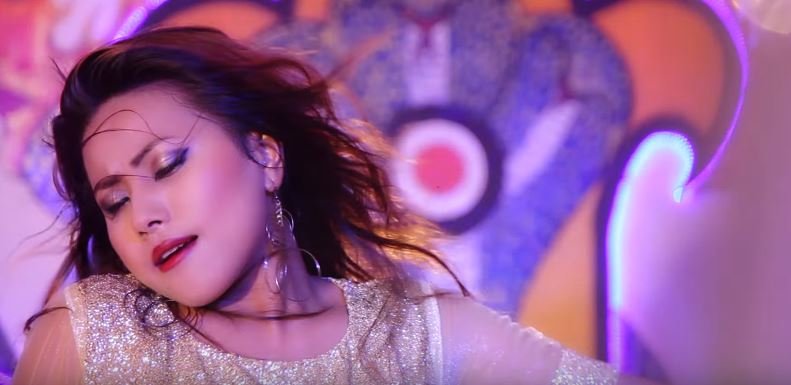 Jawani is a new Nepali hot Item song by Reshma KC. The music video features Aarushi Magar and Deepak Dhungana. Jawani is a Nepali song which is directed by Priyajan Rai. Jawani music video was edited by Manish Karki and was cinematographed by Janakraj Adhikari.
The music for this song is composed by Sanam Purush and lyrics was written by Dev Birahi. The music video features versatile model Aarushi Magar. She has given her 100 percent effort to make this music video outstanding. Jawani is a hot item song which shows the bold and hot figure of Aarushi Magar. This song has explain beauty of teenagers. When you will listen this song, I am sure you will keep listen again and again.
The music video is released officially online by Music Nepal via Youtube. Hope that you will enjoy this melodious hot Item song Jawani.
Here is the lyrics for Jawani:
Sabai le kura kati hinda
Bhayo mero kahani
Samhalna nai garo bho
16 barse jobaani

Jobaani mero phul sari
Chumna aau hai bhamara
Jobaani mero phul sari
Chumna aau hai bhamara
Jindagi ma koe na koe
Chaedo rayecha sahara
Chumna aau hai bhamara
Chaedo rayecha sahara……

Timi aago bahnnu priya
Ma banumla pani pani

Timi aago bahnnu priya
Ma banumla pani pani
Chumdai nachum Chumdai nachum
Sab ko haat tani tani
Chumna aau hai bhamara
Chaedo rayecha sahara……

Nasa sari chayau timi
Har mero anga anga

Nasa sari chayau timi
Har mero anga anga
Lathai paryau malae maryau
Lathai paryau malae maryau
Pare ma ta ranga ranga
Chumna aau hai bhamara
Chaedo rayecha sahara

Jobaani mero phul sari
Chumna aau hai bhamara
Jobaani mero phul sari
Chumna aau hai bhamara
Jindagi ma koe na koe
Chaedo rayecha sahara
Chumna aau hai bhamara
Chaedo rayecha sahara…………