Jham Jham Darkiyo Pani by Pashupati Sharma and Ramila Neupane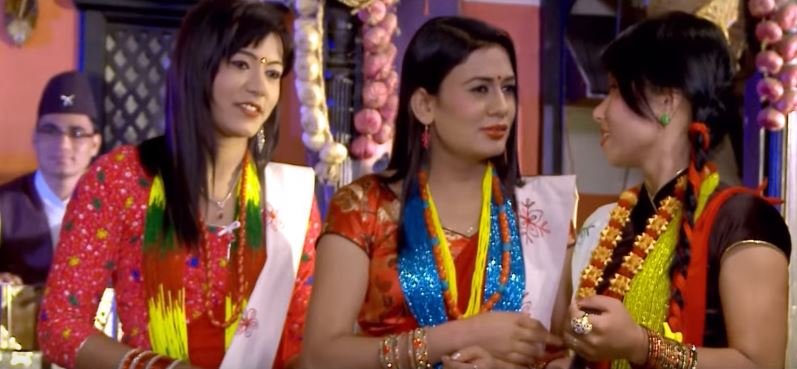 Jham Jham Darkiyo Pani is the Nepali lok dohori song which is recorded in Rodhi ghar. The vocal for this song was given by Pashupati Sharma and Ramila Neupane. This music video was directed by Prakash Bhatta and was edited by Bishnu Sharma.The cinematography was done by Durga Poudel.
The lyrics as well as music for this song was composed by Pashupati Sharma. Pashupati  Sharma is the one of the best vocalist in the music industry. He has given his sweet voice to many other songs. In this music video Pashupati and Ramila talks each other by using the rhyming words. They represents their love and care towards each other through this song. The music used in this song was awesome. This music video was presented by Trisana Music Pvt. Ltd. I assure you people will love the music and tune repeatedly once after you hear it.
The music video is officially released online by Music Nepal via Youtube. Hope that you will enjoy this melodious traditional song Jham Jham Darkiyo Pani.
Here is the lyrics for the song:
Auda audai pani pareo
Jhandai sarir vijeo
Rodhi gharai adhero vo
Kina aenau hijo
Aaa jhamjham darkieo pani
Jogayeo chhatale chhekera
Rodhi ma mai aune thina
Rodhi ki maiya lae dekhera
Rodhi ma mai aune thina
Rodhi ki maiya lae dekhera
Swor pani koelikai jasto
Laejau ki dil ma nam lekhera
Swor pani koelikai jasto
Laejau ki dil ma nam lekhera
Tmi pakkai auchhau vanne
Khabar pani paena
Ali ali sancho thiyean
Tei vayera ayena
Aaa jhamjham darkieo pani
Jogayeo chhatale chhekera
Rodhi ma aepugeo jhilke
Sab vanda mai ramri dekhera
Rodhi ma aepugeo jhilke
Sab vanda mai ramri dekhera
Vandeu na mai jam ki najam
Lanchha re dil ma nam lekhera
Vandeu na mai jam ki najam
Lanchha re dil ma nam lekhera
….. ….. ….. ……
Tmle garda k vo k vo
Bigreo mero bani
Sajh paresi gharai
Basnai man lagdaina sani
Aaa jhamjham darkieo pani
Jogayeo chhatale chhekera
Rodhi ma mai aune thina
Rodhi ki maiya lae dekhera
Rodhi ma mai aune thina
Rodhi ki maiya lae dekhera
Swor pani koelikai jasto
Laejau ki dil ma nam lekhera
Swor pani koelikai jasto
Laejau ki dil ma nam lekhera
Rodhi ghar ma kati bela paseo
Vani herchhu
Mero jhilke kun
Kuna ma baseo vani herchhu
Aaa jhamjham darkieo pani
Jogayeo chhatale chhekera
Rodhi ma aepugeo jhilke
Sab vanda mai ramri dekhera
Rodhi ma aepugeo jhilke
Sab vanda mai ramri dekhera
Vandeu na mai jam ki najam
Lanchha re dil ma nam lekhera
Vandeu na mai jam ki najam
Lanchha re dil ma nam lekher
….. …… …… …….
Aru sita boleu vane
Jhan jhan chhati jalchha
Aru hoina tmi chhau ra
Yeo rodhi ghar chalchha
Aaa jhamjham darkieo pani
Jogayeo chhatale chhekera
Rodhi ma mai aune thina
Rodhi ki maiya lae dekhera
Rodhi ma mai aune thina
Rodhi ki maiya lae dekhera
Swor pani koelikai jasto
Laejau ki dil ma nam lekhera
Swor pani koelikai jasto
Laejau ki dil ma nam lekhera
Manchhe pani sarai rammro
Mitho garchha kura
Chha ki jhile
Mukha ma ram ram
Bagali ma chhura
Aaa jhamjham darkieo pani
Jogayeo chhatale chhekera
Rodhi ma aepugeo jhilke
Sab vanda mai ramri dekhera
Rodhi ma aepugeo jhilke
Sab vanda mai ramri dekhera
Vandeu na mai jam ki najam
Lanchha re dil ma nam lekhera
Vandeu na mai jam ki najam
Lanchha re dil ma nam lekher
…… …… ……