Joya Ko Pida by Ramesh Bikram Ratna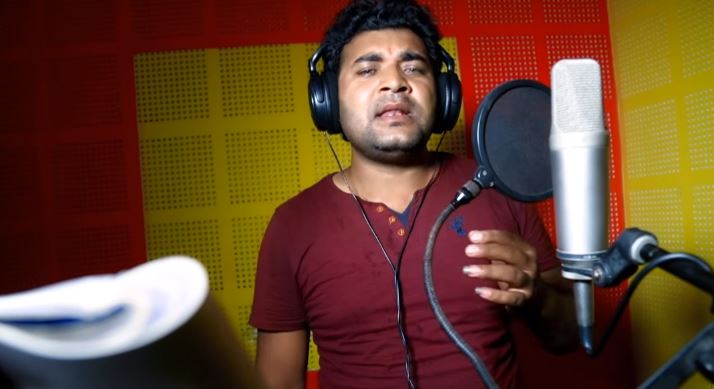 Joya Ko Pida is a emotional Nepali lok dohori song by Ramesh Bikram Ratna. This music video represents the pain of Joya case of Nepal. This is real story. This music video is directed by Prem Lama. Joya Ko Pida music video is cinematographed by Tanka KC and is edited by Bikash Gyawali.
The lyrics as well as music for this song was composed by Ramesh Bikram Ratna himself. Joya Ko Pida is the real story of Philipian citizen Joyalen Gres Talormo Maijeres. This song was sang by Ramesh in the memory of Joya. He expressed her pain in the form of music and word.  A Song dedicated to the Filipino daughter-in-law of Nepal Joya (Joyalen Gres Talormo Maijeres), who had been reported allegedly abused by her Nepali husband. She has returned to her motherland Philippines with her two children in the help of Nepali Social Organization and Philippines Government. The music video Joya Ko Pida is presented by SongsNepal Pvt. Ltd. When you once listen this song, I am sure you will really enjoy it.
Joya Ko Pida is released officially online by SongsNepal via Youtube. Hope that you will enjoy this lok dohori song.
Here is the lyrics for the song Joya Ko Pida:
Maya vanda afno desa
Unle chhodya raichhin
Nepalima basne gari
Nata jodya raichhin
Nepalai ma basne unko
Thulo theo rahar
Jiban dinchhu vanne le nai
Garidieo parahara
Jata tatai khalli ra balli
Kathai bara Joya ko bichalli
Jata tatai khalli ra balli
Kathai bara Joya ko bichalli
Kathai bara Joya ko bichalli
………. …….. ……
Pidai pida khape unle
Bitaen pachh barsa
Jiban dine papi le ni
Dena kaile harsa
Kasto papi manchhe raichha
Bani pani kharab
Basna khana hune chhaina
Lage hune sarap
Basi raichhin rahera helama
Rudai gaena ansu ko velama
Basi raichhin rahera helama
Rudai gaena ansu ko velama
Rudai gaena ansu ko velama
………. …….. …….
Bani saki raichhin barai
Due bachha ko ama
Sarkar le ni dina parne
Kunai aha kama
Nepal basne rahar unko
Rahar sabai mareo
Hamro desko sarkara le
Kasto nirnaya gareo
Manko dukha ko
Airport ma kholdai thea
Due char sabda Nepali boldai thea
Airport ma kholdai thea
Due char sabda Nepali boldai thea
Due char sabda Nepali boldai thea
………. ………… ………