Kal Kal by Haridevi Koirala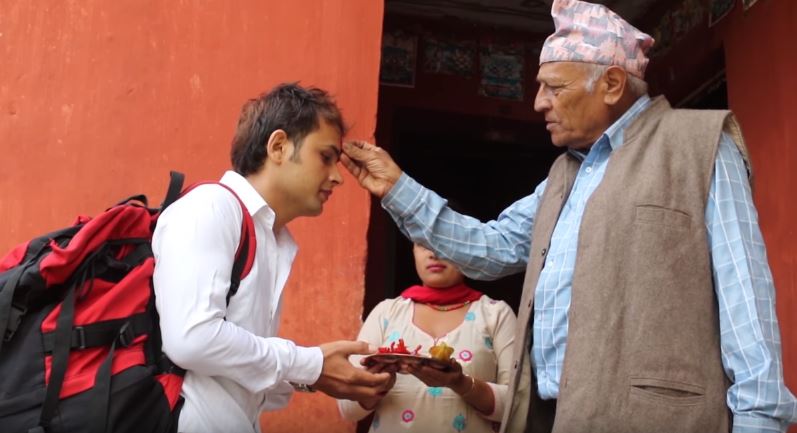 Kal Kal is a new Nepali lok dohori song by Haridevi Koirala. The music video features Nabin and Deepa. This music video was directed by Basudev Pokhrel. Kal Kal was edited by Balkashi Gurung and was cinematographed by Basudev Pokhrel. This music video is a sentimental Nepali song that explains the pain of housewives whose husbands are out there in foreign country.
The lyrics for the song was written by Haridevi Koirala and music was also done by Haridevi Koirala himself. This song express the pain of due to the distance between couple. In Kal Kal, Nabin and Deepa separated because Nabin went abroad. Time passed but he didn't return home and stay out of contact due to which Deepa suffers form pain of loneliness. When you once listen to this music video, I am sure you will keep repeating it.
Kal Kal is officially released online by Music Nepal via YouTube. Hope that you guys will enjoy this melodious lok dohori song.
Here is the lyrics for the song Kal Kal:
Kal kal jharkeko pani
Kal kal jharkeko pani
Kachhau mero hitaiko parani
Hitaiko parani
Pardesi ta farkera naauda
Pardesi ta farkera naauda
Laedeu chithi ansu ko akshera
Ansu ko akshera
Kal kal jharkeko pani
Kal kal jharkeko pani
Kachhau mero hitaiko parani
Hitaiko parani
……… …….. …………
Chhitai auchhu vanera jane
Chhitai auchhu vanera jane
Dhalkeo joban farkera naaune
Farkera naaune
Ruda ruda vijeo ni sirani
Ruda ruda vijeo ni sirani
Mero maya navaedeu birami
Navaedeu birami
Kal kal jharkeko pani
Kal kal jharkeko pani
Kachhau mero hitaiko parani
Hitaiko parani
………… ……… ………
Agani ma parewa jodi
Agani ma parewa jodi
Sadhai dekhda auchha ni man chudi
Auchha ni man chudi
Maya tmi samundra pari
Maya tmi samundra pari
Due ankha ka bagchhan ni karnali
Bagchhan ni karnali
Kal kal jharkeko pani
Kal kal jharkeko pani
Kachhau mero hitaiko parani
Hitaiko parani
………… ……… ………
Auchha dashain ma rudai jau kata
Auchha dashain ma rudai jau kata
Jamara ra e museka achheta
Museka achheta
Dukhi jiban yeo lamo kahani
Dukhi jiban yeo lamo kahani
Pacheeri ma jhulkena bihani
Julkena bihani
Kal kal jharkeko pani
Kal kal jharkeko pani
Kachhau mero hitaiko parani
Hitaiko parani
………… ……… ………