Kaliko Fashion by Hari BC and Purnakala BC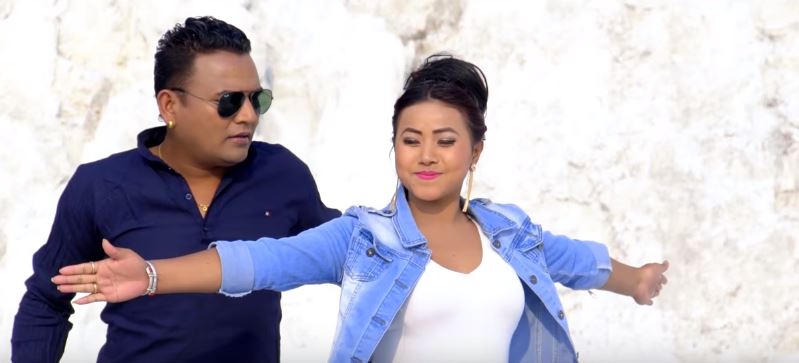 Kaliko Fashion is a new Nepali lok dohori song by Hari BC and Purnakala BC. The music video features Shankar BC and Arushi Magar. Kaliko Fashion is directed by Shankar BC himself. This music video was edited by Nabin Gharti Magar and was cinematographed by Rajesh Ghimire.
The  lyrics for this song was written by Hari BC and Omita BC and the music was composed by Omita BC. Aarushi is a hot and sexy model of the music industry. She has appeared in numerous music videos. Kaliko Fashion is a romantic music video where we can see the romance between stunning models Shankar BC and  Aarushi Magar. This is informative music video because it gives the message that if we apply our hard labour in our own country then we can earn more than from abroad. Kaliko Fashion music video was post production by Aashish Music Pvt.Ltd. When you once listen this song, I am sure you will keep repeating it.
Kaliko Fashion is released officially online by Music Nepal via Youtube. Hope that you will enjoy this melodious lok dohori song.
Here is the lyrics for the song Kaliko Fashion:
Baisa mero gaesakeo dhalkera
Sabai jana kamae ma palkera
Des ko halat yeo chha….
Des ko halat yeo chha
Sabai lage bidesh tira
Malae herne ko chha
Gaesakeo dhalkera
Sabai jana kamae ma palkera
Des ko halat yeo chha….
Des ko halat yeo chha
Sabai lage bidesh tira
Malae herne ko chha
Des ko halat yeo chha
Sabai lage bidesh tira
Malae herne ko chha
Jama laeu pant le vayena
Tei jama ni Nepal ma ayena
Des ko halat yeo chha….
Des ko halat yeo chha
Ma ta lage bides tira
Fashion ferdai basa
pant le vayena
Tei jama ni Nepal ma ayena
Des ko halat yeo chha….
Des ko halat yeo chha
Ma ta lage bides tira
Fashion ferdai basa
Des ko halat yeo chha
Ma ta lage bides tira
Fashion ferdai basa
…… …… …… …..
Sabai lage paisako kamaima
Malae herene koe vayena gawaima
Des ko halat yeo chha….
Des ko halat yeo chha
Sabai lage bidesh tira
Malae herne ko chha
Jana lae parchha
Mehenet gare swodesmai
Sun falchha
Des ko halat yeo chha….
Des ko halat yeo chha
Sabai lage bidesh tira
Malae herne ko chha
Des ko halat yeo chha
Sabai lage bidesh tira
Malae herne ko chha
Fashion ferna tmilae parne
Chhaina rojgara swodes ma k garne
Des ko halat yeo chha….
Des ko halat yeo chha
Ma ta lage bides tira
Fashion ferdai basa
Tmilae parne
Chhaina rojgara swodes ma k garne
Des ko halat yeo chha….
Des ko halat yeo chha
Ma ta lage bides tira
Fashion ferdai basa
Des ko halat yeo chha
Ma ta lage bides tira
Fashion ferdai basa
…… …… …… ……
Kina bides janalae parchha
Mehenat gare swodesmai
Sun falchha
Des ko halat yeo chha….
Des ko halat yeo chha
Sabai lage bidesh tira
Malae herne ko chha
Paisako kamaima
Malae herne koe vaena gawuema
Des ko halat yeo chha….
Des ko halat yeo chha
Sabai lage bidesh tira
Malae herne ko chha
es ko halat yeo chha
Sabai lage bidesh tira
Malae herne ko chha
Pardaina theo janalae badheta
Nepal sarkar gatilo vaedeta
Des ko halat yeo chha….
Des ko halat yeo chha
Ma ta lage bides tira
Fashion ferdai basa
Janalae badheta
Nepal sarkar gatilo vaedeta
Des ko halat yeo chha….
Des ko halat yeo chha
Ma ta lage bides tira
Fashion ferdai basa
Des ko halat yeo chha
Ma ta lage bides tira
Fashion ferdai basa
…… …… ….. ……