Keti Patyaune By Khuman Adhikari and Ritika Kunwar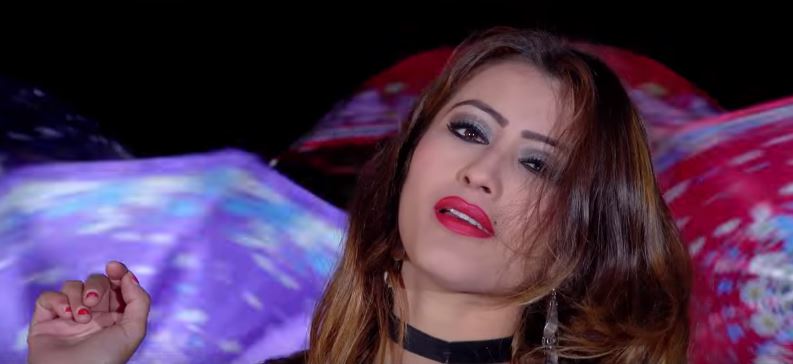 Keti Patyaune is a Nepali lok dohori song by Khuman Adhikari and Ritika Kunwar. This music video is about how to impress girl or boy. The music video features Shankar BC and Anjali Adhikari. Keti Patyaune is directed by Shankar BC. This music video was edited by Nabin Gharti Magar and was cinematographed by Rajesh Ghimire.
The lyrics for the song was written by Ramesh BG and music was composed by Khuman Adhikari. The music video features hot and gorgeous model Anjali Adhikari. She has given her best performance in this music video with another energetic and handsome artist Shankar BC to make this music video wonderful. She has performed numerous other music videos like Salala mai bagi aula, A thule, etc. Keti Patyaune music video wants to deliver a message that Smile is best way to impress girls and boys. That's why Roy T. Bennett says, "More smiling, less worrying. More compassion, less judgment. More blessed, less stressed. More love, less hate."  Keti Patyaune music video was presented by Aashish Music. When you once listen this song, I am sure you will keep tuning it.
Keti Patyaune is released officially online by Music Nepal via Youtube. Hope that you will enjoy this romantic and melodious lok dohori song.
Here is the lyrics for the song Keti Patyaune:
Pirati ko dhukuyi ritiina
Baisalu man attikai jittina
Sablae lathyauna….
Jani rakha tarika Sablae lathyauna
Musukka hasera bolnu parchha
Kt ho kta patyauna
Pirati ko dhukuyi ritiina
Baisalu man attikai jittina
Sablae lathyauna….
Jani rakha tarika Sablae lathyauna
Musukka hasera bolnu parchha
Kt ho kta patyauna
He Musukka hasera bolnu parchha
Kt ho kta patyauna
Ekohoro ghurera hudaina
Dobato ma kurera hudaina
Sablae lathyauna….
Jani rakha tarika Sablae lathyauna
Musukka hasera bolnu parchha
Kta ho kt patyauna
Ekohoro ghurera hudaina
Dobato ma kurera hudaina
Sablae lathyauna….
Jani rakha tarika Sablae lathyauna
Musukka hasera bolnu parchha
Kta ho kt patyauna
He Musukka hasera bolnu parchha
Kta ho kt patyauna
… …. ….
Vitri man le
Vet hune dau khodchhau
Bahira vane maskera vau khojchhau
Sablae lathyauna….
Jani rakha tarika Sablae lathyauna
Musukka hasera bolnu parchha
Kt ho kta patyauna
Vitri man le
Vet hune dau khodchhau
Bahira vane maskera vau khojchhau
Sablae lathyauna….
Jani rakha tarika Sablae lathyauna
Musukka hasera bolnu parchha
Kt ho kta patyauna
He Musukka hasera bolnu parchha
Kt ho kta patyauna
Man pareko chha vane vana
Jibro padkae uttaulo nabana
Sablae lathyauna….
Jani rakha tarika Sablae lathyauna
Musukka hasera bolnu parchha
Kta ho kt patyauna
Man pareko chha vane vana
Jibro padkae uttaulo nabana
Sablae lathyauna….
Jani rakha tarika Sablae lathyauna
Musukka hasera bolnu parchha
Kta ho kt patyauna
He Musukka hasera bolnu parchha
Kta ho kt patyauna
…. ….. …..
Rin lagdaina
Hasiko boli lae
Ajai bola naparkha volilae
Sablae lathyauna….
Jani rakha tarika Sablae lathyauna
Musukka hasera bolnu parchha
Kt ho kta patyauna
Rin lagdaina
Hasiko boli lae
Ajai bola naparkha volilae
Sablae lathyauna….
Jani rakha tarika Sablae lathyauna
Musukka hasera bolnu parchha
Kt ho kta patyauna
He Musukka hasera bolnu parchha
Kt ho kta patyauna
…. …… ……