Kiss Le Matayo by Raskoti Magar and Puja Magar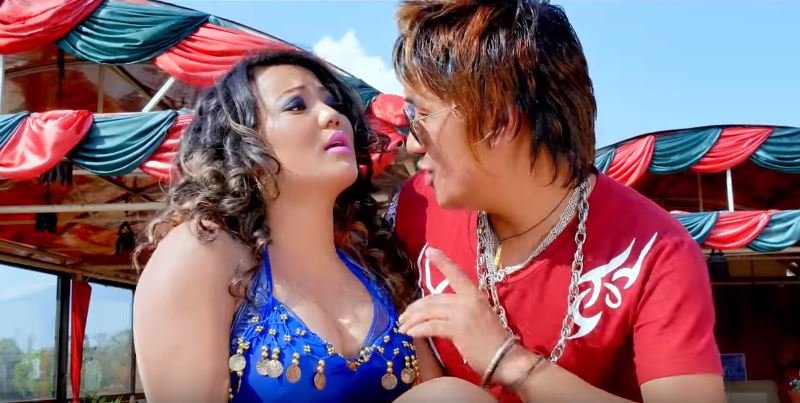 Kiss Le Matayo is a new hot Nepali lok dohori song by Prakash Katuwal and Shreedevi Devkota. The music video features Jyoti Magar. Kiss Le Matayo is a Nepali romantic and comedy lok dohori song which is directed by Hom Dhital. This music video was edited by Roshan Dhital and Cinematographed by Marubhumi Narayan.
The lyrics and music for this song was composed by Prem Lamichhane Magar. The music video features versatile and hot model Jyoti Magar. Jyoti Magar born in remote village of Rukum and she went to kathmandu for the higher studies but after finding the good career in music video, she started singing and performing in music videos. Her songs and music videos are equally erotic in nature. She is always busy doing shows in stages and music videos. This music video also deliver the message to new generation that always be in discipline and follow the good culture. This music video is presented by Dhital Films Pvt. Ltd. When you once listen this song, I am sure you will keep mouthing it.
Kiss Le Matayo is released officially online by Music Nepal via Youtube. Hope that you will enjoy this hot and comedy lok dohori song.
Here is the lyrics for the song Kiss Le Matayo:
Hos gara hai
Vanchhan ni baba le
Malae chhoeo baisako hawale
Tmro satra mero umer
Bis le satayeo
Hijo haina oo asti khako
Kiss le matayeo
Vanchhan ni baba le
Malae chhoeo baisako hawale
Tmro satra mero umer
Bis le satayeo
Hijo haina oo asti khako
Kiss le matayeo
Hijo haina oo asti khako
Kiss le matayeo
Pila bises sab thoka paki chhu
Hijo aja patlina laki chhu
Mero satra tmro umer
Bis le satayeo
Hijo haina oo asti khako
Kiss le matayeo
Sab thoka paki chhu
Hijo aja patlina laki chhu
Mero satra tmro umer
Bis le satayeo
Hijo haina oo asti khako
Kiss le matayeo
Hijo haina oo asti khako
Kiss le matayeo
….. ….. ……
Dara chinta katini lachhaina
Aee chalale k hunchha thachhaina
Tmro satra mero umer
Bis le satayeo
Hijo haina oo asti khako
Kiss le matayeo
Katini lachhaina
Aee chalale k hunchha thachhaina
Tmro satra mero umer
Bis le satayeo
Hijo haina oo asti khako
Kiss le matayeo
Hijo haina oo asti khako
Kiss le matayeo
Thuli vaye laj pani harayeo
Yeo baisale achammai garayeo
Mero satra tmro umer
Bis le satayeo
Hijo haina oo asti khako
Kiss le matayeo
Laj pani harayeo
Yeo baisale achammai garayeo
Mero satra tmro umer
Bis le satayeo
Hijo haina oo asti khako
Kiss le matayeo
Hijo haina oo asti khako
Kiss le matayeo
…. …. ……