Malai Chhodera by Devi Gharti and Dinesh Budha Chhetri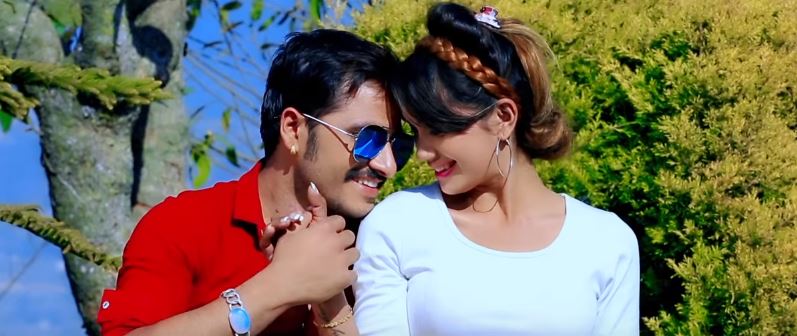 Malai Chhodera is a new sentimental lok dohori song by Devi Gharti and Dinesh Budha Chhetri. The music video features Sarika Kc and Bimal Adhikari. Malai Chhodera is a lok dohori song that represents unsuccessful love story. This music video is directed by Kapil Lama. Malai Chhodera was cinematographed by Rajesh Ghimire and edited by Amar Shakya.
The lyrics for the song was written by Dinesh Budha Chhetri and music was composed by Ramu Khadka. Sarika Kc is beautiful and rising model and performed hundreds of music videos and some Nepali films too. In this music video Sarika performed with multi-talented handsome actor Bimal Adhikari. The vocal for this song was given by two singers Devi Gharti and Dinesh Budha Chhetri. Devi Gharti has sang for hundreds of lok dohori songs, specially emotional songs. Malai Chhodera was presented by Malati Digital. When you once listen this song, I am sure you will keep tuning it.
Malai Chhodera is released officially online by Music Nepal via Youtube. Hope that you will enjoy this melodious sentimental lok dohori.
Here is the lyrics for the song Malai Chhodera:
Jun thau bata
Chhuteka theu
Mero khusi lutera laedieu
Malae chhodera kaha gaeu gaeu
Jaslae ma paudina
Uskai dherai maya
Lauchha kunni kina
Kaha chhau ra k garchhau
Navetine vaeuuu
Chhuteka theu
Mero khusi lutera laedieu
Malae chhodera kaha gaeu gaeu
Jaslae ma paudina
Uskai dherai maya
Lauchha kunni kina
Kaha chhau ra k garchhau
Navetine vaeuuu
Jaslae ma paudina
Uskai dherai maya
Lauchha kunni kina
Kaha chhau ra k garchhau
Navetine vaeuuu
Astai raichha
Maya ma varam
Chhodi gaeu
Yad raheo k garam
Malae chhodera kaha gaeu gaeu
Jaslae ma paudina
Usko dherai maya
Lauchha kunni kina
Kaha chhau ra k garchhau
Navetine vaeuuu
Maya ma varam
Chhodi gaeu
Yad raheo k garam
Malae chhodera kaha gaeu gaeu
Jaslae ma paudina
Usko dherai maya
Lauchha kunni kina
Kaha chhau ra k garchhau
Navetine vaeuuu
Jaslae ma paudina
Usko dherai maya
Lauchha kunni kina
Kaha chhau ra k garchhau
Navetine vaeuuu
…… …… …… …..
Hunna dukhi vanera vanchhu
Birsu vanchhu
Jhan dhera samjhinchhu
Malae chhodera kaha gaeu gaeu
Jaslae ma paudina
Usko dherai maya
Lauchha kunni kina
Kaha chhau ra k garchhau
Navetine vaeuuu
Vanera vanchhu
Birsu vanchhu
Jhan dhera samjhinchhu
Malae chhodera kaha gaeu gaeu
Jaslae ma paudina
Usko dherai maya
Lauchha kunni kina
Kaha chhau ra k garchhau
Navetine vaeuuu
Jaslae ma paudina
Usko dherai maya
Lauchha kunni kina
Kaha chhau ra k garchhau
Navetine vaeuuu
….. ….. ……. ……