50 Marriage Anniversary Messages and Quotes for You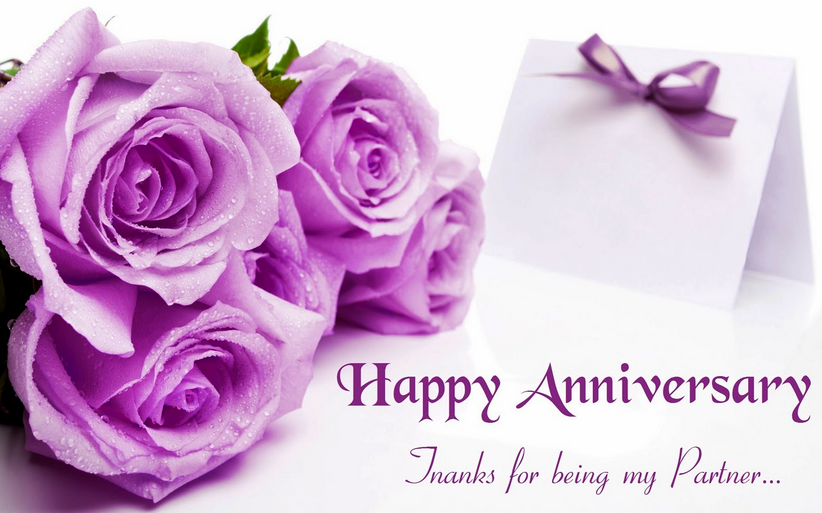 For the married couples Anniversary is one of the remembered day as this specific date they got married and began their couple life. Here present you people some of the best anniversary quotation, messages and wishes. Hope you will have a joyful and sweet anniversary with your loved ones. Anniversary is the special day and loving day for husband and wife. So, it's the day to have fun with your partner. If your any dear one anniversary is coming and you are searching for best anniversary wishes then your words should be inspiring isn't it? So here we come with some anniversary wishes, quotations and messages written down with all your feelings in words. Now choose among these beautiful Anniversary quote, messages and them to your lovely friends or partner. These Anniversary messages are for wives, husbands or your friends whose marriage anniversary is on doorsteps. Enjoy.
Marriage Anniversary Messages and Quotes Collection
That special day is here again
The day we took our vows
You're just as special to me today
As you still get me aroused.
Happy Anniversary Lover
Our anniversary is not just a celebration of our wedding day. It is the celebration of every day of being married to an awesome guy like you. Happy anniversary.
My life revolves around yours to the extent that your smile brings sunrise, tears bring thunderstorms and laughter brings rainbows. Happy anniversary dear.
Our anniversary celebration does not have the colorfulness of pinatas, grandeur of fireworks or the thump of loud music. But it has the colorfulness of our beautiful memories, grandeur of our timeless love and thump of our hearts beating for each other… forever. Happy anniversary.
My heart was forever stolen on the day we got married but the only thing different in this robbery is that I knew the robber. I knew he would take good care of it forever and ever. Happy anniversary, to my handsome thief.
Even though I have a million imperfections, you've always made me feel perfect. Even though I have a thousand flaws, you have always made me feel flawless. Even though I've made hundreds of mistakes, you have always made me feel as if I am the best. Happy anniversary.
Our house would never have become a home without you. Our kids would never have understood the meaning of family without you. I would have never experienced love without you. As you can see… my universe is incomplete without you. Happy anniversary.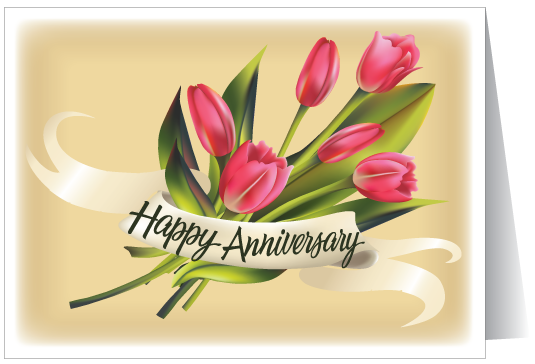 Happy anniversary to the reason behind my happiness, the reason for my success, the reason for all my smiles, the reason our marriage has lasted many a mile. I love you my soulmate.
Some husbands dedicate songs, some dedicate a Facebook page and some dedicate a gift to their wives on a wedding anniversary. I have kept it simple and dedicated my whole life to you, sweetheart. Happy anniversary.
It doesn't matter whether it is our first, fifth, tenth or fifteenth marriage anniversary. What matters is that I will always love you and you will always love me. Happy anniversary darling.
You are the foundation on which the tower of my professional success rests. Happy anniversary to my wife, thanks for all your support.
One of the best memories of a couple is not just the magic of their first kiss but the magic they create every time they kiss for the rest of their lives. Happy anniversary.
Not a long journey, your marriage is an adventure. Not a love story, your marriage is an epic tale of romance. Not a happy ending, your marriage is a blissful loop of sweet memories. Happy wedding anniversary.
Your dreams, ambitions and hopes for the future may not be always the same. But the beauty of your marriage is that you both live to make each others' dreams come true. Happy anniversary to a perfect couple.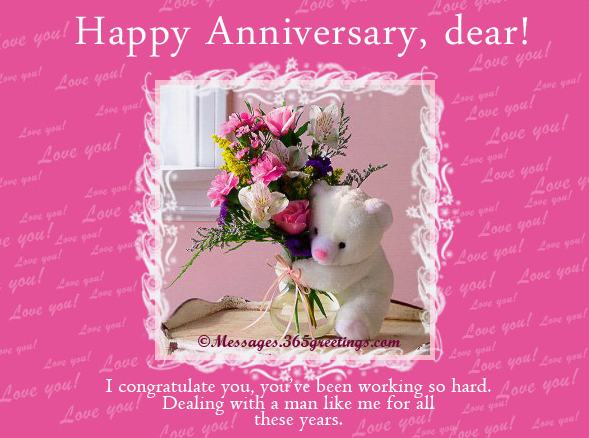 Most married couples hear each other's words, you listen to each other's heartbeats. Most of them admire each other's looks, you compliment each others soul. Most of them commit to each others lives, you have committed to each others dreams. Happy anniversary to an awesome couple.
Anniversaries are reminders of the promises that couples have fulfilled in the past, the ones they are making in the present and those that are in store for the future. Cherish this milestone date and make yet another beautiful promise as you celebrate your wedding anniversary.
I know you fight, but never in front of me. I know you argue, but not in a way that your kids can see. I know you have your differences, but you keep them private. I know you have problems, but you don't let them affect your fate. To my parents whose commitment and love is so true, I wish a happy anniversary to both of you.
Your togetherness in good and bad times has taught us teamwork. Your tolerance for each other's habits has taught us patience. Your support during each other's crises has taught us solidarity. Your lives as our parents have taught us how to live. Happy anniversary.
I admire you both not just because you are my parents but because you both are a living example of how two people can align their life goals, be committed to their love and nurture a family's growth year after year. Happy anniversary.
With every passing year, your marriage isn't becoming dull, old and thankless. It's becoming beautifully vintage and exquisitely priceless. Happy anniversary.
Your reason for celebrating your anniversary may be love. But my reason for celebrating your anniversary is that you both are like a blessing from the Gods above. Happy anniversary mom and dad.
From romantic dates to the cutest selfies, from sweetest cuddles to the dreamiest kisses, you have given me some of life's best memories. Happy anniversary.
It's been a while since the day we first met and a lot of things have changed except one thing – the way I feel when you hold me in your arms and kiss me until eternity. Happy anniversary.
To explain how much I love you, I don't know where to start. To understand my love's intensity, you'll have to dive in my heart. Endlessly romantic, eternally blissful and everlastingly strong it will forever be – like the distance to the stars and the depth of the sea. Happy anniversary.
When you hold me close my worries disappear in thin air, which is one of the reasons why we make the perfect pair. When I look into your eyes everything seems so calming, just like the mellow hues of sunshine in the morning. When I kiss you my whole stops for a few blissful moments, giving me a sense of complete and absolute fulfillment. Happy anniversary.
As twelve months of our relationship have gone by, I have realized that I am the world's luckiest guy. I have a girlfriend who is not just beautiful and pretty, but whose love makes everything seem oh so heavenly. Happy anniversary.
As I wish you on our anniversary, I find it hard to explain how my life has changed for the better… ever since the day I fell in love with you. Hopefully, you feel the same way too.
I didn't know that fairies existed, until exactly one year back on this day – that's when you became my girlfriend and magically made my life better in every way. Happy anniversary.
Since the day you became my girlfriend, all my troubles have come to an end. Since the day I gave you a kiss, life has been nothing but pure bliss. Since the day I gave you my heart, my life has had a beautiful new start. Happy anniversary.
I haven't seen the future but if our past is anything to go by, it is going to be fantastic and romantic, amazing and exciting, heady and steady. Happy anniversary.
Marriage is best relation between men and women in which Independence is Equal, D Dependence mutual and the Obligation Reciprocal. Hearty wishes 4 Happy Wedding Anniversary.
Nothing in this world Could ever be As wonderful as the love You've given me Your love makes my days so very bright, just knowing you're my darling wife(Husband). Happy Anniversary.
How true my feelings were I found out to be The best thing in my life Was when you married me Thank you my loving wife(loving Husband), For the years we share I know one thing for sure We make a wonderful pair.
Hoping that the love you shared years ago
Is still as strong today as it was
Then Bringing you much joy , love
And happiness To celebrate again.
Happy Anniversary
In your eyes, I see my best self. For the harmony you've brought to our marriage. For the beauty you've brought to my life. Happy Anniversary.
I LOVE YOU. Those three words contain every beautiful feeling I know…feelings of happiness, comfort, trust, friendship, and affection. I LOVE YOU. Every time I say it, every time I hear it, I'm even more thankful to be married to you. Happy Anniversary
The world has changed a lot (and so have we!) since we first met. We've shared some sad and funny times and years we won't forget. When all is said and done, there's one unchanging thing that's true-with every year, I find myself more thankful I have you. Happy Anniversary.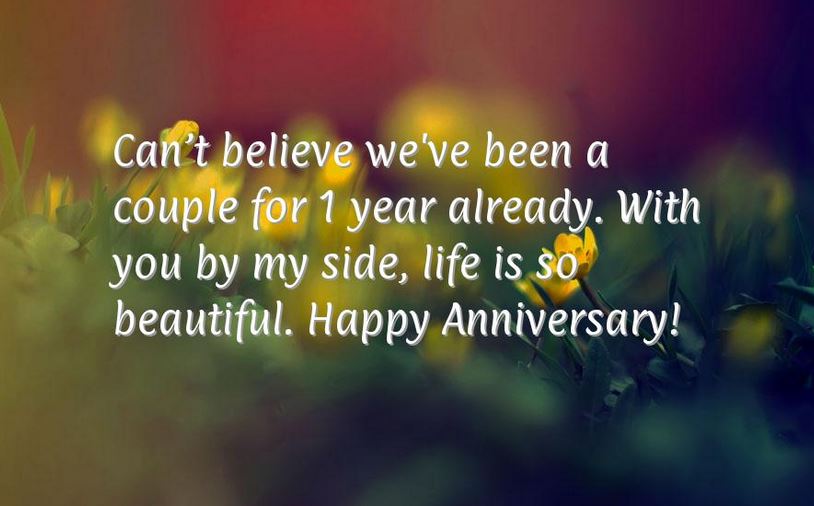 Thinking of you both and wishing you all happiness as you celebrate the joys your marriage has brought. May your special day bring you many loving moments to share; moments you'll remember long after the day has passed.
May The Love You Share Last A Lifetime,
May Success Find A Way Into Your Lives,
May Happiness Stay Permanently In Your House,
May Each Passing Day Bring Sweet Memories,
Just Like This Beautiful Day In Your Life
Happy Anniversary To The Loving Couple.
Be With Me And I Will Win The World
Was All You Said When You Proposed.
True To Word, We Have Been Together
And On The Top Of The World Since Then.
Love Our Togetherness.
Lets Win The World Forever Together.
I Take This Opportunity
To Thank You For Being
My Partner In Life, Spouse, Lover And Friend.
I Will Always Cherish Every Moment
That I Have Spent With You
For The Rest Of My Life.
I Love You My Dear.
Happy Wedding Anniversary
There's Only One Smile I Long To See;
There's Only One Voice I Long To Hear;
There's Only One Person
I Long To Hug And Kiss On This Day.
Happy Anniversary Sweetheart,
There's None Other For Me.
I Love You So.
Marriage Is The Relationship
Between A Man And Woman Where,
There Is Mutual Dependence
And Existence Of Obligation Towards Each Other.
The Two Should Be Equally Independent.
Best Wishes To You
Both On Your Anniversary!
We, Bride's Name
And Groom's Name
Request The Honour Of Your Presence
At Our Marriage
On Weekday, The Day Of Month, Year
At Time Time Period Address.
My Love,
It Seems Just Like Yesterday
That I Met You.
I Fall Even More In Love With You
Every Minute Of The Day.
You Are More Beautiful Than On Our Wedding Day.
Happy Day My Love.
What A Wonderful 10 Years It Has Been.
Our Relationship Lasted For 50 Years
On Our Golden Or 50th Anniversary
I Am The Luckiest Person.
It Means I Am Existing Because Of You.
You Are My Best Friend,
My Lover And My World.
Happy Anniversary !
May God Bless You And Behold
The Strong Relationship You Share,
The Happiness You Shed And Continue
To Enjoy The Company Of Each Other
In Many Many Long Years To Come.
Enjoy Your Life Happily With Your Life Partner
Once Again,
HAPPY ANNIVERSARY !!
For me each of the years that we have been together is like opening one layer of gift wrapping and discovering something delightful beneath. Cannot wait to get to the core of it. Happy anniversary.
Your time together has proven your commitment. Days become weeks. Weeks become months. Months become years, and years become decades. Time has always been and always will be the most important resource in your relationship. I hope you enjoy many more years together.
Save