Mero Aanshu Jhareu by Bishnu Majhi and Ishwar Bhandari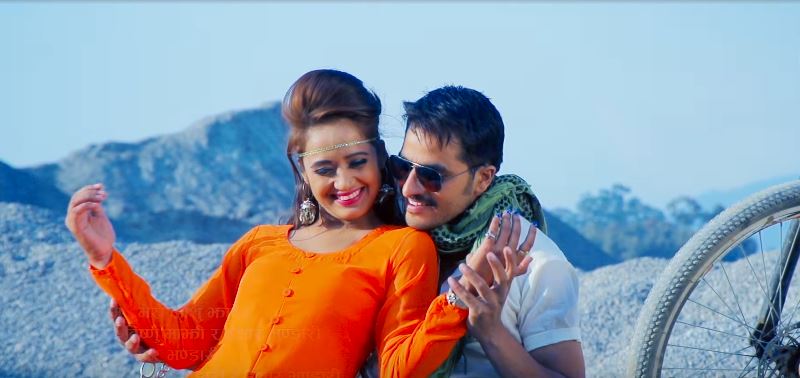 Mero Aanshu Jhareu is a new sentimental lok dohori song by Bishnu Majhi and Ishwar Bhandari. The music video features Bimal and Pabitra. Mero Aanshu Jhareu is a lok dohori song that represents the betrayal by best friend. This music video is directed by Kapil Lama. Mero Aanshu Jhareu was cinematographed by Rajesh Ghimire and edited by Sujan Shahi.
The lyrics for the song was written by Ishwar Bhandari and Rajesh Bhandari and music for the song was composed by Ishwar Bhandari. Artists Bimal Adhikari and Pabitra Thapa have performed together to make this music video wonderful. In this music video singer Bishnu Majhi and Ishwar Bhandari have given their melodic voice. Bishnu Majhi is the well known singer with great voice and sings many lok dohori songs. In Mero Aanshu Jhareu, Bimal and Pabitra have one mutual friend who is best for both of them. One day secretly he sends negative message to each other using their phones which increases the distance between Bimal and Pabitra. So it is far better to have a honest enemy than friends who stab back. The music video is presented by Suvarambha Digital Music Pvt. Ltd. When you once listen this song, I am sure you will keep tuning it.
Mero Aanshu Jhareu is released officially online by Music Nepal via Youtube. Hope that you will enjoy this melodious sentimental lok dohori.
Here is the lyrics for the song Mero Aanshu Jhareu:
Dherai maya garchhu ma vannele
Sangai jiuchhu marchhu ma vannele
Mero ansu jhareu
Ho hooo nisthuri mero ansu jhareu
Sansar tyagi rojeko mayale
Tara aja samjhi runa pareu
Dherai maya garchhu ma vannele
Sangai jiuchhu marchhu ma vannele
Mero ansu jhareu
Ho hooo nisthuri mero ansu jhareu
Sansar tyagi rojeko mayale
Tara aja samjhi runa pareu
Ho hooo nisthuri mero ansu jhareu
Sansar tyagi rojeko mayale
Tara aja samjhi runa pareu
Vantheu paile maya nai thulo ho
Tei maya nai vue ko dhulo vo
Mero ansu jhareu
Ho hooo nisthuri mero ansu jhareu
Sansar tyagi rojeko mayale
Tara aja samjhi runa pareu
Vantheu paile maya nai thulo ho
Tei maya nai vue ko dhulo vo
Mero ansu jhareu
Ho hooo nisthuri mero ansu jhareu
Sansar tyagi rojeko mayale
Tara aja samjhi runa pareu
Ho hooo nisthuri mero ansu jhareu
Sansar tyagi rojeko mayale
Tara aja samjhi runa pareu
……… ………. ………..
Tmlae maya diye kai thea ta
Akhir kina bigareu niyata
Mero ansu jhareu
Ho hooo nisthuri mero ansu jhareu
Sansar tyagi rojeko mayale
Tara aja samjhi runa pareu
Tmlae maya diye kai thea ta
Akhir kina bigareu niyata
Mero ansu jhareu
Ho hooo nisthuri mero ansu jhareu
Sansar tyagi rojeko mayale
Tara aja samjhi runa pareu
Ho hooo nisthuri mero ansu jhareu
Sansar tyagi rojeko mayale
Tara aja samjhi runa pareu
…….. ……… ………