Nalau Jhuto Pirati 2 By Bishnu Majhi and Rajesh Sen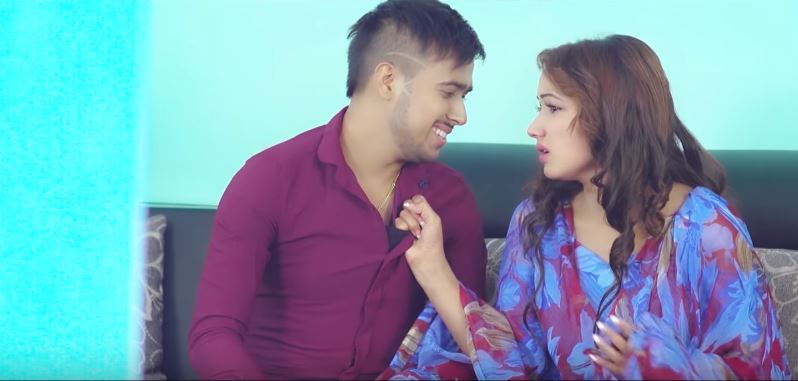 Nalau Jhuto Pirati 2 is a new sentimental lok dhohori song by Bishnu Majhi and Rajesh Sen. The music video features Asha Khadka and Bipesh Ghimire. Nalau Jhuto Pirati 2 is a Nepali lok dohori song that talk about the misunderstanding in relationship due to fake friends which is directed by Babita Shrestha. This music video was edited by Abinash DC and cinematographed by Mukesh Humagain.
The lyrics for the song was written by Sunil KC and music for this song was composed by Ganesh Adhikari. The music video features beautiful model Asha Khadka. In this music video, Asha raped by the friends of Bipesh Ghimire by coping the outfit of Bipesh. But Asha thought that Bipesh raped her. There is a quotation that "Better to have an enemy who slaps you in the face than a friend who stabs you in the back". So this music video wants to deliver the message that always keep yourself away from fake friends. Nalau Jhuto Pirati 2 is presented by Priyasi Music. When you once listen this song, I am sure you will keep repeating it.
The music video is released officially online by Music Nepal via Youtube. Hope that you will enjoy this melodious lok dohori song Nalau Jhuto Pirati 2.
Here is the lyrics for the song:
Ko hau tmi ma ruda ramaune
Mero dil ma
Afno hak jamaune
Auta kura sodhna man
Theo tmlae
Mero sojho man sanga
Khelne adhikar
A nisthuri vana kasle
Diyeo tmilae
Ko hau tmi ma ruda ramaune
Mero dil ma
Afno hak jamaune
Auta kura sodhna man
Theo tmlae
Mero sojho man sanga
Khelne adhikar
A nisthuri vana kasle
Diyeo tmilae
Mero sojho man sanga
Khelne adhikar
A nisthuri vana kasle
Diyeo tmilae
Chokho maya
Mutu ko ghau baneo
Duniya lae nun charne
Thau baneo
Auta kura sodhna man
Theo tmlae
Mero sojho man sanga
Khelne adhikar
A nisthuri vana kasle
Diyeo tmilae
Chokho maya
Mutu ko ghau baneo
Duniya lae nun charne
Thau baneo
Auta kura sodhna man
Theo tmlae
Mero sojho man sanga
Khelne adhikar
A nisthuri vana kasle
Diyeo tmilae
Mero sojho man sanga
Khelne adhikar
A nisthuri vana kasle
Diyeo tmilae
….. …… …….
Bhulne chhaina
Gareko pap tmle
Paune chhainau
Ma bata maf tmle
Auta kura sodhna man
Theo tmlae
Mero sojho man sanga
Khelne adhikar
A nisthuri vana kasle
Diyeo tmilae
Bhulne chhaina
Gareko pap tmle
Paune chhainau
Ma bata maf tmle
Auta kura sodhna man
Theo tmlae
Mero sojho man sanga
Khelne adhikar
A nisthuri vana kasle
Diyeo tmilae
Mero sojho man sanga
Khelne adhikar
A nisthuri vana kasle
Diyeo tmilae
……. …… ……