Nepali Teej Geet Jaso Pare Parla by Devi Gharti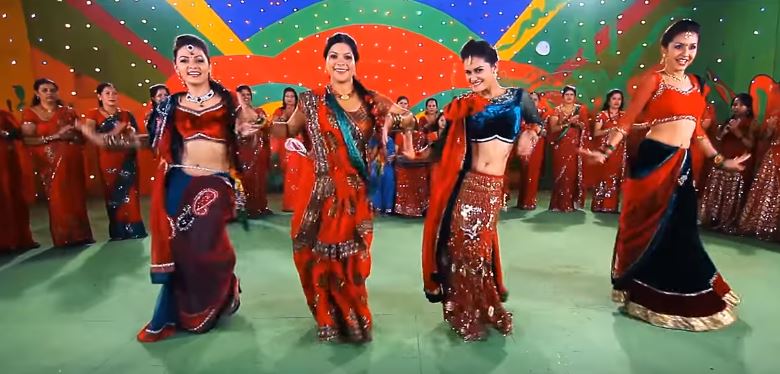 Jaso Pare Parla is a new teej song by Devi Gharti. Jaso Pare Parla is a Nepali teej song where many actress with Deepa Shree Niraula and Niru Khadka have performed together. This music video is directed by Saman Adhikari. This music video was edited by Pal Saha and cinematographed by Nitin Chand.
The lyrics for the song was written by Lok Raj Adhikari and music for this song was composed by Arjun Pokhrel. Deepa and Niru are comedian actress who have played Nepali serials and movies. Deepa is also a good director and comedian actor. This music video is full of entertainment. In Jaso Pare Parla, we can see the many actress are there dancing in red Sari. This music video is about the Nepali women's biggest festival called Teej. They dance, worship and do lots of fun with friends and relatives and try to forget their pain. I am sure if you listen this teej song, you will really enjoy it.
The music video is released officially online by Music Nepal via Youtube. Hope that you will enjoy this melodious teej song Jaso Pare Parla.

Here is the lyrics for the song:
Ghankae deu madalu
Dhari dhari dharra
Nachideu gajalu
Jaso pare parla
Nachideu gajalu
Jaso pare parla
…………..
Maiti ghar ma vaeu jamma
Hami sabai cheli
Maiti ghar ma vaeu jamma
Hami sabai cheli
Yeo teej ma ramaune ho
Sabai jana mili
Yeo teej ma ramaune ho
Sabai jana mili
Ghankae deu madalu
Dhari dhari dharra
Nachideu gajalu
Jaso pare parla
Nachideu gajalu
Jaso pare parla
He Ghankae deu madalu
Dhari dhari dharra
Nachideu gajalu
Jaso pare parla
Nachideu gajalu
Jaso pare parla
Nachideu gajalu
Jaso pare parla
Nachideu gajalu
Jaso pare parla
…….. ……. …….
Karili ko achar sanga
Mitho mitho dara
Karili ko achar sanga
Mitho mitho dara
Dhoko feri nachhum sangi
Chhaina kei dara
Dhoko feri nachhum sangi
Chhaina kei dara
Ghankae deu madalu
Dhari dhari dharra
Nachideu gajalu
Jaso pare parla
Nachideu gajalu
Jaso pare parla
He Ghankae deu madalu
Dhari dhari dharra
Nachideu gajalu
Jaso pare parla
Nachideu gajalu
Jaso pare parla
Nachideu gajalu
Jaso pare parla
…….. ……. ……..
Jammal ba ka chhori haru
Ajhai ayenan re
Jammal ba ka chhori haru
Ajhai ayenan re
Vadaure le chhekeo vanchhana
Tarna payenan re
Vadaure le chhekeo vanchhana
Tarna payenan re
Tarideu majhi dai….
Jaso pare parla
Natra ti cheli ko
Kati ansu jharla
He Ghankae deu madalu
Dhari dhari dharra
Nachideu gajalu
Jaso pare parla
Nachideu gajalu
Jaso pare parla
Nachideu gajalu
Jaso pare parla
…….. …… ……