Nepali Teej Song Sano Sano Guff Chha by Bishnu Majhi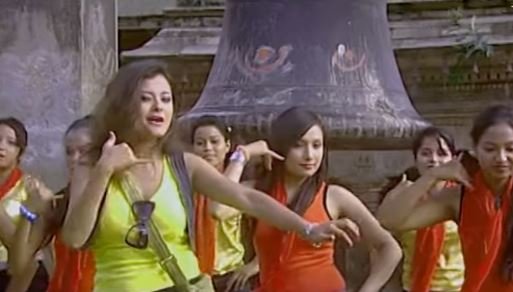 Sano Sano Guff Chha is a new teej song by Bishnu Majhi. Sano Sano Guff Chha is a Nepali teej song which features Sushma Karki. This music video is directed by Shiva BK. This music video was edited by Sujan Shahi and cinematographed by Shambhoo Chalise.
The lyrics for the song was written by Sundermani Adhikari and music for this song was also composed by Sundermani Adhikari himself. This music video is full of entertainment and excitement towards the festival Teej. Every Nepali women looks more beautiful in Sari like Rajani in this music video. In Haritalika Teej, all womens and girls were red and green colored dress. In this music video Susma is explaining her boyfriend. This music video is presented by Sapana Music Pvt. Ltd. I am sure if you listen this teej song you will really enjoy it.
The music video is released officially online by Music Nepal via Youtube. Hope that you will enjoy this melodious teej song Sano Sano Guff Chha.
Here is the lyrics for the song:
Asti ni gharaima vaina ma
Pokhara jam vantheo gaena ma
Asti ni gharaima vaina ma
Pokhara jam vantheo gaena ma
Uhi sanga mero sano sano guff chha
Man pareko manchheko mobilei off chha
Man pareko manchheko mobilei off chha
Man pareko manchheko mobilei off chha
……… ……… ………….
Ma ekxin nabolda tolautheo
A kanchhu vanera bolautheo
Ma ekxin nabolda tolautheo
A kanchhu vanera bolautheo
Uhi sanga mero sano sano guff chha
Man pareko manchheko mobilei off chha
Man pareko manchheko mobilei off chha
Man pareko manchheko mobilei off chha
………… ……….. …………
Achel ta vetna ni audaina
Fon gareo fon pani laudaina
Achel ta vetna ni audaina
Fon gareo fon pani laudaina
Uhi sanga mero sano sano guff chha
Man pareko manchheko mobilei off chha
Man pareko manchheko mobilei off chha
Man pareko manchheko mobilei off chha
………… ……….. …………
Ratvari phone garchha satauchha
Din vari off garchha attauchha
Ratvari phone garchha satauchha
Din vari off garchha attauchha
Uhi sanga mero sano sano guff chha
Man pareko manchheko mobilei off chha
Man pareko manchheko mobilei off chha
Man pareko manchheko mobilei off chha
………… ……….. …………
Phone Phone mai jisakauna rahar laune
Najik jau vane dar laune
Phone Phone mai jisakauna rahar laune
Najik jau vane dar laune
Uhi sanga mero sano sano guff chha
Man pareko manchheko mobilei off chha
Man pareko manchheko mobilei off chha
Man pareko manchheko mobilei off chha
………… ……….. …………
Afu lae dhatna ni audaina
Nabolam nidra ni laudaina
Afu lae dhatna ni audaina
Nabolam nidra ni laudaina
Uhi sanga mero sano sano guff chha
Man pareko manchheko mobilei off chha
Man pareko manchheko mobilei off chha
Man pareko manchheko mobilei off chha
………… ……….. …………