Nepali Teej Song Shorha Barse Joban by Apsara Gurung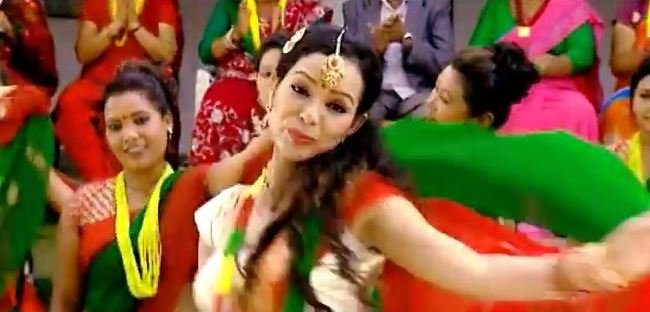 Shorha Barse Joban is a new Nepali teej song by Apsara Gurung. The music video features Pujana Pradhan Istri. The song is released for the Nepali women's great monsoon festival 'Haritalika Teej'. The entire team of this music video wants to deliver the best wishes for all Nepali women in the occasion of Teej. This music video is directed by Pradeep Shrestha. The song was cinematographed by Gokul Adhikari and edited by Dawa Sherpa.
The music for the song was composed by Shiva Hamal and he himself write the lyrics for the song. The music video features talented Nepali actress Pujana Pradhan Istri. The music video is based on the Nepali festival 'Teej', which is one of the biggest festival of Nepal. Hartalika Teej welcomes the monsoon season and celebrated primarily by girls and women, with songs, dancing and prayers. The festivals celebrate the bounty of nature, arrival of clouds and rain, greenery and birds with social activity, rituals and customs. Once you listen to this song, I am sure you will keep tuning it.
The music video is released officially online by Budha Subba Digital Pvt Ltd  via Youtube. Hope that you will enjoy this melodious Teej song Shorha Barse Joban.
Here is the lyrics for the song Shorha Barse Joban:
Barsai din ko teejai ayeo
Sabai jamma vaeo
Barsai din ko teejai ayeo
Sabai jamma vaeo
Mukya ba ko agana ma
Dhulo udam sai ho
Mero baruli kammar marikeo
Marikeo markiyeo baruli kammar markeo
Larkeo larkeo rato sari larkeo
Teejko bela maita auda
Sabai sanga vetna pauda
Hai mero sora barse joban
Feri farkiyeo
Mero sora barse joban
Feri farkiyeo
He mero sora barse joban
Feri farkiyeo
………. ………… ……………
Suntali le git nikala
Tali bajau thuli
Suntali le git nikala
Tali bajau thuli
Saili maili nachana au na
Man ko pira vuli
Mero baruli kammar marikeo
Marikeo markiyeo baruli kammar markeo
Larkeo larkeo rato sari larkeo
Teejko bela maita auda
Sabai sanga vetna pauda
Hai mero sora barse joban
Feri farkiyeo
Mero sora barse joban
Feri farkiyeo
He mero sora barse joban
Feri farkiyeo
………. ………… ……………
Koe ko bihe saharma vo
Koe ko bihe gauma
Koe ko bihe saharma vo
Koe ko bihe gauma
Sabai jana sukhi nai chhau
Afno afno thauma
Mero baruli kammar marikeo
Marikeo markiyeo baruli kammar markeo
Larkeo larkeo rato sari larkeo
Teejko bela maita auda
Sabai sanga vetna pauda
Hai mero sora barse joban
Feri farkiyeo
Mero sora barse joban
Feri farkiyeo
He mero sora barse joban
Feri farkiyeo
………. ………… ……………
Sabai mili nachdai gaula
Sangai dara khaula
Sabai mili nachdai gaula
Sangai dara khaula
Panchami ko voli palta
Ghar ghara jaula
Mero baruli kammar marikeo
Marikeo markiyeo baruli kammar markeo
Larkeo larkeo rato sari larkeo
Teejko bela maita auda
Sabai sanga vetna pauda
Hai mero sora barse joban
Feri farkiyeo
Mero sora barse joban
Feri farkiyeo
He mero sora barse joban
Feri farkiyeo
………. ………… ……………