New Comedy Teej Song Bhabishya Baani by Pashupati Sharma and Manju BK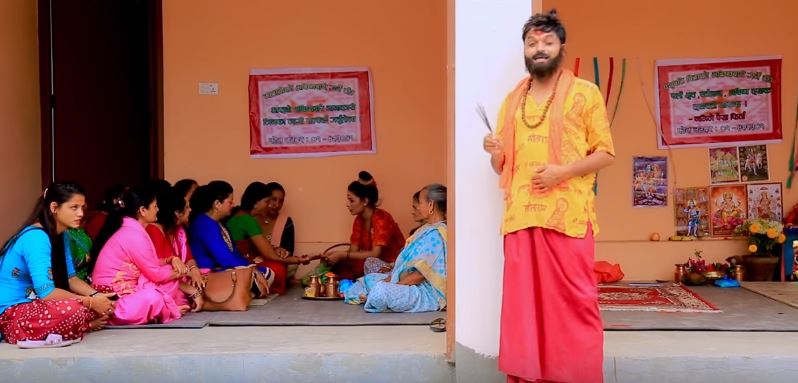 Bhabishya Baani is a new comedy teej song by Pashupati Sharma and Manju BK. Bhabishya Baani is a Nepali teej song where Pashupati has performed himself. This music video is directed by Durga Poudel. This music video was edited by Prabin Bhatta and cinematography was also done by Durga Poudel.
The lyrics as well as music for this song was composed by Pashupati Sharma himself. This music video is full of fun and reveals the truth behind the person called Baba or Mata or Pita who can predict future. In Bhabishya Baani,  like other song he came with the completely unique idea of song and appearance. Pashupati is the one of the versatile and creative singer, writer and music composer along with good acting talent. He performed lots of music videos and sang for the song, usually his songs are of different types and lyrics are differently organized. This song is specially released for Nepali women's festival 'Haritalika teej'. Though it is represented in comedy way this is very informative song. This music video is presented by Aashish Music Pvt. Ltd. I am sure if you listen this teej song, you will really enjoy it.
The music video is released officially online by Music Nepal via Youtube. Hope that you will enjoy this melodious comedy teej song Bhabishya Baani.
Here is the lyrics for the song:
Bhabishya herna sabai
Janchhana Mata sita
Dherai lae tha vayena ki
Ata thiye pita
Raksi churot chudai chunna
Machha masu khanna
Yeo pita le vanya kura auta
Mistake janna
He balak ra balike ama ra bau
Bhabishya bani janna man vaye
Mero ma auu sabai mero ma auu
He Bhabishya bani janna man vaye
Mero ma auu sabai mero ma auu
He Mero ma auu sabai mero ma auu
He Mero ma auu sabai mero ma auu
…….. ……. …………
Yeo paunalae maile hajur
Gare anek tara
Launa pita vanidinos
Kasto raichha gara
Padhauna ni parla aslae
Badhaula ni parla
Budhes kala ma asle malae
Kati maya garla
He gatilai thauma
Aepuge tyakkai
Bhabishya bani chaltibar vayeo
Milaedinus thyakkai Pita
Milaedinus thyakkai pita
He Bhabishya bani chaltibar vayeo
Milaedinus thyakkai Pita
Milaedinus thyakkai pita
HeMilaedinus thyakkai Pita
Milaedinus thyakkai pita
He Milaedinus thyakkai Pita
Milaedinus thyakkai pita
Khusi pani garaudaina
J kam pani vaeuchha
Yesko gara kada raichha
Tinti swasni lyauchha
Raksi pani kahnchha asle
Churot pani khanchha
Budheskal ma herdaina
Bridasram ma lanchha
He balak ra balike ama ra bau
Bhabishya bani janna man vaye
Mero ma auu sabai mero ma auu
He Bhabishya bani janna man vaye
Mero ma auu sabai mero ma auu
He Mero ma auu sabai mero ma auu
He Mero ma auu sabai mero ma auu
…….. ……. …………
Ek barsa ni vako chhaina
Vet vako yeo sita
Yei manchhe sanga love parya chha
Kasto hhola pita
Hajur le nai vannu pareo
Maile kaso garu
Usko man ma mai hula ki
Hulan baru aru
He gatilai thauma
Aepuge tyakkai
Bhabishya bani chaltibar vayeo
Milaedinus thyakkai Pita
Milaedinus thyakkai pita
He Bhabishya bani chaltibar vayeo
Milaedinus thyakkai Pita
Milaedinus thyakkai pita
HeMilaedinus thyakkai Pita
Milaedinus thyakkai pita
He Milaedinus thyakkai Pita
Milaedinus thyakkai pita
Ali ali chota patak lako raichha
Jiu ma boyfriend le pittdo riachha
Sano sano niu ma
Ek due maina vitra hera
Antai nata jodchha
Nani tmlae bihe gardaina
Chhodchha sure chhodchha
He balak ra balike ama ra bau
Bhabishya bani janna man vaye
Mero ma auu sabai mero ma auu
He Bhabishya bani janna man vaye
Mero ma auu sabai mero ma auu
He Mero ma auu sabai mero ma auu
He Mero ma auu sabai mero ma auu
…….. ……. …………