New Comedy Teej Song Sasuralima Teej by Khuman Adhikari and Rasmita Adhikari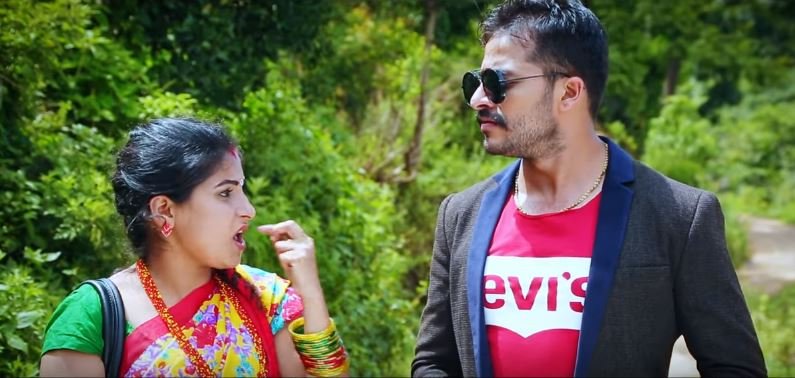 Sasuralima Teej is a new Nepali comedy teej song by Khuman Adhikari and Rasmita Adhikari.The music video features Palpasha and Bimal. Sasuralima Teej is based on Nepali women's great festival 'Haritalika Teej' which is directed by Kapil Lama. This music video was edited by Sujan Shahi and was cinematographed by Harish Mahara.
The lyrics as well as music for the song was composed by Ganesh Adhikari Palpali. The music video features beautiful comedian actress Palpasha Dangol. She is well known with nick name Chamsuri. She played the role of mother of Suntali in 'Meri Bassai' comedy TV serial. Kriti Adhikari is looking very attractive in Sari. Here, in this music video Sasuralima Teej, she has performed with handsome and popular model, composer and writer Bimal Adhikari. Bimal is one of the popular model who has done lots of music video specially lok dohori songs. Sasuralima Teej music video is based on the Nepali festival 'Teej', which is one of the biggest festival of Nepal. The monsoon festivals of Teej are primarily dedicated to Goddess Parvati and her union with Lord Shiva. Sasuralima Teej music video was presented by Mesana Digital Pvt Ltd. When you once listen this song, I am sure you will keep tuning it.
Sasuralima Teej is released officially online by Music Nepal via Youtube. Hope that you will enjoy this romantic and melodious Teej song:
Here is the lyrics for the song Sasuralima Teej:
Janma dine ama sorge vaena Ram
Janma dine ama sorge vaena Ram
Vane jasti paye maile sasu ama
Garo piro namanera aye ama sarasar
Garo piro namanera aye ama sarasar
Ajkal ta sasu pani ama barabar
Ajkal ta sasu pani ama barabar
Ajkal ta sasu pani ama barabar
Ajkal ta sasu pani ama barabar
Haa aa Ajkal ta sasu pani ama barabar
Chhora thenan mera
Chhori daya baya
Chhora thenan mera
Chhori daya baya
Chhora ko jhai paye maile
Jwoe ko maya
Garo piro namanera aunu vayeo sarasar
Garo piro namanera aunu vayeo sarasar
Ajkal ta jwoe pani ho chhora barabar
Ajkal ta jwoe pani ho chhora barabar
Ajkal ta jwoe pani ho chhora barabar
Ajkal ta jwoe pani ho chhora barabar
Haaa Ajkal ta jwoe pani ho chhora barabar
………. ………. …………
Hatar ma aye layauna paena kunai chig
Hatar ma aye layauna paena kunai chig
Aspali ta manaene vo sasurali ma teej
Garo piro namanera aye ama sarasar
Garo piro namanera aye ama sarasar
Ajkal ta sasu pani ama barabar
Ajkal ta sasu pani ama barabar
Ajkal ta sasu pani ama barabar
Ajkal ta sasu pani ama barabar
Haa aa Ajkal ta sasu pani ama barabar
Chhori jau timi bodi tippna barima
Chhori jau timi bodi tippna barima
Jowe ra ma tama kattna basa ghari ma
Garo piro namanera aunu vayeo sarasar
Garo piro namanera aunu vayeo sarasar
Ajkal ta jwoe pani ho chhora barabar
Ajkal ta jwoe pani ho chhora barabar
Ajkal ta jwoe pani ho chhora barabar
Ajkal ta jwoe pani ho chhora barabar
Haaa Ajkal ta jwoe pani ho chhora barabar
………. ………. …………
Rato sari lagae vitra bair garichhan
Rato sari lagae vitra bair garichhan
Hajura ki chhori pani makha parichhin
Garo piro namanera aye ama sarasar
Garo piro namanera aye ama sarasar
Ajkal ta sasu pani ama barabar
Ajkal ta sasu pani ama barabar
Ajkal ta sasu pani ama barabar
Ajkal ta sasu pani ama barabar
Haa aa Ajkal ta sasu pani ama barabar
Chhito chhito pakam belaimathi khane ho
Chhito chhito pakam belaimathi khane ho
Sajha pakha teej ko geetma
Nachna jane ho
Garo piro namanera aunu vayeo sarasar
Garo piro namanera aunu vayeo sarasar
Ajkal ta jwoe pani ho chhora barabar
Ajkal ta jwoe pani ho chhora barabar
Ajkal ta jwoe pani ho chhora barabar
Ajkal ta jwoe pani ho chhora barabar
Haaa Ajkal ta jwoe pani ho chhora barabar
………. ………. …………