New Lok Dohori Lakhau Hajar Ma by Dharmaraj Pokhrel and Devi Gharti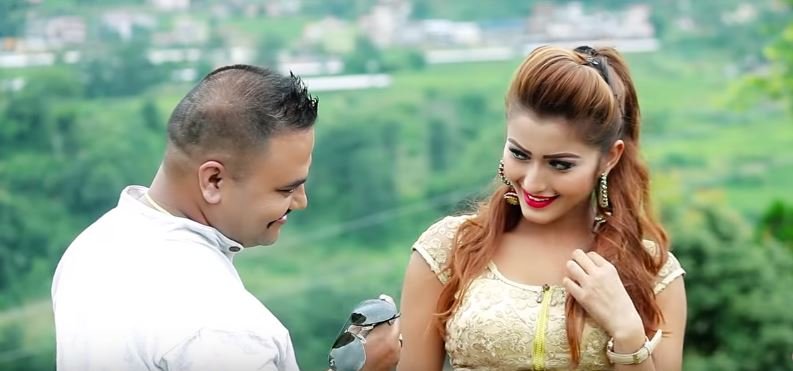 Lakhau Hajar is a Nepali lok dohori song by Dharmaraj Pokhrel and Devi Gharti. This music video is romantic and lovely conversation between love birds. The music video features Anjali Adhikari. Lakhau Hajar is directed by Deep Sagar. He himself also edited and cinmatographed the music video.
The lyrics for the song was written by Rishi Adhikari and music was composed by Rishi Adhikari himself. The music video features hot and gorgeous model Anjali Adhikari. She has given her best performance in this music video with another energetic artists Dharmaraj Pokhrel, Suman Pokhrel, Rashmi Mainali and Suman Giri to make this music video wonderful. She has performed numerous other music videos like Salala mai bagi aula, A thule, Kti Patyauna, etc. Lakhau Hajar music video wants to deliver a message that Love is the only one thing that is forever with you. When you once listen this song, I am sure you will keep tuning it.
Lakhau Hajar is released officially online by Music Nepal via Youtube. Hope that you will enjoy this romantic and melodious lok dohori song.
Here is the lyrics for the song Lakhau Hajar:
Kina hola tmro yad aune
Tmro yad aune
Jhajhalko le din ratai sataune
Lakhau hajara ma
Kati aye kati gaye jibana
Tmi matrai ghumchheu najarma
Tmro yad aune
Tmro yad aune
Jhajhalko le din ratai sataune
Lakhau hajara ma
Kati aye kati gaye jibana
Tmi matrai ghumchheu najarma
Kati aye kati gaye jibana
Tmi matrai ghumchheu najarma
Baseki chhu tmrai nam lekhi
Tmrai nam lekhi
Tmi sanga vet vako din dekhi
Lakhau hajara ma
Kati aye kati gaye jibana
Tmi matrai ghumchheu najarma
Tmrai nam lekhi
Tmrai nam lekhi
Tmi sanga vet vako din dekhi
Lakhau hajara ma
Kati aye kati gaye jibana
Tmi matrai ghumchheu najarma
Kati aye kati gaye jibana
Tmi matrai ghumchheu najarma
………….. …………….. ………………..
Ghumeki chhau Najarai vari
Najarai vari
Aba vana birsau ma kasari
Lakhau hajara ma
Kati aye kati gaye jibana
Tmi matrai ghumchheu najarma
Najarai vari
Najarai vari
Aba vana birsau ma kasari
Lakhau hajara ma
Kati aye kati gaye jibana
Tmi matrai ghumchheu najarma
Kati aye kati gaye jibana
Tmi matrai ghumchheu najarma
Thali sakeo Yeo mana ma fulna
Yeo man ma fulna
Maile pani ka sakchhu ra vulna
Lakhau hajara ma
Kati aye kati gaye jibana
Tmi matrai ghumchheu najarma
Kati aye kati gaye jibana
Tmi matrai ghumchheu najarma
…………… ………….. …………………