New Nepali Dashain Tihar Song Aayo Dashain by Pradeep Kandel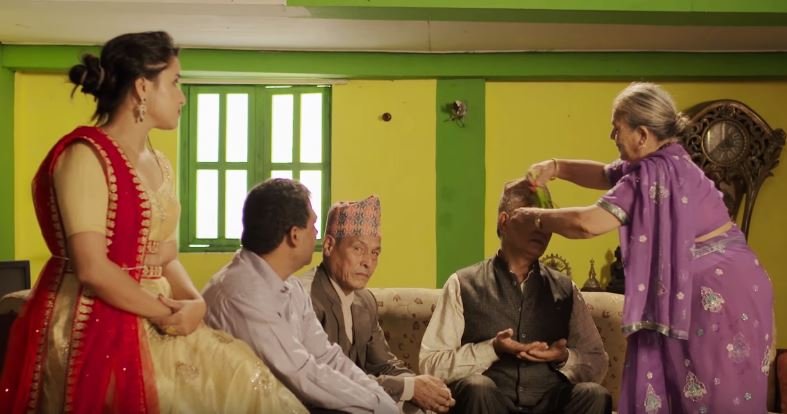 Aayo Dashain is a new Nepali Dashian song by Pradeep Kandel. The music video features Sudarshan Kharel. The song is released on occasion of the biggest festival of Nepal 'Dashain and Tihar' which is directed by Shailedra Khokhali and edited by Sabizz Media. The cinematography is done by Basanta BJ Maharjan.
The lyrics, music and composition all for the song was done by Pradeep Kandel. Aayo Dashain music video represents the enjoyable moments of the great festivals Dashain and Tihar. This songs show how we Nepali celebrate these two festivals together in very sweet and short way. The music video features talented Nepali artist Sudarshan Kharel. The music video is based on the Nepal's biggest festival 'Bada Dashain'. Thus, Dashain is celebrated for this victory over the demon. Goddess Durga is considered as the goddess of power and justice. It has its unique ways of celebration. It is probably the longest festival in Nepal that lasts for fifteen days and is celebrated not only throughout the country but also in some other countries where Hindus have been living. Aayo Dashain music video was presented by Pradeep Kandel. Once you listen to this song, I am sure you will keep tuning it.
Aayo Dashain is released officially online by HighlightsNepal via Youtube. Hope that you will enjoy this romantic and melodious Dashain song:
Here is the lyrics for the song Aayo Dashain:
Lau ayo dashain dashain
Ayo hai vai tihar
Acheta jamara le
Varne vo hamro nidhar
Ramauchhau aba hami
Khelera burja jhandi
Ramauchhau aba hami
Khelera burja jhandi
Dhaka topi ma tmlae
Vettna auda ma
Dhaka topi ma tmlae
Vettna auda ma
Malae navannu pakhandi
Ho Malae pyaro chha sanskriti
Malae navannu pakhandi
Ho Malae pyaro chha sanskriti
…………. …………. ……………
Amale vanchhin babu tero
Aeu lamo hos
Baba le vanchhan
Babu talae safalta milos
Baje ra baju daju vauju
Ani kaka ra kaki
Sable asirbad dinchhan hamlae
Hamro sir ma hat rakhi
Suna sathi suna sathi suna sathi
Kahi aja vet ghat hamro
Kahi vayeo hijai bida
Vura ta makkhai hunchhan
Dakshina pani dida
Ramauchhau aba hami
Khelera burja jhandi
Ramauchhau aba hami
Khelera burja jhandi
Dhaka topi ma tmlae
Vettna auda ma
Dhaka topi ma tmlae
Vettna auda ma
Malae navannu pakhandi
Ho Malae pyaro chha sanskriti
Malae navannu pakhandi
Ho Malae pyaro chha sanskriti
…………. …………. ……………
Bides ma rahau ya
Rahau hami swodesai vitra
Mitho samjhana aedine
Yo pal chha pabitra
Kamana garchhan sabai
Autai matrai farak chha saile
Bajai le kholin
Ek barsa dekhi banda teo thaili
Vana vaili vana vaili vana vaili
Khelera deusi deusi
Khelera vailo vailo
Ladi ra badi garidai
Luga lae pardai mailo
Ramauchhau aba hami
Khelera burja jhandi
Ramauchhau aba hami
Khelera burja jhandi
Dhaka topi ma tmlae
Vettna auda ma
Dhaka topi ma tmlae
Vettna auda ma
Malae navannu pakhandi
Ho Malae pyaro chha sanskriti
Malae navannu pakhandi
Ho Malae pyaro chha sanskriti
…………. …………. ……………