Dashain Ho Ki Yo Mero Dasha (Audio) By Yogeshwor Amatya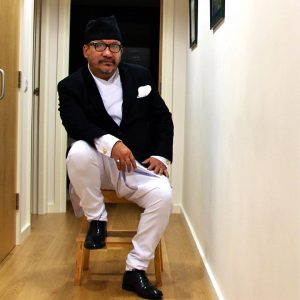 Dashain Ho Ki Yo Mero Dasha is a new Nepali Dashian pop song by Yogeshwor Amatya. The song represents the voice of poor people who feel very sad in the occasion of the Nepali's biggest festival Dashain. Instead of be happy the economic condition give them a sorrow.
The lyrics as well as the music for this song was composed by Yogeshwor Amatya. He is one of the best and loving singer, producer, composer and actor of Nepali music industry. He is social activist too and done lots of social works. This song is one of the most loved song by his fans among his creations. This includes lots of feeling and reality of the peoples. This is informative song and deliver the message that festivals are not for spent lots of money rather than enjoy them with what we have. Once you listen to this song, I am sure you will keep tuning it.
Dashain Ho Ki Yo Mero Dasha is released officially online by Nepalindiamovie1 via Youtube. Hope that you will enjoy this romantic and melodious song:
Here is the lyrics for the song Dashain Ho Ki Yo Mero Dasha:
Cha cha huin..Sarara
Dashain aayo
Khaunla piunla
Kahan bata launla
Chori laun la
Dhatta papi mata
Chhutai basau la

Dashain nai ho ki yo
Mero dasha pharki aaye ko
Dashain nai ho ki yo
Mero dasha pharki aaye ko
Barsa nai pichhe kina
Yo mero tauko khake ko
Dashain aayeko
Barsa nai pichhe kina
Yo mero tauko khake ko
Dashain aayeko
Barsa nai pichhe kina
Yo mero tauko khake ko
Dashain aayeko
Barsa nai pichhe kina
Yo mero tauko khake ko
Dashain aayeko

Hernus hai Ram- ya baa,
Yeas pali ta malai
Eauta sari denai parchha ke
Dashain jasto chhad
Ma jindagi bhari
Eak saro pahriya ra
Cholo kati lagaunu
Lais budi sari
Paisa na saisa tiki tyas tyas

Dashain nai ho ki yo
Mero dasha pharki aaye ko
Dashain nai ho ki yo
Mero dasha pharki aaye ko
Barsa nai pichhe kina
Yo mero tauko khake ko
Dashain aayeko
Barsa nai pichhe kina
Yo mero tauko khake ko
Dashain aayeko
Barsa nai pichhe kina
Yo mero tauko khake ko
Dashain aayeko
Barsa nai pichhe kina
Yo mero tauko khake ko
Dashain aayeko

Khasi pani ghorle
Lyaunu parchha ba yeas pali ta
Por jasto raack hoina ni la
Bari ma aafai pani tatau chuu,
Khuilaun chhu
Tauko chhain chhata usin-na
Parchha aabuai
Khalas bajya ghorle khasi
Paisa na saisa tiki tyas tyas

Dashain nai ho ki
Yo mero dasha pharki aaye ko
Dashain nai ho ki
Yo mero dasha pharki aaye ko
Barsa nai pichhe kina
Yo mero tauko khake ko
Dashain aayeko
Barsa nai pichhe kina
Yo mero tauko khake ko
Dashain aayeko
Barsa nai pichhe kina
Yo mero tauko khake ko
Dashain aayeko
Barsa nai pichhe kina
Yo mero tauko khake ko
Dashain aayeko

Ba malai jeans pant chahin chha
Ba malai dingo boot
Ba malai kurta surwal
Ra rato sweater chhain chha
Ba malai dhago,
Changa ani lattai chhain chha
Baba malai balun (balloon)
Ra ice-cream chhain chha

Sanchhi ta naya
Chori join aaunchan kya re
Phalphul masala launchan kya re
Chori ta aafnai bhaye
Join lai ta eak saya rupiya
Ta dinu parla ni dakshina
Dis budi saya rupiya dakshina
Paisa na saisa tiki tyas tyas

Dashain nai ho ki
Yo mero dasha pharki aaye ko
Dashain nai ho ki
Yo mero dasha pharki aaye ko
Barsa nai pichhe kina
Yo mero tauko khake ko
Dashain aayeko
Barsa nai pichhe kina
Yo mero tauko khake ko
Dashain aayeko
Barsa nai pichhe kina
Yo mero tauko khake ko
Dashain aayeko
Barsa nai pichhe kina
Yo mero tauko khake ko
Dashain aayeko
Dashain aayeko
Dashain aayeko
Dashain aayeko
Dashain aayeko
Dashain aayeko