New Nepali Lok Dohori Bhagya Rekha by Janak Lama and Kamala Khadka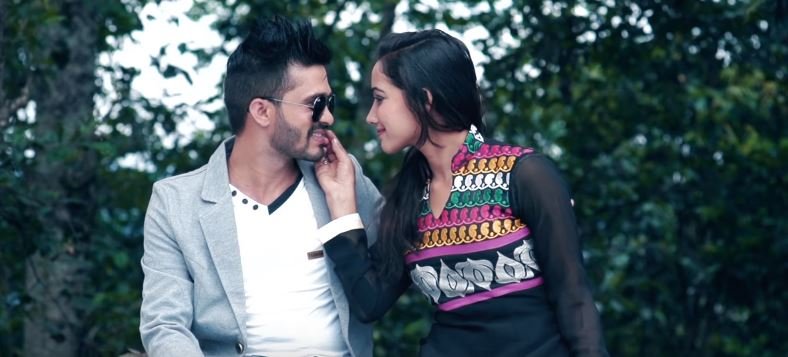 Bhagya Rekha is a new Nepali lok dohori song by Janak Lama and Kamala Khadka. The music video features Aasha Khadka and Ramnchandra Bohara. This music video was edited by Milan Karki and was cinematographed by Sagar Gautam. Bhagya Rekha is a Nepali song that tells that we will not achieve everything that we have desired. This music video is directed by Khamesh Shrestha.
The lyrics for the song was written by Sirjana Khadka and music for this song was done by Ramchandra Bohara. This music video express the pain of seperated lovers and about our bad luck in relationship. Aasha is a beautiful well known model and actress in Nepali music industry. She has appeared in numerous music videos mostly in emotional lok dohori songs and some advertisements too. In Bhagya Rekha, Aasha Khadak and Ramnchandra Bohara separated due to bad luck. They both are involved badly in the case of murder. Here, Aasha  and Alok both are hiding from police in order to save themselves. This music video also wants to show that the luck will not always on our side sometimes it will go against us. This music video was presented by Aashish Music Pvt. Ltd. When you once listen to this music video, I am sure you will keep repeating it.
Bhagya Rekha is officially released online by Music Nepal via YouTube. Hope that you guys will enjoy this melodious lok dohori song.
Here is the lyrics for the song Bhagya Rekha:
Bidhata le gardida chhala
Khusi huna sakina ekpala
Jindagima maile matrai
Kina runa parchha
Adi vagya tmle nai lekhne ho vane
Suna he vavi sabaiko vagya rekha
Autai huna parchhha
Bidhata le gardida chhala
Khusi huna sakina ekpala
Jindagima maile matrai
Kina runa parchha
Adi vagya tmle nai lekhne ho vane
Suna he vavi sabaiko vagya rekha
Autai huna parchhha
Heee Suna he vavi sabaiko vagya rekha
Autai huna parchhha
Otha ma hasu vo thorai din ko
Yatra vayeo gantabya bihin ko
Jindagi ma maile matrai
Kina runa parchha
Adi vagya tmle nai lekhne ho vane
Suna he vavi sabaiko vagya rekha
Autai huna parchhha
Otha ma hasu vo thorai din ko
Yatra vayeo gantabya bihin ko
Jindagi ma maile matrai
Kina runa parchha
Adi vagya tmle nai lekhne ho vane
Suna he vavi sabaiko vagya rekha
Autai huna parchhha
Hee Suna he vavi sabaiko vagya rekha
Autai huna parchhha
………… …………………. …………