New Nepali Lok Dohori Majdur by Pranil Gurung and Tika Pun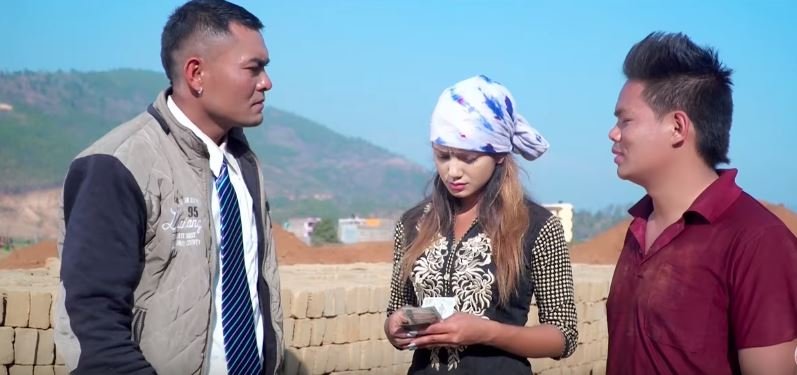 Majdur is a new sentimental lok dohori song by Pranil Gurung and Tika Pun. The music video features Sarika KC. Majdur is a lok dohori song that express the feelings and behavior of society towards labors. This music video is directed by Khamesh Shrestha. Majdur was cinematographed by Shakti Prajwol Ghimire and edited by Shakti Prajwol Ghimire.
The lyrics for the song was written by Sukra Shrestha and Pranil Gurung and music for the song was composed by Pranil Gurung. This music video features gorgeous well known model Sarika KC and other artists Pranil Gurung and Sukra Shrestha. All Artists have performed in such a realistic way that music video will clearly represents the story that songs wants to deliver. Sarika has done numerous music video mostly lok dohori songs. In Majdur music video, Pranil Gurung and Sarika plays the role of labor who have very hard work to do. To manage something to eat a day, they have to go through very hard situation. But as their boss Sukra Shrestha does not pay them in time and humiliate them. Majdur was presented by Safalta Music Pvt.Ltd. When you once listen this song, I am sure you will keep tuning it.
Majdur is released officially online by Music Nepal via Youtube. Hope that you will enjoy this melodious sentimental lok dohori.
Here is the lyrics for the song Majdur:
Ho ho ho dukha hunchha
Garo chha kam garnu
Dhau dhau hunchha
Bihan belka chak tarnu
Ma ta auta majdur ho
Rojgarko chha jyami kam
Jyankai baji rakhera
Dhunga mato ko kam garchhu
Tara pani dinnan kina
Parisarmko mero dam
Garo chha kam garnu
Dhau dhau hunchha
Bihan belka chak tarnu
Ma ta auta majdur ho
Rojgarko chha jyami kam
Jyankai baji rakhera
Dhunga mato ko kam garchhu
Tara pani dinnan kina
Parisarmko mero dam
Tara pani dinnan kina
Parisarmko mero dam
Ho ho ho Paye huntheo
Jindgi katauna
Voko pet varna ek saro lagaunu
Ma ta auta majdur ho
Rojgarko chha jyami kam
Jyankai baji rakhera
Dhunga mato ko kam garchhu
Tara pani dinnan kina
Parisarmko mero dam
Jindgi katauna
Voko pet varna ek saro lagaunu
Ma ta auta majdur ho
Rojgarko chha jyami kam
Jyankai baji rakhera
Dhunga mato ko kam garchhu
Tara pani dinnan kina
Parisarmko mero dam
Tara pani dinnan kina
Parisarmko mero dam
…………… …………. …………………