New Nepali Teej Song Bainiko Bhinaju by Shova Thapa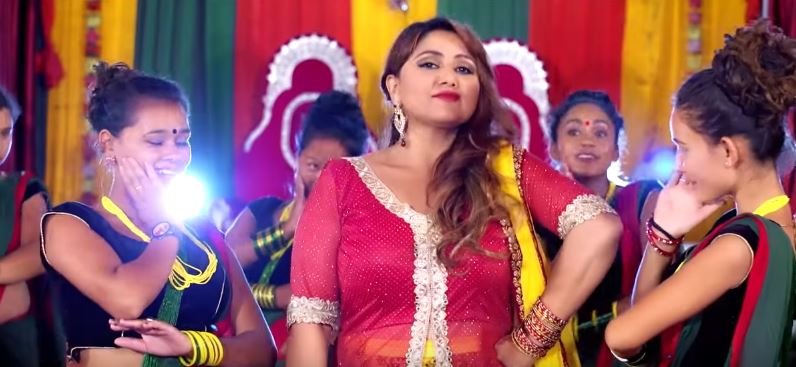 Bainiko Bhinaju is a new Nepali teej song by Shova Thapa. The music video features DeepaShree Niraula. The song is released on the occasion of Nepali women's great festival 'Haritalika Teej' which is directed by Bikram Chauhan and edited by Milan B.K. Basu Baral is the Cinematographer of this song.
The lyrics for the song was written by Prashant Paudel and the music was also composed by Prashant Paudel himself. The music video features talented artists Deepashree Niraula. She has given her best performance in this music videos. Deepashree Niraula is the one of the best comedian actress. She played many comedy TV serials and films. 'Tito Satya' is one of her best comedy TV serial. The music video is based on the Nepali festival 'Teej', which is one of the biggest festival of Nepal. This festivals celebrate the bounty of nature, arrival of clouds and rain, greenery and birds with social activity, rituals and customs. This festival is dedicated to Lord Shiva and Parvati. Nepali women and girls do worship Lord Shiva without drinking a single drop of water. Bainiko Bhinaju music video was presented by Bishesh Films Pvt. Ltd. Once you listen to this song, I am sure you will keep tuning it.
Bainiko Bhinaju is released officially online by Bishesh Films via Youtube. Hope that you will enjoy this romantic and melodious Teej song:
Here is the lyrics for the song Bainiko Bhinaju:
Uskai nam ko sindur pote
Dina auchha are
Rato doli sajayera
Lina auchha are
Ho ho ho Uskai nam ko sindur pote
Dina auchha are
Rato doli sajayera
Lina auchha are
Ko ho vanaula….
Hune wala nanda ko daju wu
Meri baini ko bhinaju
Hune wala nanda ko daju wu
Meri baini ko bhina
Haaa Hune wala nanda ko daju wu
Meri baini ko bhinaju
Meri baini ko bhinaju
……….. ……….. ………
Badhepachhi lali joban
Chadepachhi pachhi baisa
Kyari maya basni raichha
Tha nahune raichha
Hoho ho Badhepachhi lali joban
Chadepachhi pachhi baisa
Kyari maya basni raichha
Tha nahune raichha
Ko ho vanaula….
Hune wala nanda ko daju wu
Meri baini ko bhinaju
Hune wala nanda ko daju wu
Meri baini ko bhina
Haaa Hune wala nanda ko daju wu
Meri baini ko bhinaju
Meri baini ko bhinaju
……….. ……….. ………
Pauma laune chhin chhin pauju
Hat ma laune chura
Yeo manako rahar haru
GArchhu vanchha pura
Hohoho Pauma laune chhin chhin pauju
Hat ma laune chura
Yeo manako rahar haru
GArchhu vanchha pura
Ko ho vanaula….
Hune wala nanda ko daju wu
Meri baini ko bhinaju
Hune wala nanda ko daju wu
Meri baini ko bhina
Haaa Hune wala nanda ko daju wu
Meri baini ko bhinaju
Meri baini ko bhinaju
……….. ……….. ………