New Nepali Teej Song Chata by Tejash Regmi and Jyoti Magar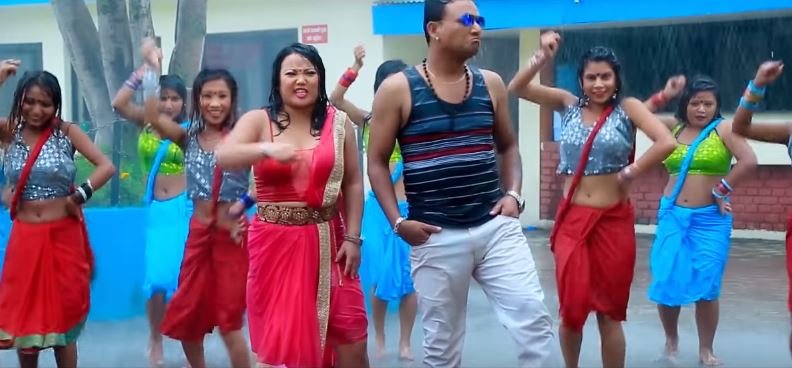 Chata is a new Nepali teej song by Tejash Regmi and Jyoti Magar. The music video features Shankar BC and Jyoti Magar. The song is released on the occasion of Nepali women's great festival 'Haritalika Teej' which is directed by Shankar BC and edited by Nabin Gharti Magar. Rajesh Ghimire is the Cinematographer of this song.
The lyrics for the song was written by Tejash Regmi and the music for the song was also composed by Tejash Regmi. The music video features talented artists Shankar and Jyoti. They have given their best performances in several music videos. The music video is based on the Nepali festival 'Teej'. Teej festival is the popular festival celebrated by the women's in Nepal in the month of Vhadra. Married women observed Teej for the long life for their husband, well-beings of their children, purification of body and soul and maintain good relationship in marry until the death. In the same way Unmarried girls also observe fast on this day for a good husband. This festival is celebrated in great way by the women. The women sing the folk song and dances which makes the festival more interesting. Chata music video was presented by Red Apple Media Pvt. Ltd. Once you listen to this song, I am sure you will keep tuning it.
Chata is released officially online by Red Apple Media via Youtube. Hope that you will enjoy this romantic and melodious Teej song:
Here is the lyrics for the song Chata:
Kafalako gedi kina hunchheu tedi
Nakhoja na vau
Kafalako gedi kina hunchheu tedi
Nakhoja na vau
Vachheu aja voli
Ekohori vedi
Please sannani alli najik auu
Please sannani alli najik auu
A asarko maina sath ma chhata chhaina
Jhyappai pani darkiyeo
Maya uta farkiyeo
Mero chhati charkiyeo
Jhyappai pani darkiyeo
Maya uta farkiyeo
Mero chhati charkiyeo
Mero chhati charkiyeo
Mero chhati charkiyeo
Jyapae darkeo jhari
Sorry please sorry
Galti vaeo lau
Jyapae darkeo jhari
Sorry please sorry
Galti vaeo lau
Aba asto galti
Hunna ghari ghari
Tmlae fakauna hunchha malae dhau
He Tmlae fakauna hunchha malae dhau
A asarko maina sath ma chhata chhaina
Jhyappai pani darkiyeo
Maya uta farkiyeo
Mero chhati charkiyeo
Jhyappai pani darkiyeo
Maya uta farkiyeo
Mero chhati charkiyeo
Mero chhati charkiyeo
Mero chhati charkiyeo
………. …………. …………
Gham lako theo hijo
Kina maneu jhijo
Biswas gari deu
Gham lako theo hijo
Kina maneu jhijo
Biswas gari deu
Hera mero halat
Sabai sarir bijeo
Sojho gaule ko vara parideu
Sojho gaule ko vara parideu
A asarko maina sath ma chhata chhaina
Jhyappai pani darkiyeo
Maya uta farkiyeo
Mero chhati charkiyeo
Jhyappai pani darkiyeo
Maya uta farkiyeo
Mero chhati charkiyeo
Mero chhati charkiyeo
Mero chhati charkiyeo
Suna mero deuta
Chhata kina auta
Yeo ta dinna ma
Suna mero deuta
Chhata kina auta
Yeo ta dinna ma
Chhata kinne paisa
Baru malae leu ta
Baru afai kinna janchhu ma
A Baru afai kinna janchhu ma
A asarko maina sath ma chhata chhaina
Jhyappai pani darkiyeo
Maya uta farkiyeo
Mero chhati charkiyeo
Jhyappai pani darkiyeo
Maya uta farkiyeo
Mero chhati charkiyeo
Mero chhati charkiyeo
Mero chhati charkiyeo
………. …………. …………
Ek arkalae bujham
Baru due tai rujhum
Hunna navandeu
Ek arkalae bujham
Baru due tai rujhum
Hunna navandeu
Rujhdai rujhdai baru
Pirati lae bujham
Tmro hataima chhunna navandeu
A Tmro hataima chhunna navandeu
A asarko maina sath ma chhata chhaina
Jhyappai pani darkiyeo
Maya uta farkiyeo
Mero chhati charkiyeo
Jhyappai pani darkiyeo
Maya uta farkiyeo
Mero chhati charkiyeo
Mero chhati charkiyeo
Mero chhati charkiyeo
……….. ……….. …………