New Nepali Teej Song Didi Bhai by Rajkumar Baniya and Jassu Adhikari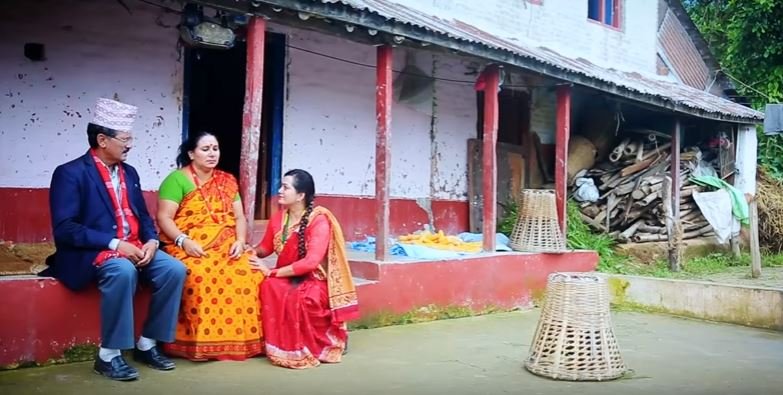 Didi Bhai is a new Nepali emotional teej song by Rajkumar Baniya and Jassu Adhikari (Samjhana). This music video show the sad lifestyle of Nepali woman who are married in cruel family. Didi Bhai is a emotional teej song which is directed by Kapil Lama and music video was edited by Sujan Shahi.
The lyrics as well as music for the song was composed by Raj Kumar Baniya. In this music video artists Shova Tripathi and Sunil Lamichhane performed very well and make this music video more realistic. This music video is the conversation between sister and brother about the festival Haritalika Teej. This teej song also wants to represents the common social problem that the people love their daughters but behave brutally to their daughter in law. Didi Bhai music video was based on the Nepali festival ' Haritalika Teej', which is one of the biggest festival of Nepal and dedicated to the Lord Shiva and Goddess Parvati. When you once listen this song, I am sure you will keep tuning it.
Didi Bhai is released officially online by HightlightsNepal via Youtube. Hope that you will enjoy this romantic and melodious Teej song:
Here is the lyrics for the song Didi Bhai:
Heee Barsai din ko teejai ayeo
Samjhe feri didi lae
Barsai din ko teejai ayeo
Samjhe feri didi lae
Sancho chha ko bisanchho chha
Meri didi lae
Sancho chha ko bisanchho chha
Meri didi lae
Phone ma kura vaerahanchha
Vettne dina ayena
Phone ma kura vaerahanchha
Vettne dina ayena
Pardes ma chhu navana hai
Lina ayena
Pardes ma chhu navana hai
Lina ayena
Pardes ma chhu navana hai
Lina ayena
Pardes ma chhu navana hai
Lina ayena
Heee Teejai auchha tihar aauchha
Auchha chadbad aru ni
Teejai auchha tihar aauchha
Auchha chadbad aru ni
Sadhai afno maiti ghara
Samjhi ma runi
Sadhai afno maiti ghara
Samjhi ma runi
Vai pardes ma ama runchhin
Baba sanchho thiyena
Vai pardes ma ama runchhin
Baba sanchho thiyena
Yeo samaye ta janchhu vanda
Bida diyena
Yeo samaye ta janchhu vanda
Bida diyena
Yeo samaye ta janchhu vanda
Bida diyena
Yeo samaye ta janchhu vanda
Bida diyena
………. ……….. …………
Heee Ghar ko pailo santan tmi
Auti didi tin vai ko
Ghar ko pailo santan tmi
Auti didi tin vai ko
Khali tmrai pirchhin ama
Bitchha din var ko
Khali tmrai pirchhin ama
Bitchha din var ko
Bihe garesi sukha paenau
Rarmro ghar ma parinau
Bihe garesi sukha paenau
Rarmro ghar ma parinau
Maita ma ni hamile jhai
Chayen garinau
Maita ma ni hamile jhai
Chayen garinau
Maita ma ni hamile jhai
Chayen garinau
Maita ma ni hamile jhai
Chayen garinau
………. …….. ……………